Schedule a New Class on Zoom
You can schedule classes in Zoom to provide online, synchronous, interactive classes with students. Scheduling a class in VU Collaborate will make it easy for students to join and easy for you to host. You can schedule multiple and recurring classes as well as a singular class.
You can only create Zoom sessions in a delivery space. They will not copy over from a master space.
This guide will walk you through scheduling a class in Zoom with the following steps:
Alternatively, you can view the video of instructions here.
---
1. Navigate to the VU Collaborate space where you need to access Zoom. Click Communication in the navbar. Select Zoom classroom from the drop-down menu.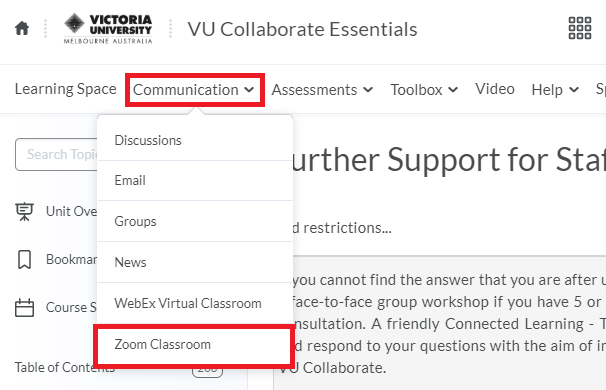 2. Click Schedule a new meeting to begin setting up a class.
---
1. Under the topic, give the meeting/class a descriptive title. In this example, the Australian Plants class has added a descriptive title to make it easier to differentiate between training sessions when there are more than one.
The title should include enough information so that students and staff can clearly tell which class it is, especially important when there are multiple groups using the same delivery space. For example, Group 1 Workshop Monday 27th - 8 am with Charmian, or for a recurring class, Monday morning workshops with Charmian.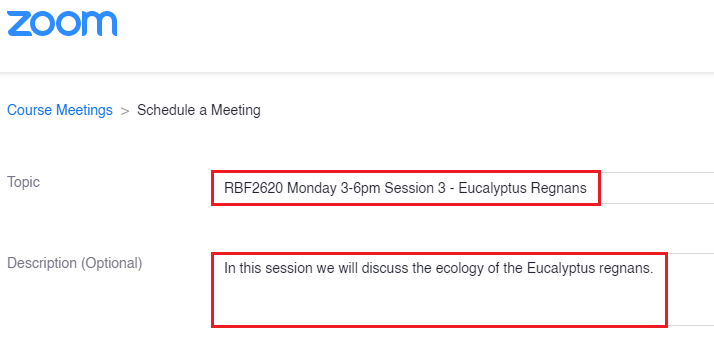 2. Add a Description of the meeting/class.
---
1. Set the date and time of the meeting/class under the when section.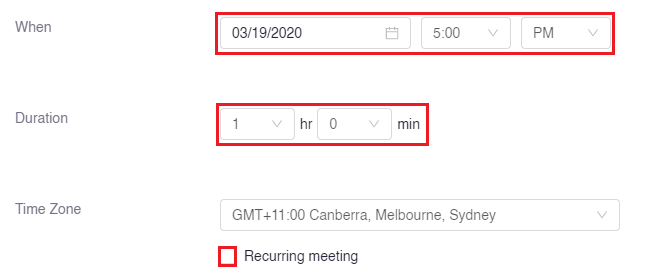 2. Select the approximate Duration of the meeting. This is only for scheduling purposes. The meeting can be joined before this time and will not end after the selected length of time.
3. Select if you would like a Recurring meeting. If you are scheduling a recurring meeting note that each of these is treated as the one class that repeats. This means that things like polls remain the same for each class.

---
1. The registration option requires attendees to sign up before they can join the meeting.
Students must use their real name or the name used for VU enrolment when entering a class.
2. Choose if you would like the host and participant's video on or off when joining the meeting.
Everyone should have their webcam turned on during a Zoom Class but if this is not possible, set up a profile picture using a recent and clear photograph.
3. Choose whether to allow users to call in via Telephone only, Computer audio-only, or both. It is recommended to leave it at both so participants can call with their phone if they have no internet access.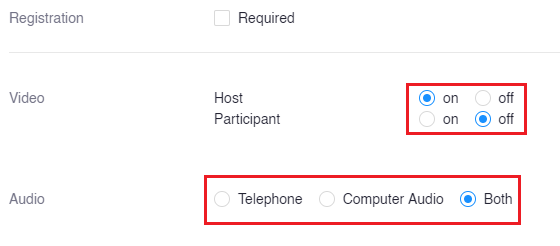 ---
1. Require meeting password: You can select and input your meeting password here. Participants joining from outside of VU Collaborate will be required to input the password before joining the scheduled meeting. This is set as the default option and cannot be changed.
Adding a password can be helpful in stopping people who are not students or staff of VU from entering the session. As they are not students or staff at VU, they need the password to join the session.
2. Enable join before host: You have the option to allow participants to join the meeting without you or before you join. It is recommended that you do not select this option so that participants do not have access to options such as sharing screens and recording before the host joins.

3. Mute participants on entry: This is a useful option to select. Participants can unmute themselves but it saves some noise when they first join the room and get set up; especially helpful when they arrive late.

4. Enable waiting room: The waiting room feature allows the host to control when a participant joins the meeting. Participants receive a message on their screen to let them know that the host/facilitator will bring them into the Zoom room soon. As a meeting host, you can add participants one by one or hold all participants in the waiting room and admit them all at once after you have set up the class. You can see participant names before admitting them so if they are not meant to be in your class, you can remove them before they come into the class.
VU will not be recording any Zoom classroom sessions moving forward due to security, privacy, and copyright concerns.
---
1. You can assign another VU staff member as the host for the meeting. This means that other people can set up a Zoom classroom for the facilitator/host and there can be more than one person ready to host/facilitate the class. You can also allow co-hosts scheduling privileges to schedule meetings or classes on your behalf.
Select Assigning Schedule privileges to co-hosts on zoom for the best/safest method for assigning another person to create schedules for you.

2. Once you have set up all meeting features make sure to click Save.
3. After saving you will have to option to review, edit or start your meeting.

4. From the main schedule page (found under communication then Zoom classroom), you can start the class. Students will see Join instead of start/delete.
---
For classrooms (and other online activities) you may find it useful to limit the session to only allow participants who are VU Students and Staff. All participants will need to sign into Zoom using their VU account (e-number or s-number) to join.
1. When scheduling a session, you can enable the feature Only authenticated users can join. Then, ensure the option Sign in to Zoom (VU) is selected.
Existing meetings can be edited and updated.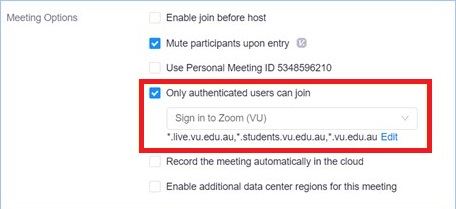 2. If you want to change the settings to make every session available only to authenticated users; go to your Zoom Profile Settings ( https://victoriauniversity.zoom.us/profile/setting ) and scroll through to find Only authenticated users can join meetings from Web client.

This feature is available to all Zoom users at VU.
---
Further Support
Visit the VU Collaborate Help site at https://vucollaboratehelp.vu.edu.au for up to date information and resources on blended learning or email This email address is being protected from spambots. You need JavaScript enabled to view it..
Contact ITS Service Desk on (03) 9919 2777 or via self-service http://servicedesk.vu.edu.au for further technical support.