Using breakout rooms in Zoom
Breakout rooms are sessions that allow you to split students into separate groups and rooms (up to 50 breakout rooms can be created) for collaboration, discussion, and group work. Only you as the host can manage breakout rooms, whereas the co-host can move between breakout rooms. Breakout room participants have the same permissions as they did in the main room so make sure you set those up before you send people to a breakout room. For example, if participants did not have screen sharing permission in the main room, they will not be able to share the screen in the breakout room either.
Participants who joined the Zoom meeting from the Zoom Mobile App can participate in breakout rooms, but cannot manage them. People who join via the web client, Chromebooks/Chrome OS or Zoom Rooms are unable to join Breakout Rooms, but the main room can be used as an alternative session for these users.
Below are the steps to using breakout rooms in Zoom:
---
---
If you are having trouble with breakout rooms, it may be because it is not enabled on your Zoom account. You can check and change this by following these steps:

1. Sign in to the Zoom web portal at victoriauniversity.zoom.us via SSO.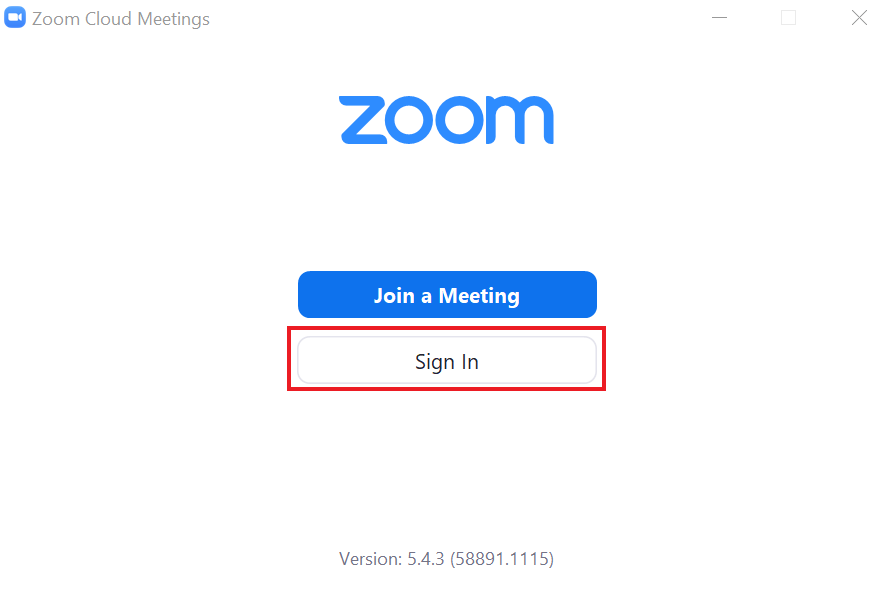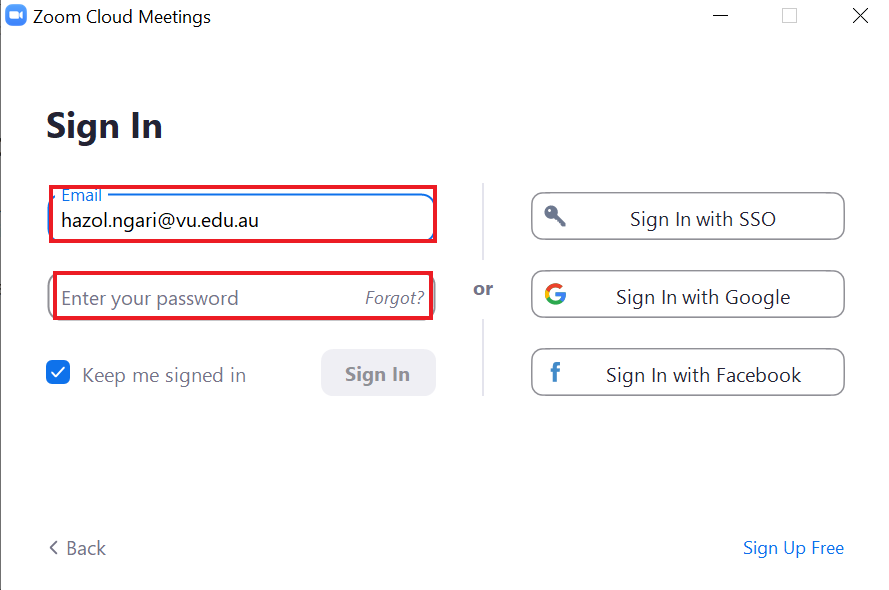 Enter your VU staff credentials when authentication is prompted to log in.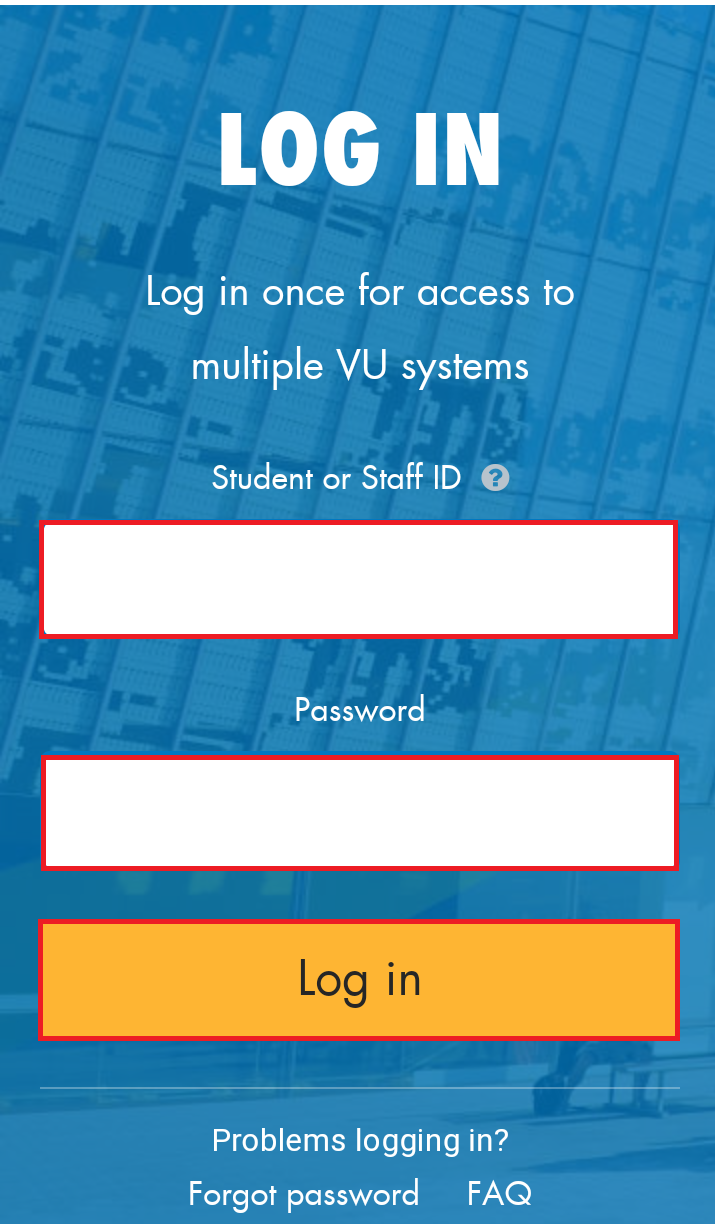 2. Click Settings on the left-hand side.




3. Navigate to the breakout room option on the Meeting tab and verify that the setting is enabled. If the setting is disabled, click the Toggle to enable it. If a verification dialog displays, choose Turn on to verify the change;



---
If students are working in groups for an assessment task you may want to manually assign them prior to the Zoom session to save time. Pre-assigning breakout rooms before the start of the class is optional as breakout rooms can be created during the class or let the students choose their own rooms.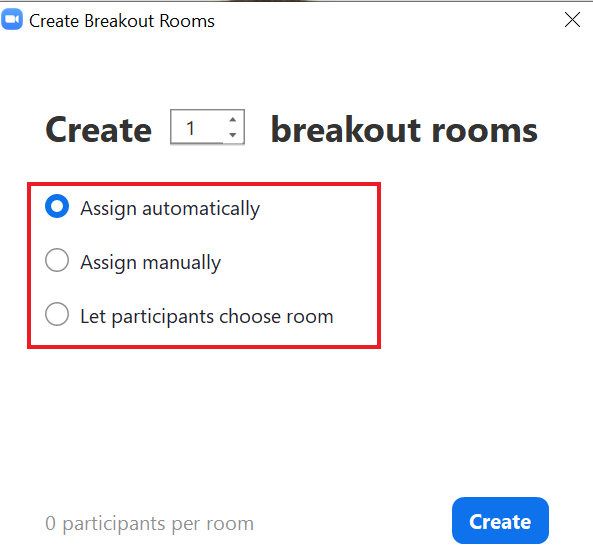 Please note that this method only works when you schedule meetings in Zoom, not when you schedule meetings in VU Collaborate. Plus, if you schedule a meeting outside of VU Collaborate, students will not be able to access it in VU Collaborate.
Refer to the guide Pre-Assigning Breakout Room in Zoom (Authenticated Users) for this method.

Some students may join your class as guests (i.e. no zoom account) or some may have used their "@live.vu.edu.au" instead of "@students" email address so you may find some students do not automatically get assigned to a breakout room. You will need to input them manually.
---
1. Start your Zoom meeting as per usual.
2. Move your mouse to reveal the toolbar, which is usually located at the bottom of your Zoom window.
3. Select Breakout rooms.
---
1. Select Automatically to randomly assign students into groups, and use the arrow to select the number of groups, then click Create Rooms. If you want to choose who goes into each room, select Manually and you will have the option afterward to add each participant into different rooms.




2. Once you have created the rooms, click on Open All Rooms to invite your students to join in.


3. Now you will see the option to join any of the rooms created. You can also send a message to everyone by selecting Broadcast a message to all or just one group.




4. Once the students have completed their activity click Close All Rooms so they can come back to the main room.



5. When you select Close All Rooms, participants will be given 60 seconds (or less if you choose) to leave the breakout room and join the main session before the breakout rooms are closed.


If a student arrives late to class and Breakout Room Sessions have already begun, Zoom does not automatically send them to their assigned Breakout Room. The host must assign the students manually to their Breakout Rooms.
---
1. After creating the breakout rooms, and before opening them to participants, you can click Options to view additional breakout rooms options.
Check the additional options that you would like to apply for your breakout rooms.




2. Move all participants into breakout rooms automatically will move all students into the breakout rooms automatically. If you leave this option unchecked, students will need to click Join to be added to the breakout room.
3. Allow participants to return to the main session at any time means students can move back to the main session from their meeting controls in the breakout room. If this is disabled, they need to wait for the host to close the breakout rooms.
4. Breakout rooms close automatically after x minutes will automatically close the breakout rooms after the allotted time. Participants will then be sent back to the main room/session.
Notify me when the time is up means that you will be get a notification when the breakout room time is up.
5. Countdown after closing breakout rooms means that participants in the breakout rooms will see a countdown of how much time they have left before being automatically returned to the main room.


---
Once the breakout rooms have been started, the participants will be asked to join the breakout session with a pop-up in front of the Zoom screen. If the host has chosen for participants to choose their own room, participants will need to click on the Breakout Rooms icon at the bottom of the Zoom window and then select the breakout room they wish to join. They will be able to see the names of the other students in each room.
The host will stay in the main meeting until joining a breakout room manually. If a participant has not joined the session yet, it will be noted by (not joined) next to their name.
Participants are able to request the host to join their breakout room by clicking an Ask for Help icon at the bottom of their Zoom window. If this occurs, the host will receive a message that appears in the middle of the screen. Clicking on that will take the host into that breakout room.
---
Hosts can broadcast a message to all breakout rooms to share information with all participants.
1. Click Breakout rooms in the meeting controls.


2. Click Broadcast a message to all, enter your message and click Broadcast. The message will now appear for all participants in Breakout Rooms. The message comes up as small text in green at the top of their screen and disappears after 3 seconds


---
Further Support
Visit the VU Collaborate Help site at https://vucollaboratehelp.vu.edu.au for up to date information and resources on blended learning or email This email address is being protected from spambots. You need JavaScript enabled to view it..
Contact ITS Service Desk on (03) 9919 2777 or via self-service http://servicedesk.vu.edu.au for further technical support.