Exporting Gradebook Data
The information in this guide is intended for Convenors and Instructors.
Gradebook data can be exported to your computer to modify offline or keep for auditing purposes. Export student grades to an Excel spreadsheet to allow you to add and modify grades offline. You then have the ability to import the spreadsheet back into the Gradebook for your VU Collaborate Space, making the management of large classes as simple as possible. Please see Importing Gradebook Data guide for further information.
Below are the steps to export Gradebook Data:
---
1. Click Assessment and select Grades.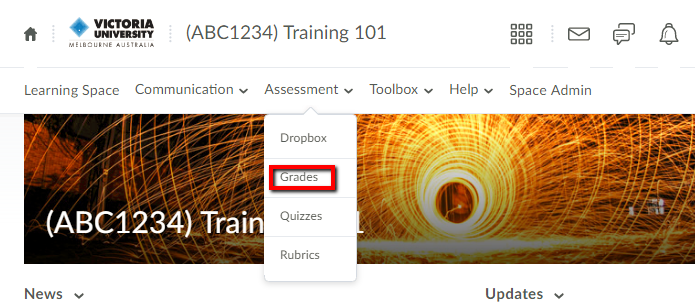 ---
1. Select Enter Grades tab to access the gradebook.
2. Click Export button.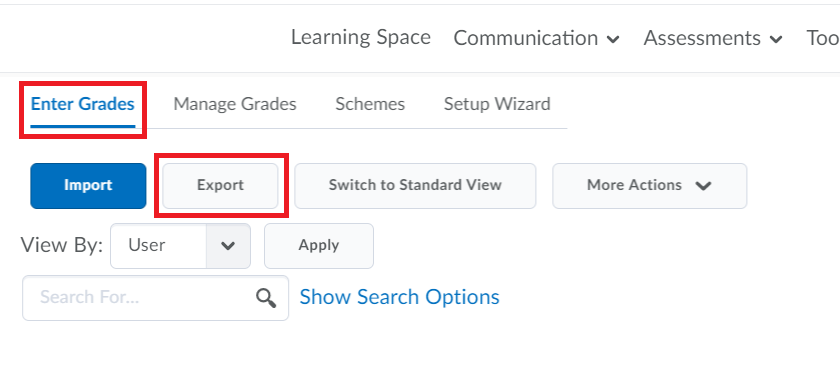 3. Select All users or select a Group of students that you would like to export for marking.
If you have not set up groups in the Space, the option to View By: groups will not appear on the page.
4. Select the Key Field that you would like to export. If you want to modify the spreadsheet data and import back, only select Username.
5. Select the Grade Values you would like to export. If you want to modify the spreadsheet data and import it back into VU Collaborate, only select Points grade.
6. Select the User Details that you would like to export. It's recommended that you select Last Name and First Name so that you can identify students otherwise you will only be provided with their student number.
7. If you have created groups in your unit space, you can select Group Membership to sort students in their respective groups.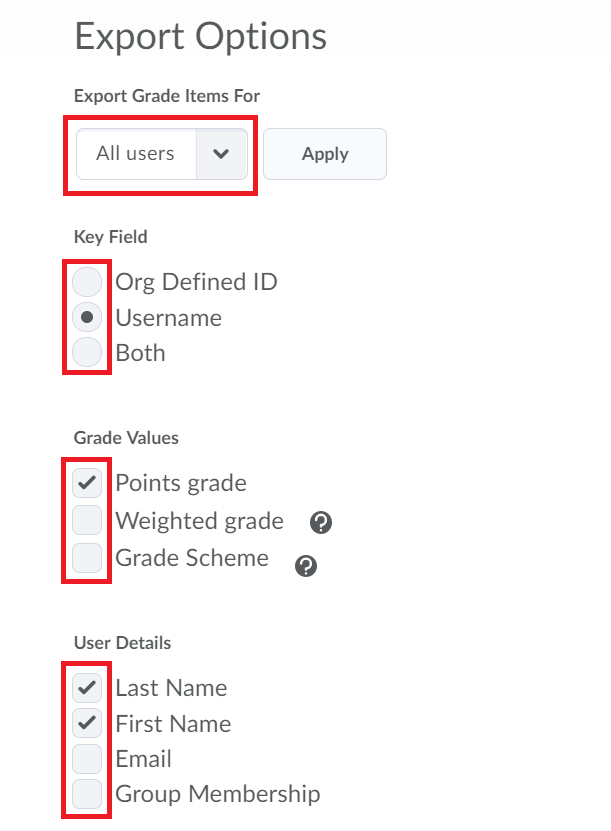 You can also use this function to print a list of your students in groups
8. Select the checkbox next to all or individual grade items that you wish to export.
9. Click on Export to CSV to export your data.
CSV files can be opened in Excel and this format is required to import your Gradebook back into VU Collaborate.

---
1. A pop up window will appear. Click on the file to download your CSV File.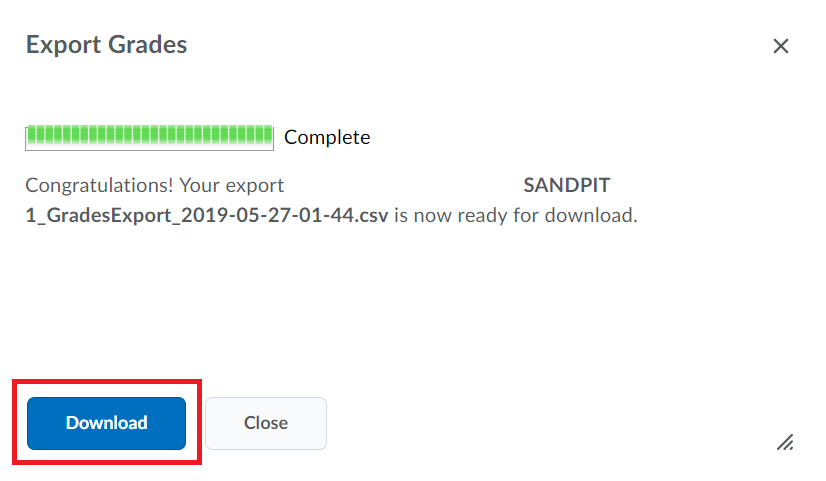 If you do not see this view, navigate to the Downloads folder on your computer to access the CSV file.
---
The CSV file will display student information and any grades that have been entered for each Grade item.

---
Enter the results for students in the column for each Grade item that requires a grade. You can also change previously entered grades and alter the order (eg., put into alphabetical order).
Grades should only be entered in the Points Grade columns. Leave any Weighted, Scheme or Final Grade columns as these will be automatically calculated when you import the data back into VU Collaborate.
Do not change the headings in any of the columns in the CSV file. This will ensure your CSV file is in the correct format, ready to import into VU Collaborate.

---
1. Once you have completed your marking save your file. Do not change the name of the file; keep it the same as when you downloaded it.
2. You may be prompted to accept the CSV file format, select Yes.
3. To learn how to import your gradebook into VU Collaborate please see the Importing Gradebook Data guide.

---
Further Support
Visit the VU Collaborate Help site at https://vucollaboratehelp.vu.edu.au for up to date information and resources on blended learning or email This email address is being protected from spambots. You need JavaScript enabled to view it..
Contact ITS Service Desk on (03) 9919 2777 or via self-service http://servicedesk.vu.edu.au for further technical support.