Adding Content to a Module
The content tool in VU Collaborate is an efficient method of adding material to your space. Upload with ease; documents, resources, video files, and many other types of files. The upload system has been designed to be user-friendly so you can spend time developing quality content and not wasting it in frustration uploading material again and again. There are a plethora of options available for adding content to your space, including; uploading from your computer or mobile device, adding hyperlinks, creating documents and easily re-using files within your space.

Below are the steps to Adding Content to a Module:
---
1. In the navbar at the top of your space, click Learning Space.



2. From the list of modules under Table of Contents, select the module (week 1) where you would like to add content.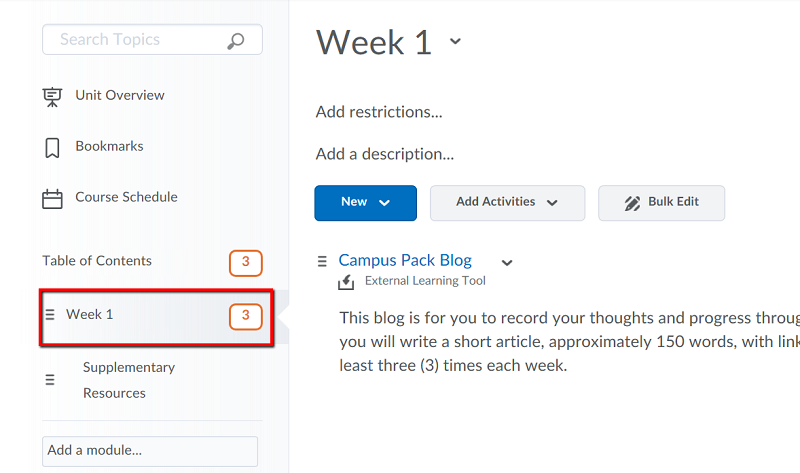 3. Click the New button in your module.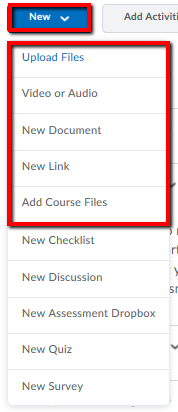 2. From the drop-down menu, select the type of content you would like to add:
Upload Files
Video or Audio
New Document (HTML document)
New Link
Add Course Files
The steps below will explain what the function and use of each option, and how to use the right ones for your course content.


---
You can select Upload Files to add a document, video, audio or other files to your module. If you have selected this content type, a pop-up window will appear where you can browse for the file, or drag and drop a file to upload.
Note: You can select more than one document at the same time and all the documents will be uploaded in the selected order.
1. Select the location where your files are stored either from your Computer, from the VU Collaborate Space or a file that has been shared with you on VU Collaborate.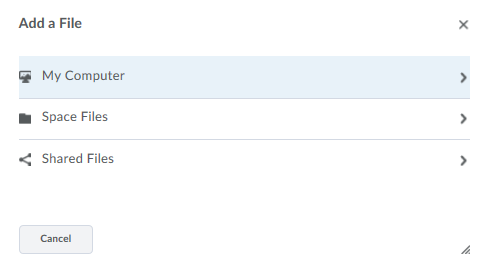 ---

2.1 Uploading a file from your Computer
1. If you have selected to upload a file from your computer, drag and drop or select your preferred file(s) using the Upload button. Once you have chosen your file, click the Add button to finish the upload.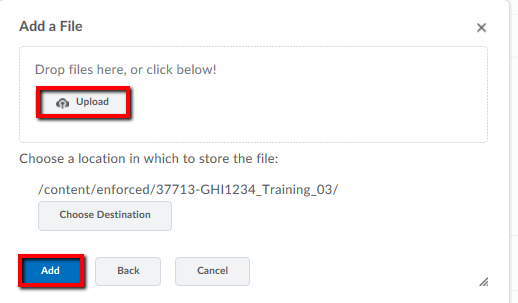 ---

2.2 Uploading a file from Space Files or Shared Files

1. If you have selected to upload a file from space files or shared files, check the box beside the desired file(s) then click on Add.




---
Add Video or Audio is a more sophisticated option for adding video than Upload Files, with the option to add subtitles to videos for better accessibility. If you have selected this content type, a pop-up window will appear where you can add a link to an external video or audio source.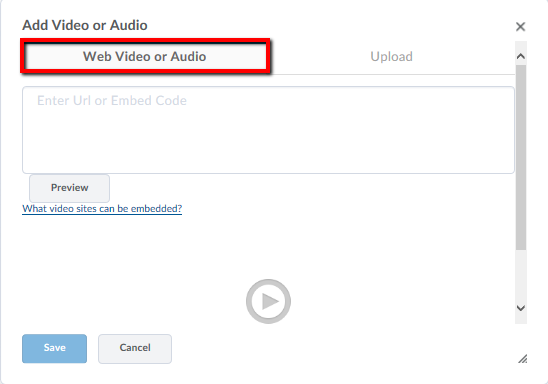 1. To add video or audio from an external link, enter the URL or embed code of an external file to add it. For an in-depth explanation on how to retrieve an embed code from Youtube view this guide on Uploading and Embedding a YouTube Video.


2. If you wish to upload a file from your computer, we recommend that you follow this guide on Uploading, Linking or Embedding your Video on VU Collaborate. This is due to a file size limitation on VU Collaborate.

---
1. Select New Document to create a HTML document within your space. The HTML document editor will open.

2. Give your document a title, and then add your content in the space provided. This could include media, interactive objects such as H5P, and rich text.
Note: To get started, you might want to choose from one of the document templates. You can click on Select a Document Template to see a list of templates. These templates provide you with common page layouts that you can edit by adding your own content.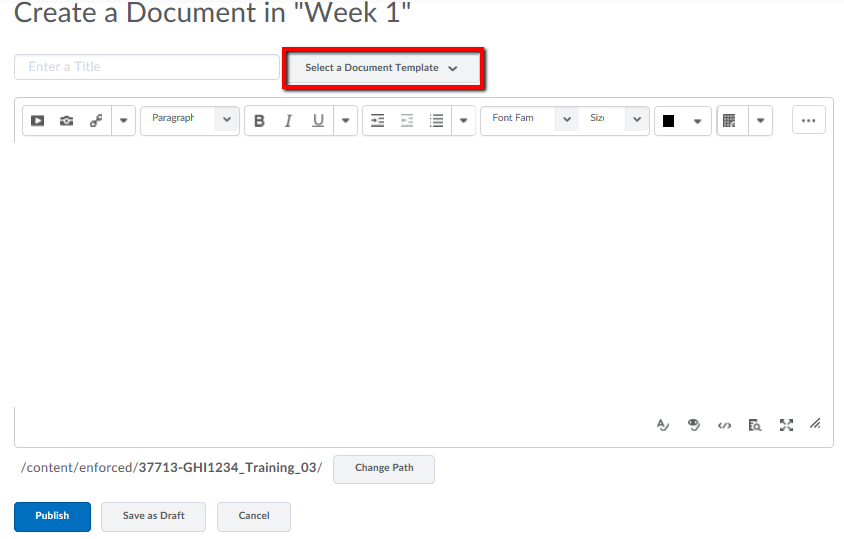 2. Once you have finished creating your document click Publish to make it accessible to students.
Tip: if you're not ready to publish the document to students, you can click Save as Draft to keep working on the document and students will not have access to it. You can also access the H5P Interactive Learning Activities tool from the HTML editor. Learn how to use this tool by reading this guide on an Introduction to H5P.
---
1. You can add links to online resources by selecting New Link, which will point students to an external resource without having to embed the hyperlink in a document or other text item. If you select New Link, a pop-up window will appear where you can add properties to the link for clarity and context.

.
2. Write a Title for the link

3. Paste or type the web address in the URL field.

4. Check the Open as External Resource option to ensure that the link is accessed by students in a new window or tab of the web browser.
Note: It is best practice to open links as external resources, otherwise the content of the link will open inside VU Collaborate, and it might not fit.
5. Click Create to add your link.


---
Course files include all the documents, images, and files that you have previously uploaded in your VU Collaborate space. This saves you from uploading the same documents and videos multiple times and ensures you always have a copy. Use this option when you need to present the same file twice in different modules or sections of your unit, or if you deleted the file from your content and want to publish it again.
Tip: It is a similar function to 'Upload Files' menu item except you can only access course files using this menu item.
1. Click Add Course Files.

2. Click on the tick box(es) next to the desired course file then click on Add.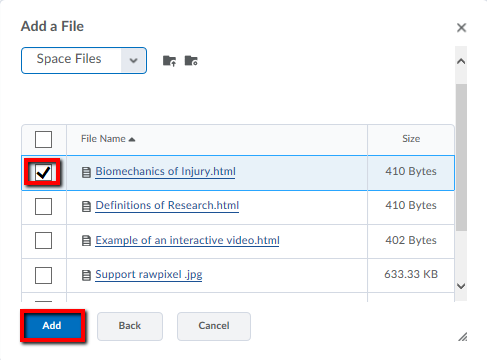 ---
Further Support
Visit the VU Collaborate Help site at https://vucollaboratehelp.vu.edu.au for up to date information and resources on blended learning or email This email address is being protected from spambots. You need JavaScript enabled to view it..
Contact ITS Service Desk on (03) 9919 2777 or via self-service http://servicedesk.vu.edu.au for further technical support.