Making Your VU Collaborate Space Accessible
Web accessibility occurs when websites support web accessibility standards, are compatible with assistive technologies, and are easy for people to navigate and understand.
All digital spaces, including those designed for educational purposes, are required to meet an acceptable level of accessibility standards so that people with various disabilities or who are otherwise-abled can access the space and the resources easily.
A brief introduction to VU compliance with accessibility standards can be found on our website. Our guidelines aim to assist people who may experience blindness and low vision; deafness and hearing loss; learning difficulties; cognitive limitations; limited movement; speech difficulties; and others who are otherwise-abled. Without a great deal of effort, you can help create an accessible digital learning space when you develop your VU Collaborate space.

Below are the topics covered for making your VU Collaborate space accessible.
---

1.1 Add a Description

Providing descriptions of any resource you create or upload to VU Collaborate helps students to navigate the site more efficiently. Descriptions are shown below learning items within the module. To add/edit the description of a learning item:

1. Click on the drop-down menu beside the learning item then select edit properties

2. Click on the text "Add a description", to enter a description of the resource that complements the title.
1.2 Alternative Text for Images
Whenever you upload an image, you should provide a text-based description, also known as 'alternative text' or 'alt-text' so that screen readers can access a description of the image. This helps students using screen readers understand what the image is for.

1.3 Providing Transcripts
If you are providing video, audio, graphics or tables in VU Collaborate, where possible they should either contain captions (for video), or a transcript or textual description to view or download. This can be done in the description of the resource, or as a separate document.

---
2.1 Using the New Document option
You can make content more accessible to students is by creating HTML documents in VU Collaborate for text-based content.
Using the New Document option when creating learning resources in a module rather than dragging and dropping Office documents such as Word or PowerPoint will help screen readers read your resources.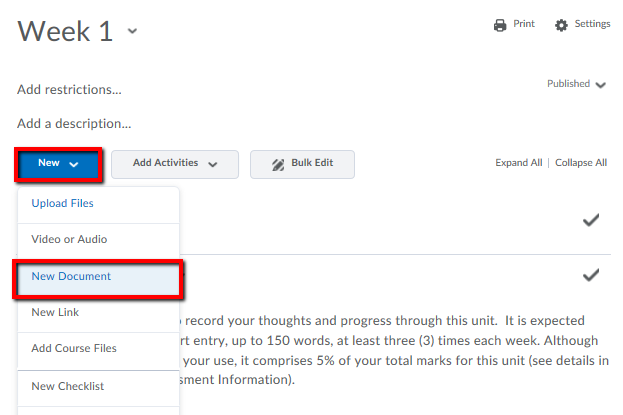 The text editor in the New Document window will create an HTML webpage. Please refer to Using the VU Collaborate HTML Editor for an introduction to this tool.
You can make use of header styles and alt tags to structure your document and allow screen readers to make quick sense of a page. It's best practise to minimise the use of tables where possible, as they are difficult for screen readers to translate.
Note: When providing links, you should include anchor text that contextualises that link; for example, write Melbourne Aquarium website rather than simply click here.
2.2 Converting PDF Documents and Scanned Documents
If you are uploading PDF files as learning resources (for example, if you are scanning reading material into a PDF file) ensure that you use optical character recognition (OCR) options so that the files created are not just images, but can be read by screen readers.
OCR technology reads the document that you scan and creates a digital version of the text on top of your existing 'image' created by the scanner.
To create accessible PDF files from Word files, you can use the Adobe extension for Word. For more information about creating accessible PDF files, visit the Adobe.com guide Edit scanned PDFs to learn about converting PDF files to editable, screen reader-friendly text. You might also want to visit WebAIM's PDF Accessibility for a guide to converting and tagging text files to PDF with accessiblity in mind.
---
You can design your VU Collaborate space with different release options for different cohorts of students. If you have students you know you have to cater for in a particular way, you can give them special support materials that other students don't receive, or set later dates for the completion of assignments.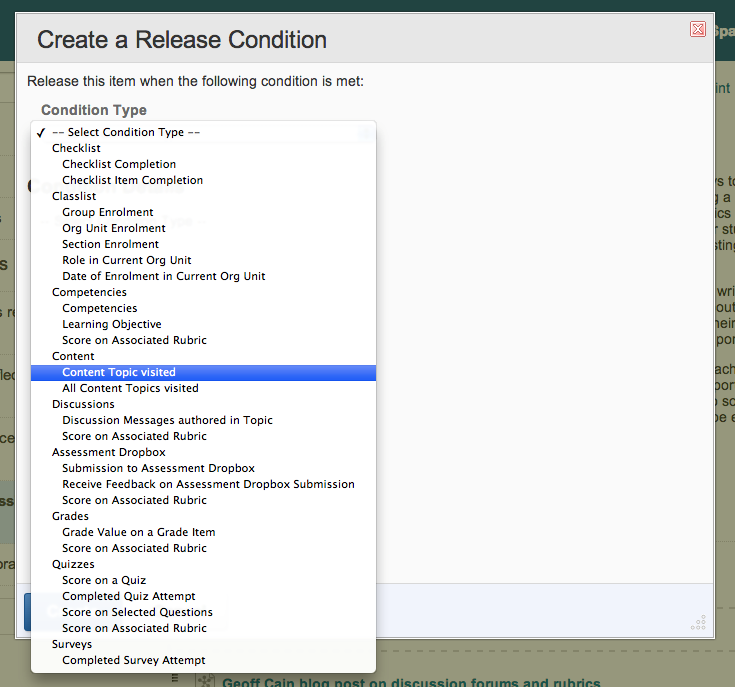 If you set up quizzes or other assessments with time restrictions, you can use release conditions and special access to provide longer times or take off the time restrictions for students with different needs.
You could also allow selected users special access (earlier access, for example) to the quiz, or restrict the view of the quiz to specific users (in the event of an alternative assessment method).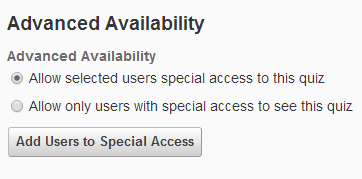 You might also want to use the survey tool to survey students for feedback about the design of the space or about the resources available to get some formative feedback. This can help for getting to know and respond to students' needs in a timely and iterative fashion.


3.1 Examples of Using Release Conditions and Special Access to Improve Accessibility


Here are some examples of when and how you might use release conditions or special access, in conjunction with other tools in VU Collaborate.
1. Create groups for students with disabilities and use release conditions to provide them with material, tasks, work areas, etc. that are not available to other students. This is a great option if you do not want other students to see or have access to the additional items.
2. If you are teaching a large cohort, you might not know the individual needs of all of the students enrolled. Set up a checklist that students can use to request extra resources, help, or material in a different format. For example, for each week or major assignment create checklist items for text-only versions of material, an extra help discussion forum, additional reading materials, and alternative formats for multimedia. Set release conditions for the checklist items so the requested content is automatically released. This option ensures that the majority of students access material as you intended, yet students with other learning needs are supported. To learn more about checklists, please visit Creating a Checklist.
3. Set up a survey that students with learning disabilities can take to help you assess their learning needs. Use the survey to determine what special access rights and extra resources to give the students.
4. Set up quizzes, surveys, or assessment dropbox folders with time restrictions (availability), but give special access to students who need more time because of physical or cognitive disabilities. Many teachers creating quizzes prefer not to set time restrictions at all, because they can impact the quality of answers.
Note: Students should receive guidance on how to access additional support if they should require it. Victoria University has that cater to students with particular needs. You might choose to place a link to these services in your unit introduction, or create a module in your VU Collaborate space that contains useful links to student services.
---
The concept of Universal Design of Instruction (UDI) provides a way of looking at how you can cater to the different needs of students through the conscious design of the learning space. It includes principles such as making a website simple and intuitive to navigate, accommodating a variety of abilities, promoting the sense of a learning community, and providing an inclusive and welcoming environment.
VU Collaborate provides space designers with a lot of flexibility in setting up and organising their materials. There are plenty of benefits to this, but it can be daunting for students with learning disabilities and students who rely on assistive technologies to navigate pages to find all of the materials and assignments.
Well-defined space structure is easier to navigate for screen reader users and students with learning disabilities.

4.1 Create a Welcome Message News Topic
Use the Unit/Course Home to help familiarise students with the content. Create a news topic that introduces yourself (the instructor) and any teaching assistants. Include relevant contact information and a note encouraging students to contact you if they have any questions, concerns, or additional needs. See the guide to Creating a News Item to learn more about the News tool.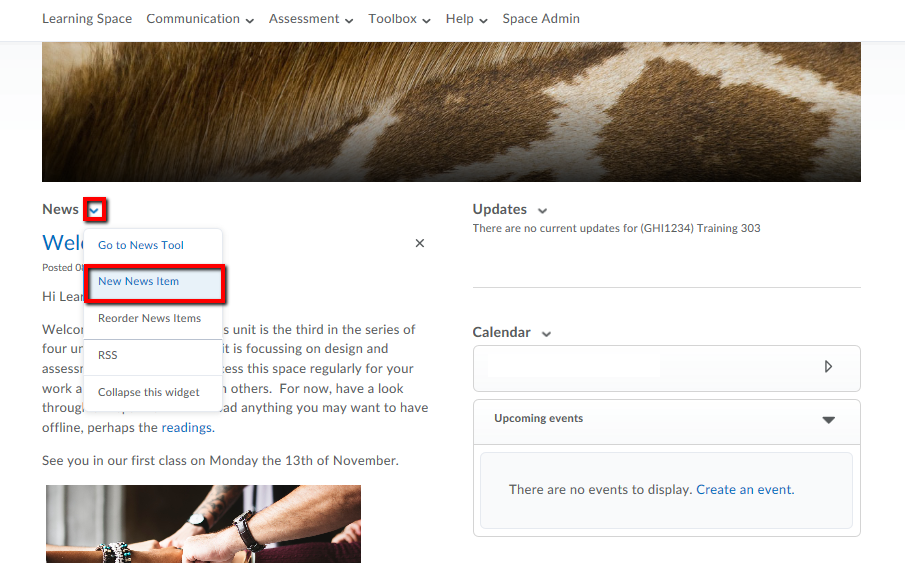 4.2 Repeating Space Information within Different Tools
Build redundancy into the space by repeating space information within different tools. For example, include syllabus information in the calendar and include information on how much a quiz, discussion topic, assignment, etc. is worth in the description of that item. The more clearly expectations are communicated through the space design, the more students can focus on learning content.

4.3 Use the Discussion tool over Instant Messaging
Use the Discussions tool rather than instant messaging tools for user participation and reflection. Instant messaging tools can be difficult for users with visual, motor, or learning disabilities because they require users to process and respond to information quickly using technology that does not match their needs. Discussion areas give all users time to reflect. If you use instant messaging, be aware that some users may require an alternative solution such as phone or face-to-face contact. The VU Collaborate Chat Room tool is specifically designed to be accessible by keyboard and screen readers, but other instant messaging applications may not be as accessible.


4.4 Provide different types of content to cater to different learners
You can provide different types of content, activities and assessments for students in order to cater to different abilities and preferences. For example, VU Collaborate allows you to record audio feedback on assessments, instead of writing feedback. You could also record audio instead of, or in addition to, text in News items.

4.5 Type of Assessments
Finally, consider creating different types of assessments. If most of the assessments are written, design an assessment item that allows students to create a presentation or a video instead. If most of the assessments are analytical, ask students to do a reflective piece.
The use of ePortfolio as a place for assessment activity allows students to gather evidence of learning in the form of presentations, collections and reflections rather than the more traditional exams and essays, and it provides students with different skillsets to excel in areas with which they are most comfortable or practised.

There is more to accessible design than the mechanical aspects of web design; it is also about providing an organised, welcoming and safe environment for students. For more information about web content accessibility, please refer to the Web Content Accessibility Guidelines.
---
Further Support
Visit the VU Collaborate Help site at https://vucollaboratehelp.vu.edu.au for up to date information and resources on blended learning or email This email address is being protected from spambots. You need JavaScript enabled to view it..
Contact ITS Service Desk on (03) 9919 2777 or via self-service http://servicedesk.vu.edu.au for further technical support.