Granting Student Extensions in Assessment Dropbox Folders
If students have submitted special consideration for an assessment, you will often be required to give these students an extension via the special access settings of the dropbox. This guide will examine how to grant an extension in time to selected students for your dropbox and will also cover how to make the dropbox visible to only selected students. This can be useful if you need to hide the dropbox from some students while others are yet to complete the assessment. An example of this would be students on placement for who have had their workbook graded while others wait for their placement.
If you have a Convenor or Instructor role, you will be able to grant extensions in the Delivery Space.
Below are steps to walk you through Granting Student Extensions in Assessment Dropbox Folders:
---
1. From your delivery space, click on Assessments > Dropbox.


2. Click on the drop-down arrow on the dropbox you wish to add an extension to and select Edit Folder.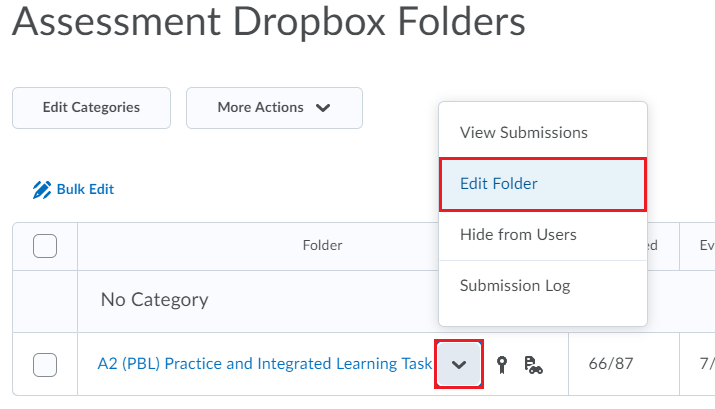 3. Click on the Restrictions tab.



4. Scroll to the bottom of the page where you will find the Special Access settings.



---
1. To give students a time extension ensure the radio button labelled "Allow users with special access to submit files outside the normal availability dates for this folder." is ticked.
2. Then click Add Users to Special Access.




3. This will load into the settings you can adjust for special access. From this screen you can:
Adjust the Due Date. Anything submitted after this date will be flagged as

Late

.
Adjust the Start Date. This is the date from which students can submit.
Adjust the End Date. After this date, students won't be able to access the dropbox.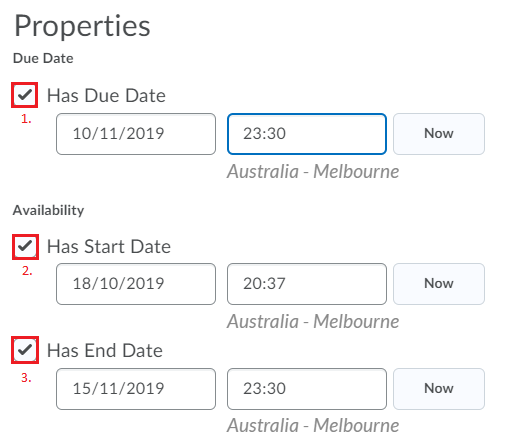 The due date must be greater than the start date but less than the end date. Alternatively, you can remove the start and end date and simply hide the dropbox when you choose.
4. Scroll down and you will find a list of students in this course. The objective here is to select only the students that have been given an extension, doing so will result in the other students seeing no change to the dropbox while the selected students will get the changes you have made to the dates.
5. To select a student, click on the checkbox by their name. In this example, I have selected the test student. Lastly, click Save.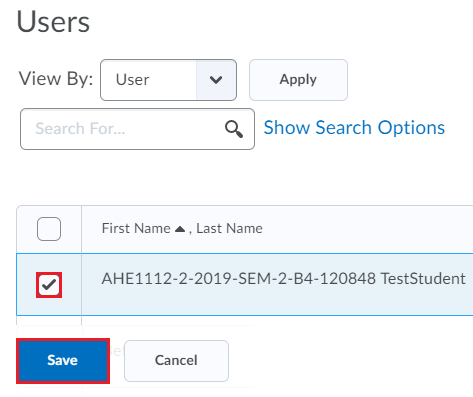 2.1 Adding Special Access to a Group
In some situations, you may need to add an entire group to special access. This can be workgroups or lab groups set by Allocate or it can be a group you have created manually in Collaborate.
1. From the Special Access page click on the box titled User and select Groups then click Apply.



2. This will load the page with all available groups listed. Click on the first group name to see all the groups available.
3. Select the group you wish to give an extension to and then click Apply to generate a list of all students in that group.




4. Click the select all checkbox to select all the students in this group and then click Save to assign you special access extension.


---
This is an optional step that can be used when you want to hide the dropbox from some but not all students. This can be useful in a situation where you need to publish grades but still require other students to access and submit to the dropbox. In placement units for example.
1. From the restrictions tab at the end of step one select "Allow only users with special access to see this folder".
2. Then click Add Users to Special Access.




3. From this page, you can set the dates as you did in step two. You can also restrict who can view this dropbox per user or per group as you did in step two.




4. When you are happy with your selection of students for special access click Save.
---
Further Support
Visit the VU Collaborate Help site at https://vucollaboratehelp.vu.edu.au for up to date information and resources on blended learning or email This email address is being protected from spambots. You need JavaScript enabled to view it..
Contact ITS Service Desk on (03) 9919 2777 or via self-service http://servicedesk.vu.edu.au for further technical support.