Get Material into Readings: Enter details for individual Items
Readings provides access to online reading lists in VU Collaborate units for required and recommended student readings. Readings requires basic descriptive information regarding each reading and a link to content whether it is an online journal article or a scanned book chapter. Through Readings you can also request library staff to locate the material for you.
This guide explains how to add individual student readings by keying in relevant information. It will also describe the options of linking to the library resource, adding a PDF file, or requesting the library to locate the reading. Readings with links provided will be made available to students immediately, whereas those with File or Locate will be finalised by library staff.


Note: Before new material can be added to Readings, a Reading List must be first created. Refer to the guides Create a Unit Reading List.
Step One: Navigate to the Readings Module
1.1 From the VU Collaborate unit, navigate to the Readings module and enter the tool.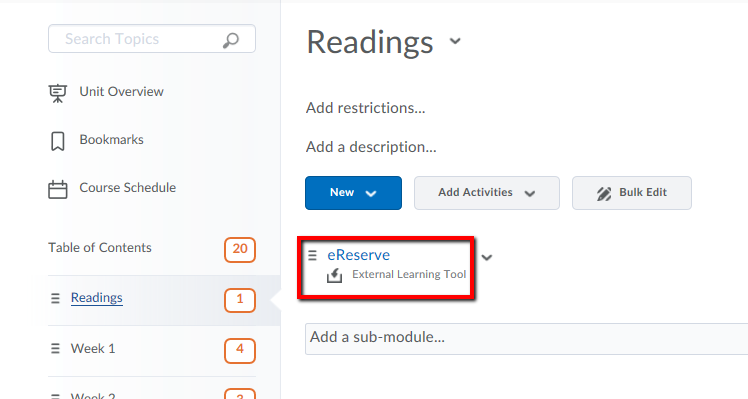 Step Two: Ensure the correct reading list is selected
2.1 Select the relevant reading list from the drop-down menu. In the example below the list is 2019 Block Delivery.

Step Three: Add material into the Reading List
3.1 Click on the Add option and select to add:
New journal reading
New book reading
New website

3.2 Complete the Required reading information. Complete the Notes fields for communication with students or library staff as desired. A student note example could be "Take particular note of pages 6-8".

3.3 Complete the student reading information for:
The Source Document (left of screen) eg. name of the journal or book. Completion of the optional field 'Place' would provide additional reference guidance information for students.
The Reading (right of screen) eg title of the particular article or book chapter from the title you have added as the Source Document. Use the drop-down menu to select the 'genre' which matches the request.

For the field Kind choose File, Link or Locate

File – provide a PDF of the student reading. This request is reviewed by the library Readings team.
Link – provide a link to the student online reading. This can be a permalink to the library resource. The 'Permanent links from Library Resources' guide may be of assistance in locating the correct link http://libraryguides.vu.edu.au/PermanentLinks. This will be immediately available for students to access.
Locate – the library Readings team will locate the item and make it available to students.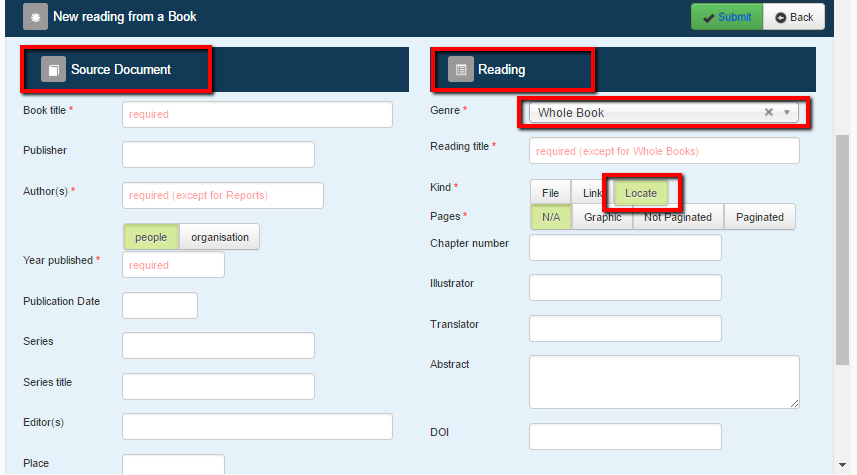 Step Four: Finalise the Process

4.1. Select the Submit button at the top of the webpage to complete the process.

4.2 Click on Refresh at the top of your screen and your new readings will appear in your Ungrouped readings folder..