Using Padlet
---
Victoria University now has a licence for Padlet. Padlet is an online tool that is best described as an online post-it board. It can be used by students and teachers to post notes on a common page. The notes posted can contain links, videos, images and document files. This can be shared with any student or teacher by embedding the padlet on a VU Collaborate page, or providing them with the unique Padlet link. Padlet allows you to create as many online post-it boards or "walls" as you like and insert ideas anonymously or with your name. You can set these Padlets to private or public. Private walls can be created by requiring a password to access them, or by limiting access to registered users with specified emails. Teachers can use this to collaborate within a subject department that is not accessible by the students and moderate all notes before they appear. If you intend to share a padlet with students, set your padlet to Secret and share the link or embed the padlet in VU Collaborate.
To get access to a Padlet account for use at VU, send your request with your eNumber to This email address is being protected from spambots. You need JavaScript enabled to view it..
Here are the steps to use Padlet:
See the Gallery for some great examples and inspiration of how you can use Padlet in your learning space.
---
1. The Padlet app can be installed on Android and IOS platforms or simply accessed via the Padlet website (recommended).
2. If you haven't yet done so, email This email address is being protected from spambots. You need JavaScript enabled to view it. to request a VU Padlet account. You can use Padlet.com but you will be limited to only 3 Padlets. Padlet.com is recommended for student use.
3. When you sign in, the first thing you see is the Dashboard. If you had an existing Padlet account, you will be given the option to import previously created Padlets into your VU Collaborate Padlet Backpack.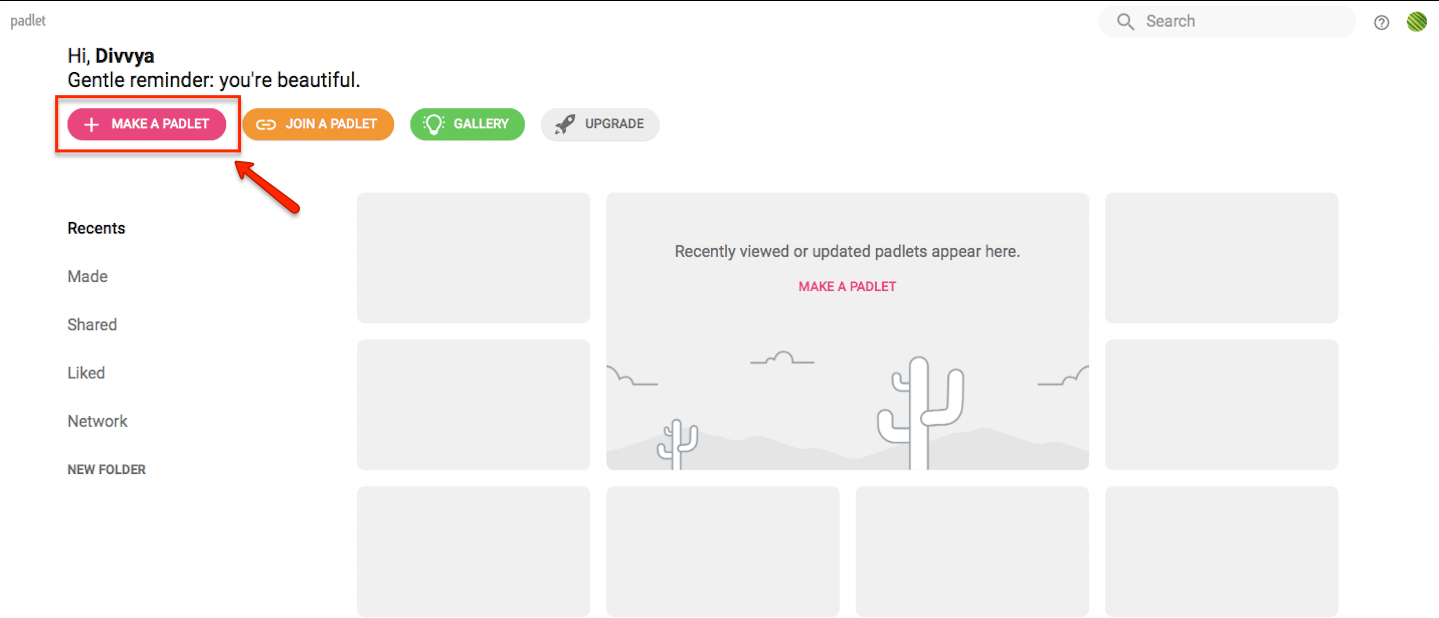 4. Padlet offers several kinds of options as shown in the image below which can be used for different learning tasks.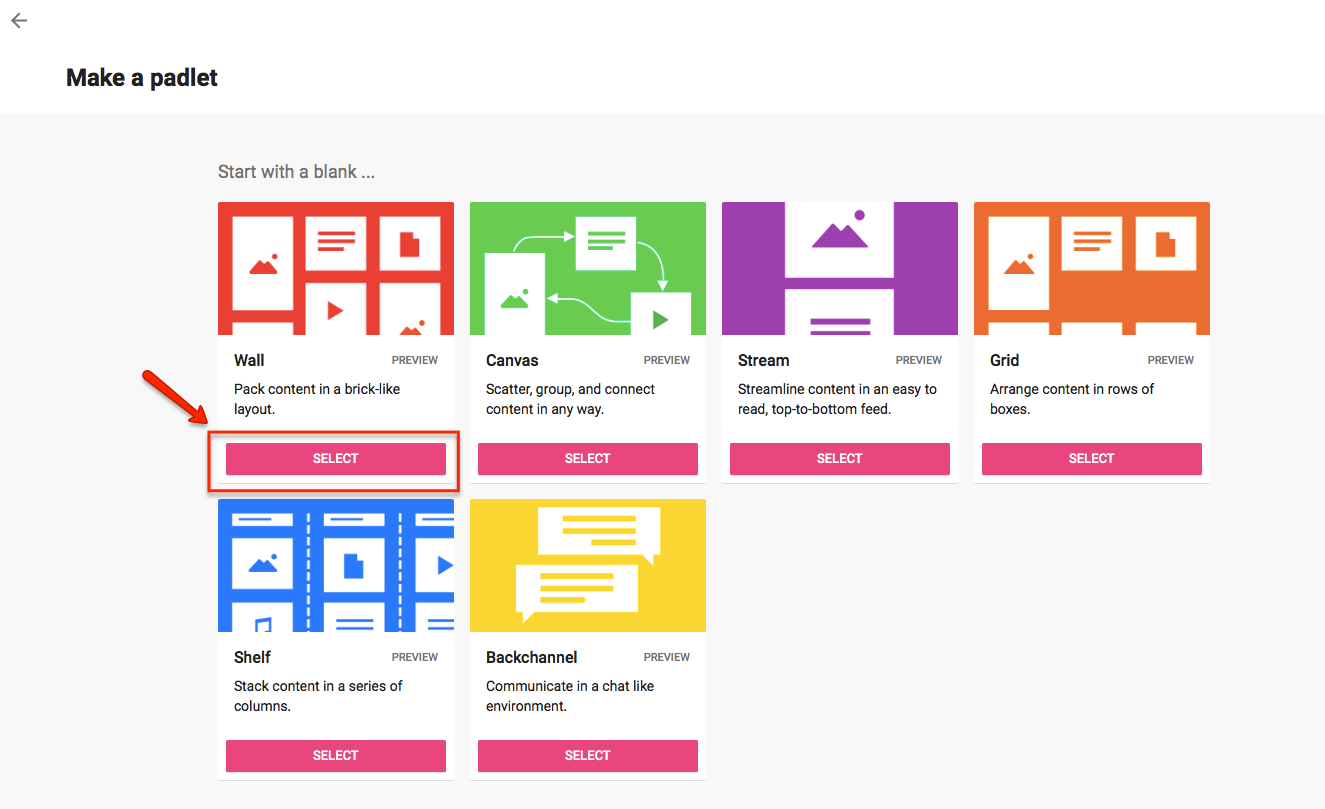 5. Wall similar to Pinterest, allows you to post texts, images or videos. Canvas can be used to develop mind maps to show inter-relationships. Stream looks like a blog where only one post is seen at a time in an order. Grid displays items in a row and therefore looks better when the items are of similar size. Shelf allows the categorisation of tasks since it displays items in columns.
For the purpose of this guide, we will focus on the simplest option, Wall.
---
1. Set up your basic details such as the title, description and wallpaper of your Padlet "wall".
The Title of your Padlet would ideally be the unit name or unit code, while its Description would be a suitable place to insert the question or discussion prompts.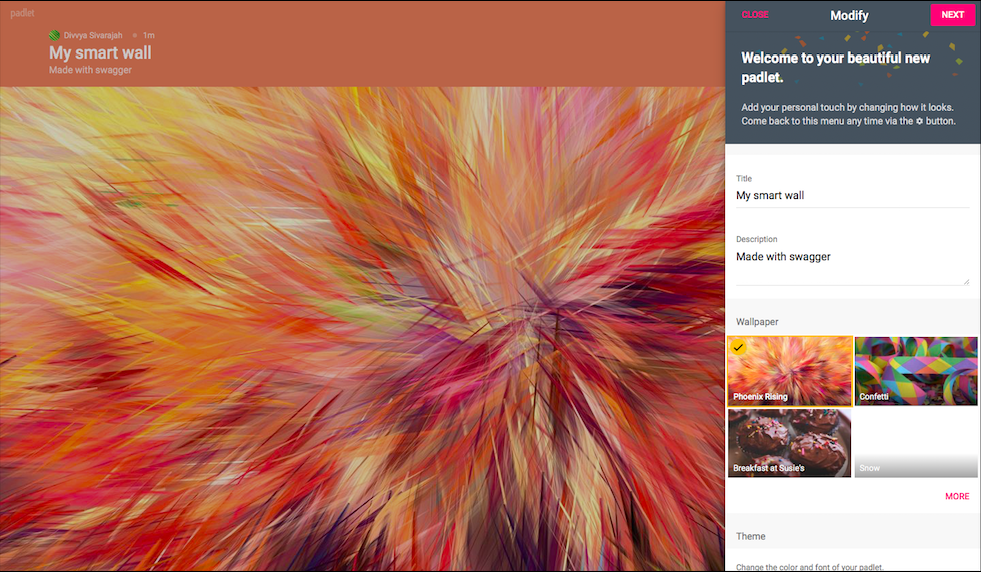 2. Once this is done, you can move on to the advanced details that involve the posts and comments on posts as well as the web address to your padlet.
You can customise the web address to the Unit code or name or correspond to a teaching week.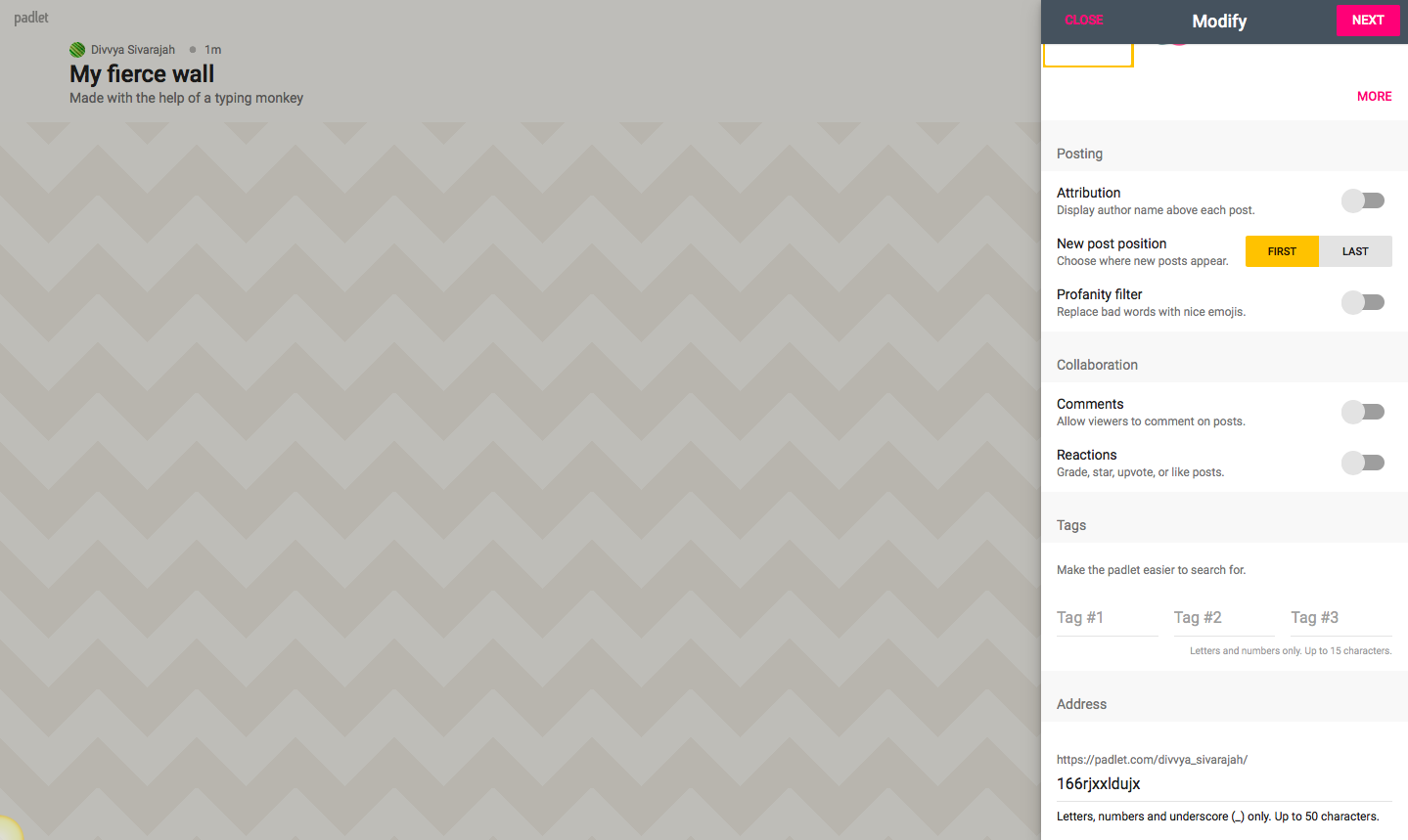 3. Next, configure the access to your Padlet under the People and Privacy section that has 4 standard options; Private, Password Protected, Organisation wide, and Secret.
4. As shown in the image below, your padlet should be set to Secret (only viewable by embed code or link) and writable (Can Write). If you choose the "Organisation wide" option, it means anyone in your organisation can access the padlet.




5. Add contributors (staff), if you wish to
by entering their emails or usernames and adjust their individual permissions. You can only add other staff that have a Padlet account.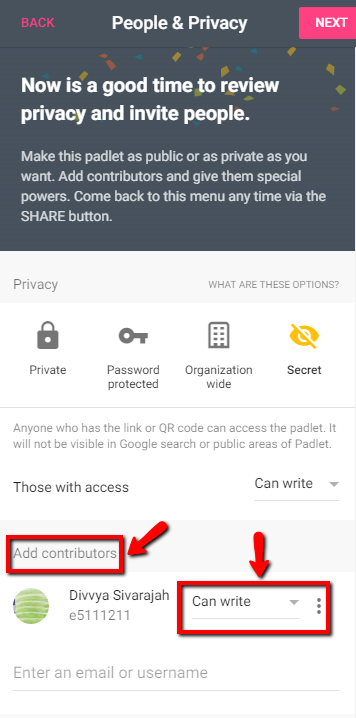 6. Turn off Remakes if you do not want others making a copy of your Padlet to use as a template. Enable Moderation if you want posts to appear only after you have reviewed them.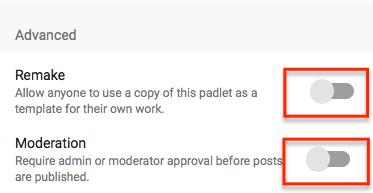 7. Once the steps above are complete, you can start posting to your Padlet by clicking on the plus icon at the bottom of your Padlet. Alternatively, double click anywhere within the wall or drag files into it.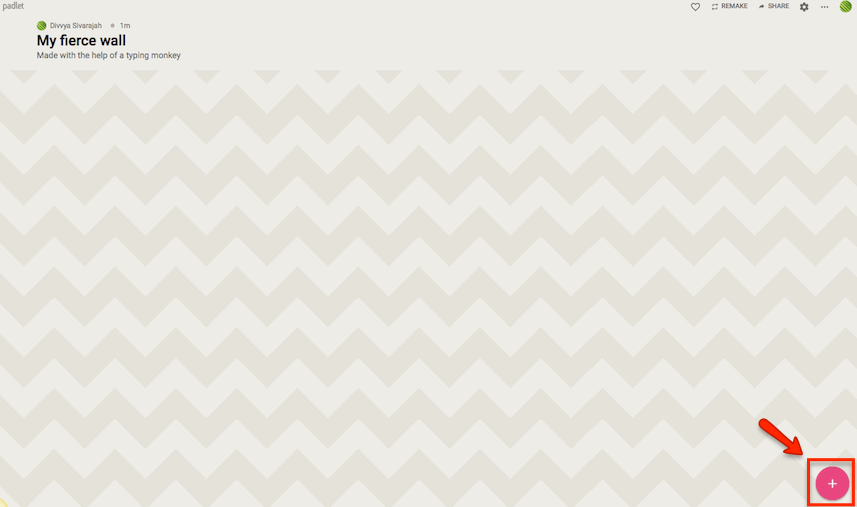 8. Click on the picture below to see a video showing how to Anonymity in Padlet posts and Padlet Settings.
This is not one of our lovely professionally done videos, just a quick demonstration.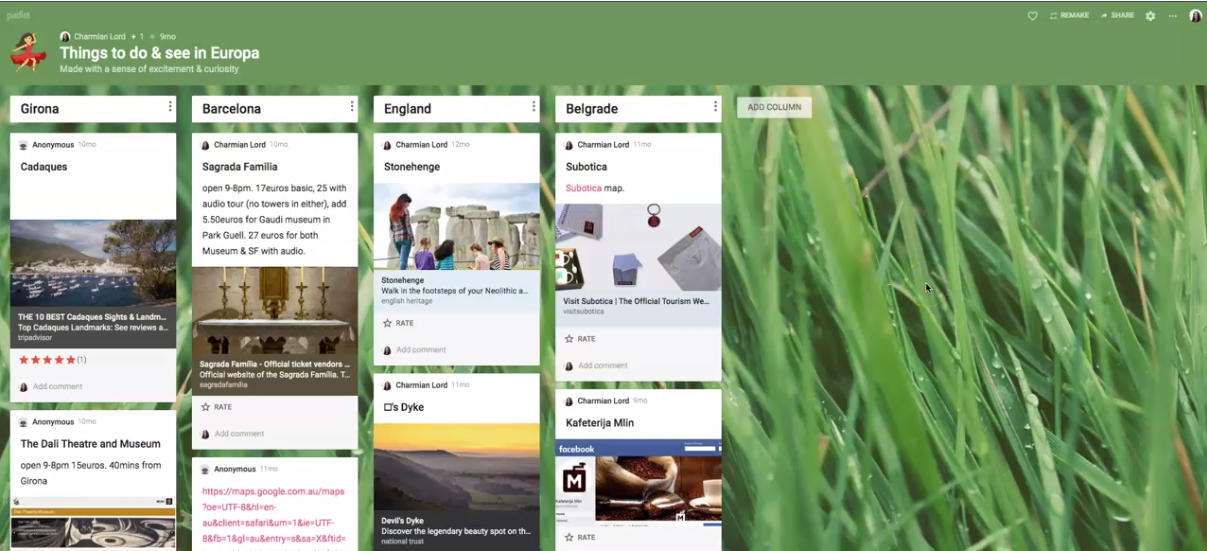 ---
1. Walls created in Padlet can be exported in several ways, including as a PDF, an image, a spreadsheet or printed out. Your Padlet wall can also be shared by copying its unique URL, sent via email, Facebook, Twitter or embedded into your VU Collaborate site. To embed the code into a HTML page in your learning space, first you will have to copy the embed code from Padlet.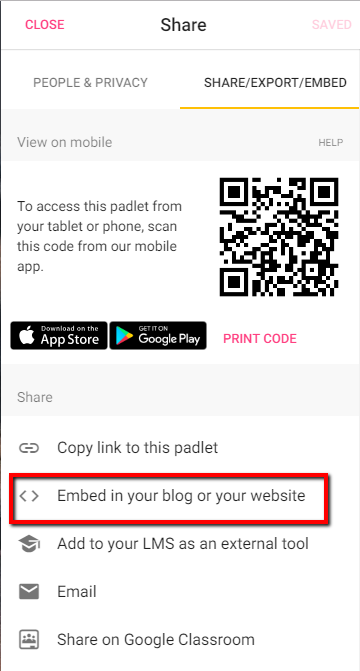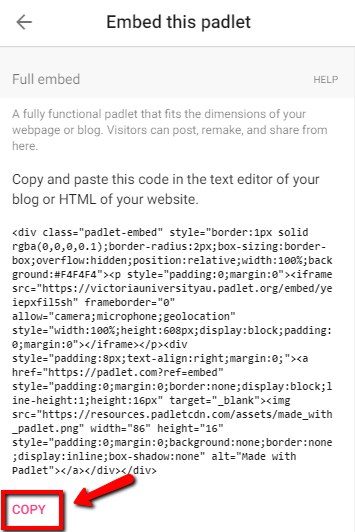 2. Next, add a new document in your learning space, click on the insert stuff icon and select Enter Embed Code.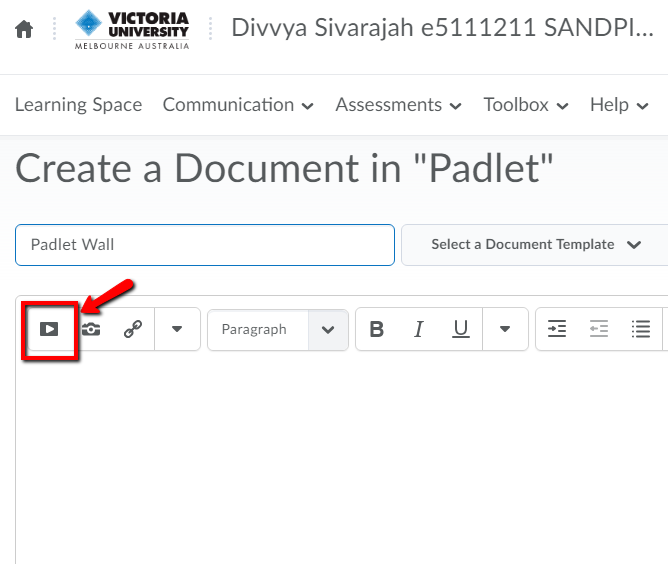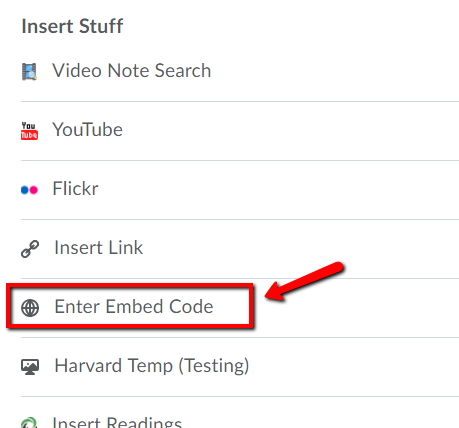 3. Once you have pasted the embed code, you can proceed to publish it for students to view it in the learning space.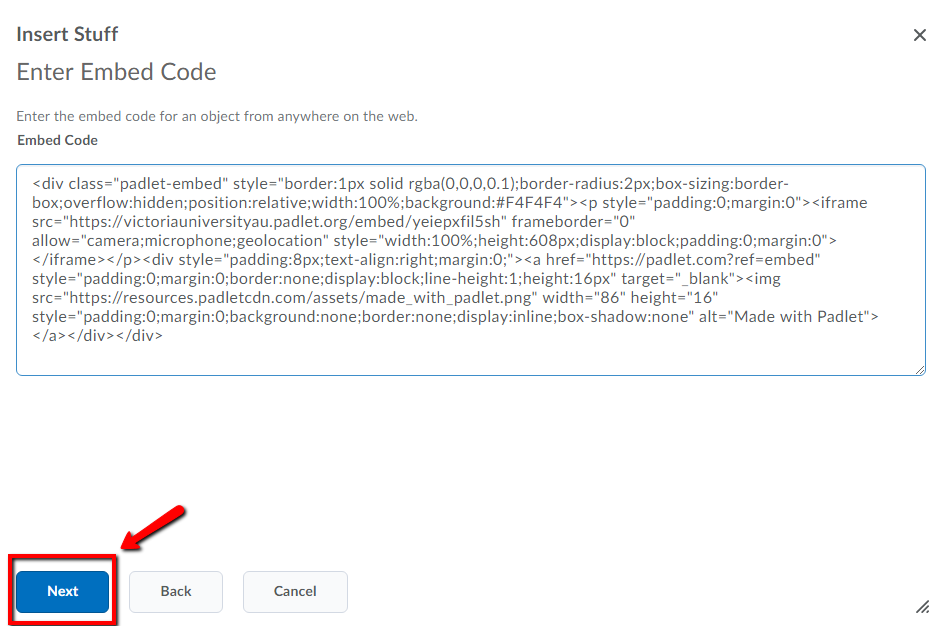 Only share your Padlet Organisation-wide if you want everyone to see it when they login.
---
Further Support
Visit the VU Collaborate Help site at https://vucollaboratehelp.vu.edu.au for up to date information and resources on blended learning or email This email address is being protected from spambots. You need JavaScript enabled to view it..
Contact ITS Service Desk on (03) 9919 2777 or via self-service http://servicedesk.vu.edu.au for further technical support.