Creating a Campus Pack Podcast

Campus Pack is an addition to VU Collaborate that offers blog, journal, wiki and podcast tools to staff and students. A Campus Pack podcast allows students to listen to learning content or instructions anywhere, at any time. Students can also create their own podcasts.
Note: We recommend using Chrome or Firefox with Campus Pack. If you are using Safari, you may get a login error: remember to enable cookies in preferences to avoid this.
Below are the steps taken to create a Campus Pack Podcast:
---
1. Login to VU Collaborate and go to the space. Click Content to view all modules.



2. Choose the module that you would like to include a podcast in, and click to open it up. (Our example module is called Campus Pack Podcast).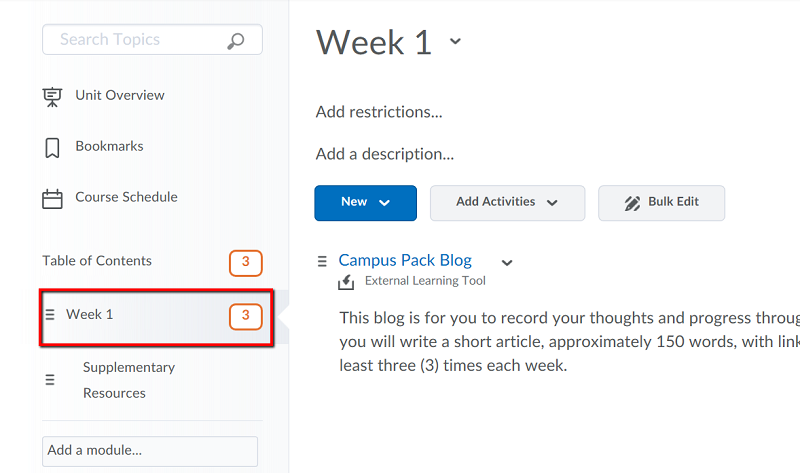 ---
1. Click the Add Activities drop-down menu at the top of the module you have selected.
2. A list of options will appear. Select External Learning Tools.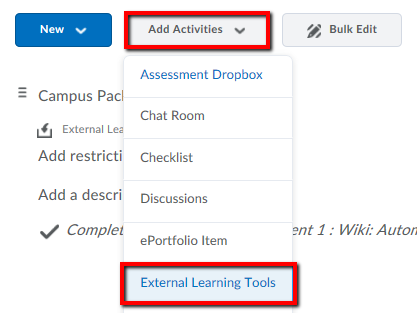 3. The External Learning Tools menu will appear. Click on Campus Pack Podcast.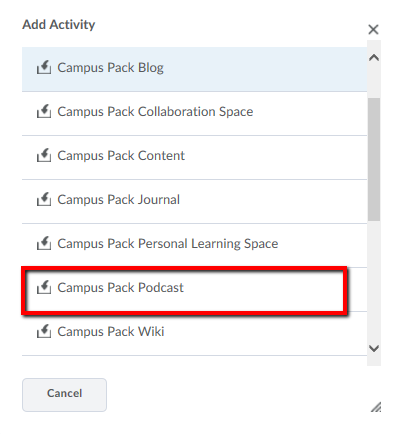 4. This will create a Campus Pack Podcast at the bottom of the content page.
Tip: You can move this item further up in your content. Just click on the three lines beside it, and drag it up or down to re-order the content.


---
1. The new Podcast will automatically be titled "Campus Pack Podcast".

2. Click on the drop-down arrow next to the "Campus Pack Podcast" Topic name. Click Edit Properties to change what the Podcast is named.

3. Click on the title region and fill in a title that students will recognise easily when they open up the module.

4. Click on the drop-down arrow beside the Campus Pack Podcast item and select View Topic.

5. You will now be navigated to the new Campus Pack Podcast item. Give the Campus Pack Podcast a description to help students understand what the purpose of the Podcast is. You can come back and edit this later. When you're finished, click the

button to save your work.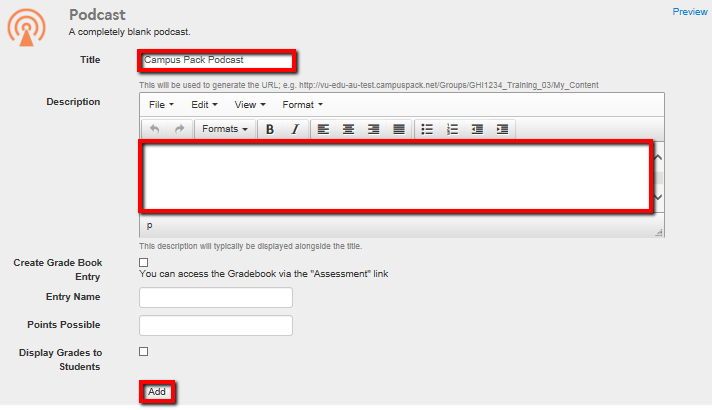 3. Next, click Settings on the right-hand side of the screen. You can add information about the podcast here. See Using a Campus Pack Podcast for more details.

---
If you wish to assess this Wiki and send grades to the VU Collaborate gradebook, enter the grade book properties.
1. Click Create Grade Book Entry.
2. Type in the Entry Name with the name you wish this to display in the grade book for your space.
3. Decide how many Points the grade item will be out of and put this number in Points Possible.
4. Tick the box next to Display Grades to Students.
5. Click the Add button.
You are now ready to start creating podcasts! See the article Using a Campus Pack Podcast for more detailed information on what to do next.

Tip: Students will be able to see the grade entry by default. Choose a different option under the Restrictions section to hide the grade, or make it visible only for a certain time period.

---
Further Support
Visit the VU Collaborate Help site at https://vucollaboratehelp.vu.edu.au for up to date information and resources on blended learning or email This email address is being protected from spambots. You need JavaScript enabled to view it..
Contact ITS Service Desk on (03) 9919 2777 or via self-service http://servicedesk.vu.edu.au for further technical support.