Buddycheck - Group Member Evaluation
Buddycheck is simple to set up and use peer evaluation tool which allows students to evaluate each team member's performance in a group activity, as well as perform a self-assessment. The Instructor can create any number of performance criteria or select from a number of samples. Students are awarded an average score (excluding or including their self-score), or have a calculated adjustment factor applied to their final group assessment mark. Students will receive feedback on the group dynamic and their own performance against the group average. Buddycheck utilises the research-based CATME framework for peer evaluation in groups.
View the Buddycheck website: https://buddycheck.io
Following topics will be covered in this guide.
Buddycheck can only be enabled in a Delivery Space. Before you create a Buddycheck evaluation, you must create the student groups in VU Collaborate. You cannot select a group category after the evaluation is created. However, you can continue to synch the VU Collaborate groups with Buddycheck if students are still being allocated.
---
1. Go to Learning Space and click Add Activities.
2. Select External Learning Tools.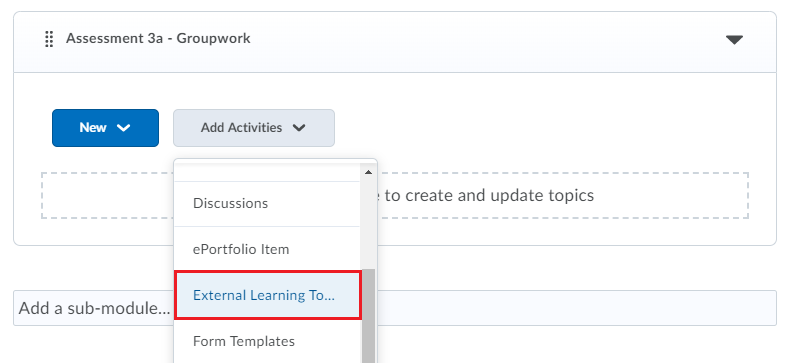 3. Click Buddycheck – Group Member Evaluation.






4. Once added to the page, launch the newly added link.



5. Select evaluation by clicking on the title.
6. If this is the first time using Buddycheck you will be asked to activate it.



---
You can now create your first evaluation.
1. Click Create Evaluation.

2. Select the group set(s) you wish to include.

3. Enter an Evaluation title.

4. Enter an evaluation Start and End date.

5. Select any existing default questions (check the box) or click Add new question.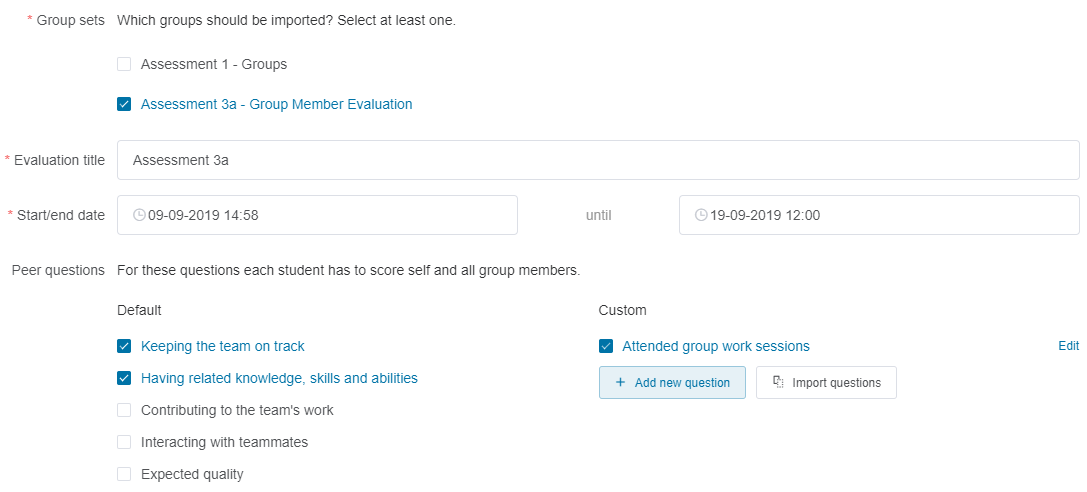 6. Fill in the required question information and click Create question.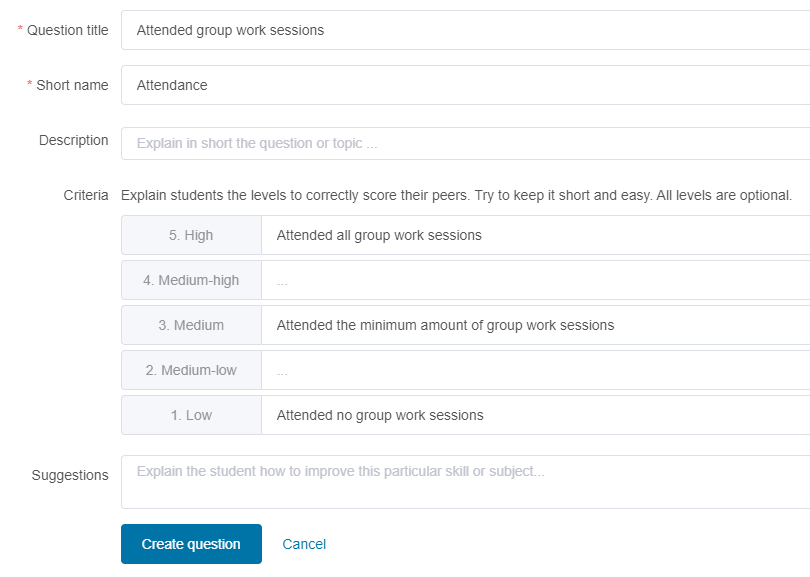 7. You can choose to enable Team questions that students fill in. These relate to the group as a whole (off by default).

8. If you want students to see the adjustment factor, change show factor (off by default).

9. If you don't want students to send you a private message about the group switch off Instructor message (on by default).

10. If you don't want students to send a peers a message, switch off Peer messages (on by default – this is not anonymous).

11. Before you save you can click Open preview of evaluation, exit and make any adjustments.

12. Click Create evaluation when done.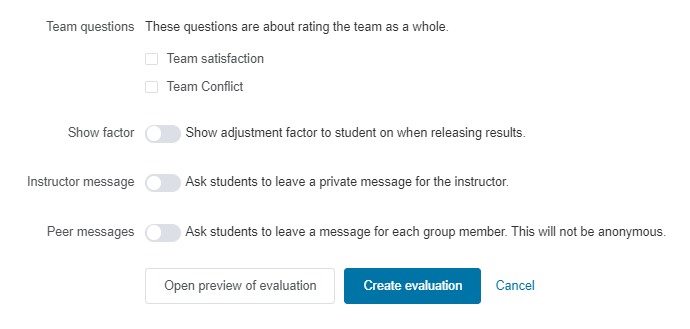 13. The page will reload and you will see the evaluation appear.



---
1. If group membership changes in VU Collaborate you need to re-synch the groups with Buddycheck.

2. Click the title of the evaluation.

3. Click More and select Sync with course.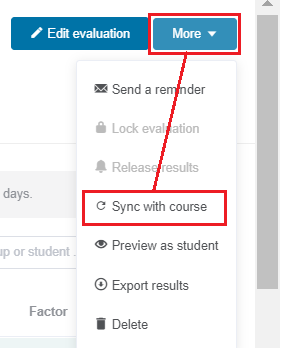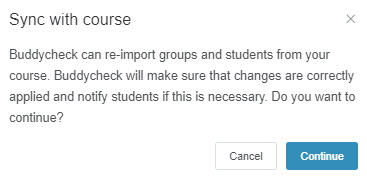 ---
1. When students click on Buddycheck – Group Member Evaluation they will see all evaluations created in your space. To begin, they click Begin evaluation.



2. The student fills in each criteria clicking Next until they have the option to Submit evaluation.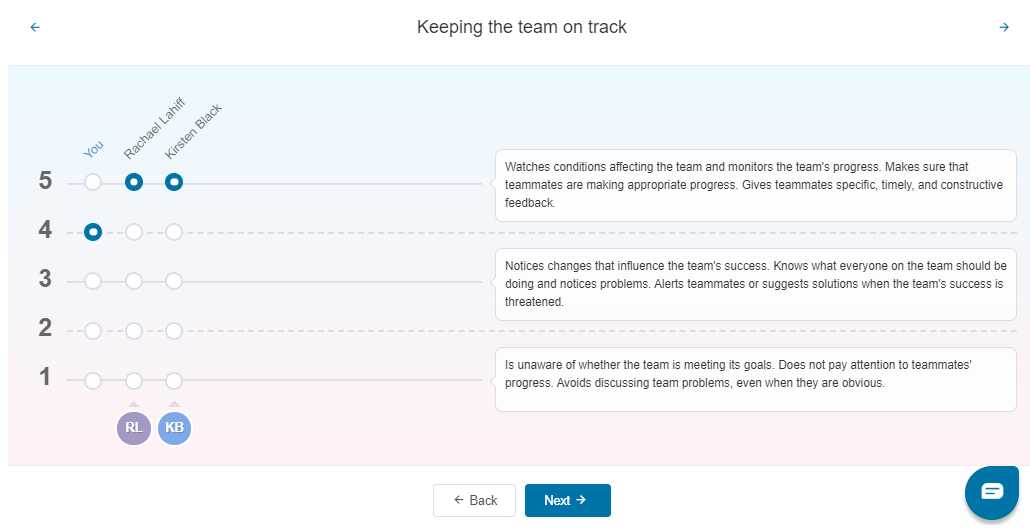 3.You will be able to monitor which individuals and groups have completed the task, and what scores individuals have given and received.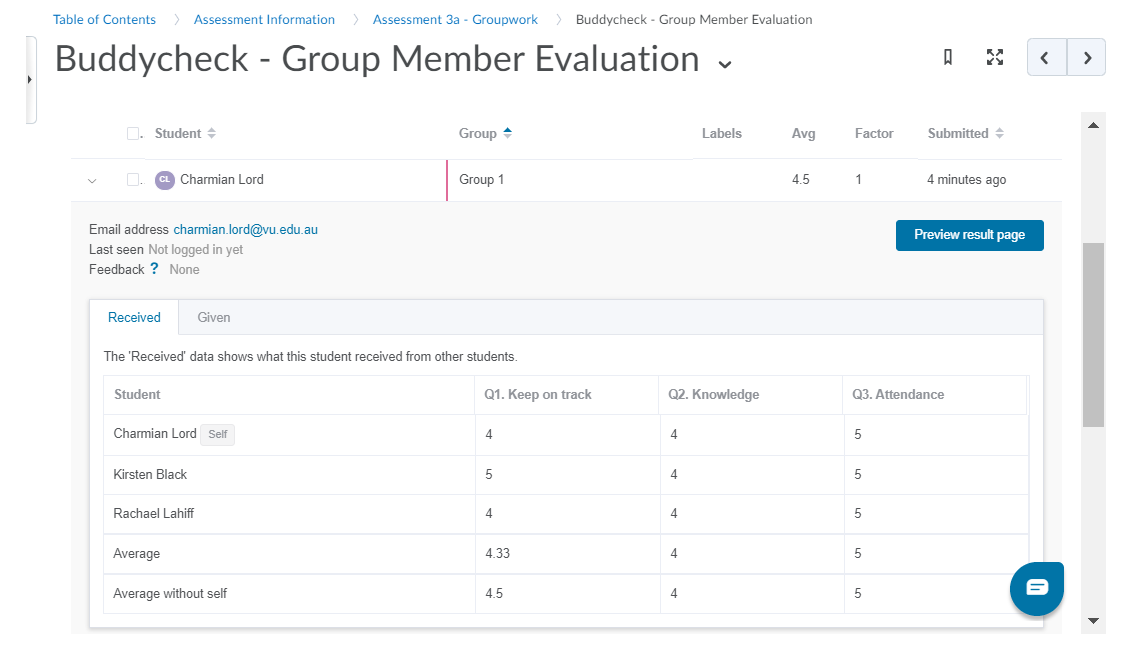 4. Although you have set a due date, students will be able to complete the evaluation until you lock the evaluation. They will however see that their submission is overdue.
Student with overdue submission view:



5. You may allow a grace period and send a reminder to students who have not completed their evaluation, or simply click Lock evaluation.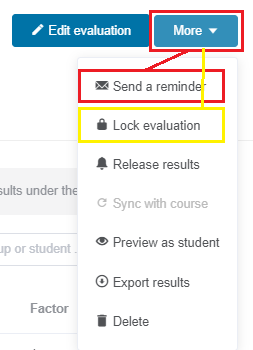 ---
1. To release feedback to students, select More and click Release results.

2. Students will be able to review their feedback within Buddycheck, but will also receive an email summary. Select More and click Export results to download a complete summary of the evaluation. You will be prompted as to whether you export results excluding or including their self-score.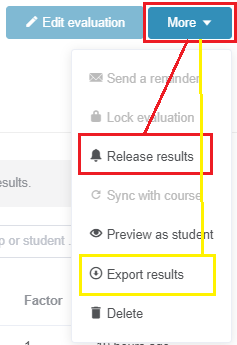 Buddycheck integrates with the VU Collaborate Gradebook. Buddycheck will reference the existing gradebook item for the group assessment. It will then create a new grade item and multiply the group's score by the student's adjustment factor to generate an individualised adjusted group score. Either of these gradebook items can be used towards the student's final score by adjusting their weighting.
3. You can view each student's feedback page. Select the student and click Preview result page.



4. Students initially see a graphical representation of how they performed across all criteria.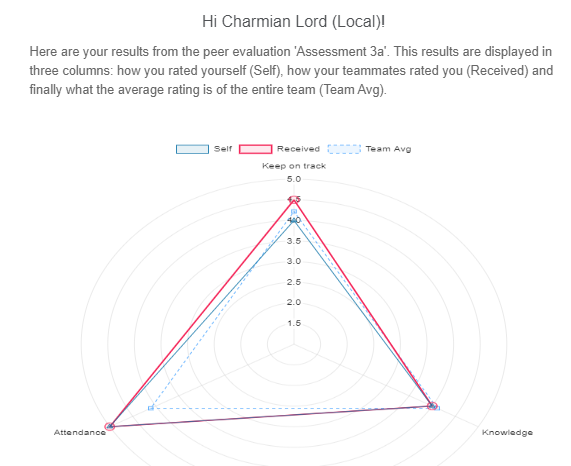 5. Students then see more detail on each criterion, comparing their self-score, received score and team average.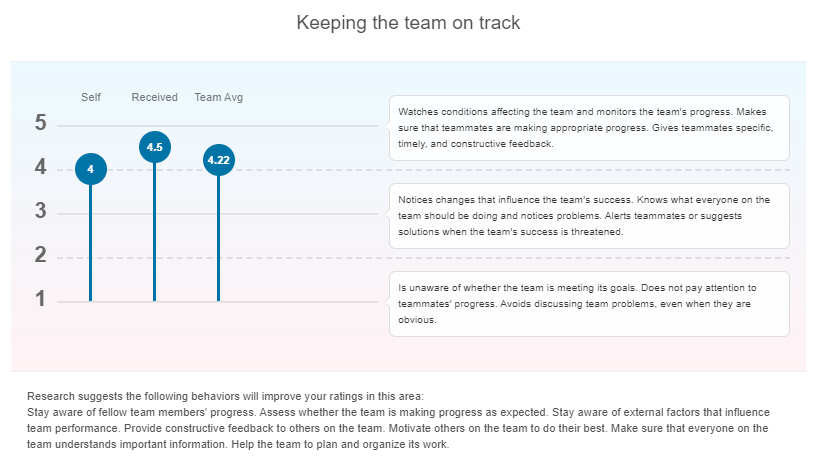 6. You can choose to include or exclude the students' self-score in the average score calculation in the Instructor view.

7. Where certain team dynamics occurred, they will be labelled, eg. Conflict below.



8. The label key can be found below: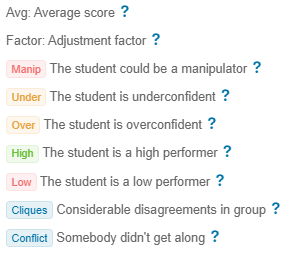 9. Select evaluation by clicking on title.

10. Evaluation completed with score.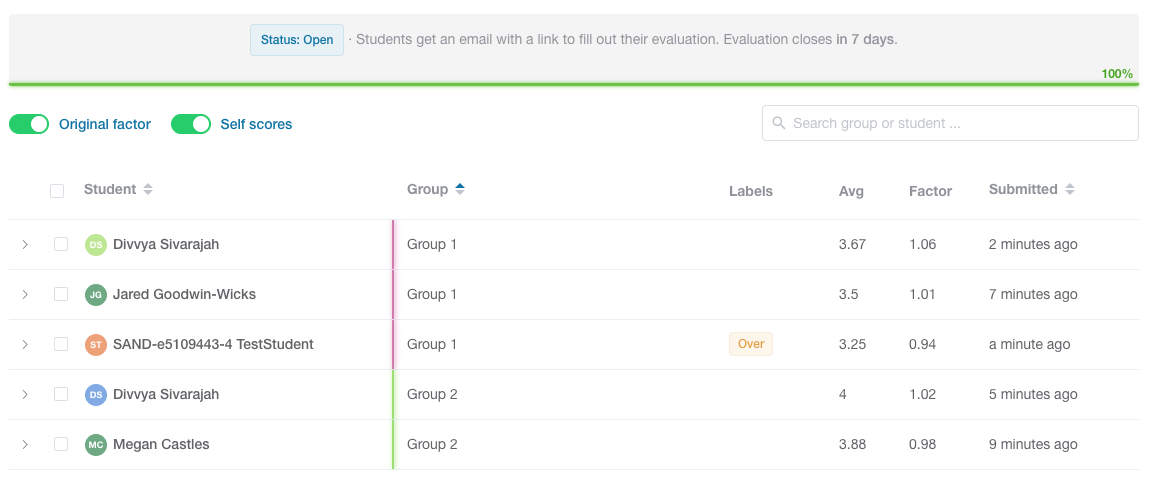 Step Six: Sending to the Gradebook
---
Click on the picture below to see a video showing how to release the results and submit the grades in Buddycheck.
This is not one of our lovely professionally done videos, just a quick demonstration.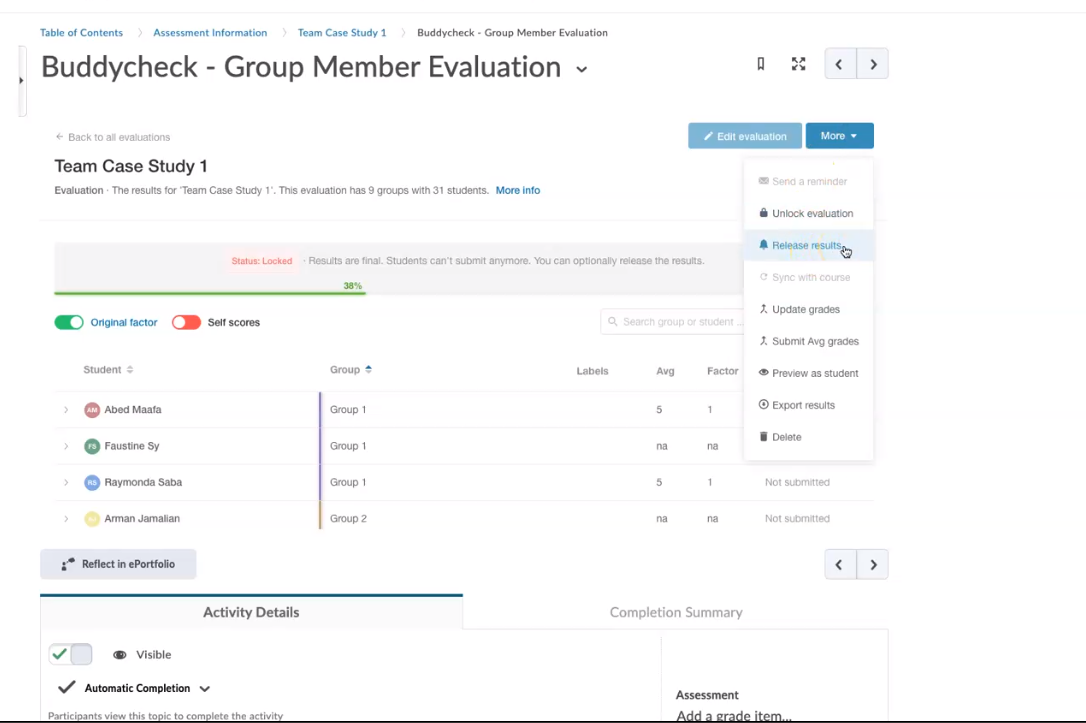 1. If you would like the Buddycheck evaluation to be part of an assessment grade, you can also Submit Av grades to push to gradebook.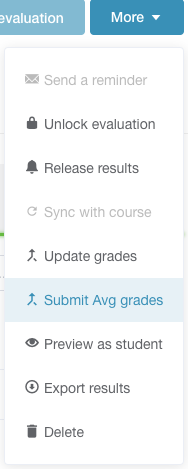 2. Select grade item and submit to gradebook. You must already have a grade item created in the unit space for this.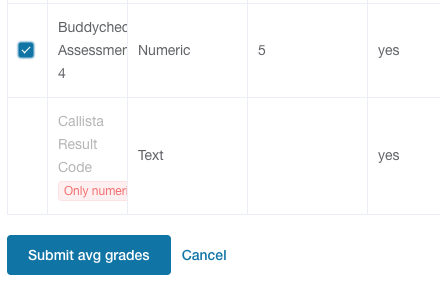 3. Below is how the Buddycheck score will appear in the gradebook.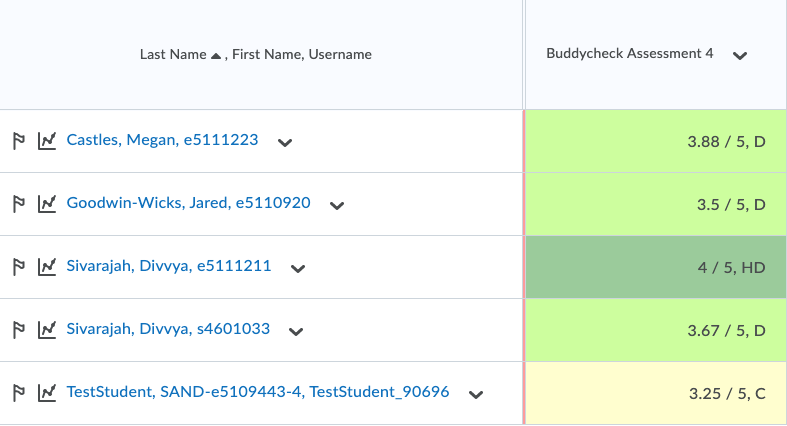 4. If you have enabled private messages to Instructor and received one, you will see this text/chat icon next to the student's name

.
---
Further Support
Visit the VU Collaborate Help site at https://vucollaboratehelp.vu.edu.au for up to date information and resources on blended learning or email This email address is being protected from spambots. You need JavaScript enabled to view it..
Contact ITS Service Desk on (03) 9919 2777 or via self-service http://servicedesk.vu.edu.au for further technical support.