Creating a Survey
A survey is a data collection tool available on VU Collaborate which can be used to gather information about students. Surveys are commonly used in research to collect self-report data from study participants. A survey may focus on factual information about individuals, or it might aim to obtain their opinions.

This article will guide you through the process of creating a survey in VU Collaborate.
This article covers the following topics:
Note: Please see this guide on H5P if you would like an H5P introduction, and this guide if you want instructions on how to insert the H5P into your space. There is also a help guide video with an overview of creating an H5P here.
---
1. In the Learning Space, choose the module you want the H5P to be in, click on New, then New Document.
2. Click on a Module where you would like to place your survey.
3. Click Add Activities then select Surveys.




4. Click Create New Survey.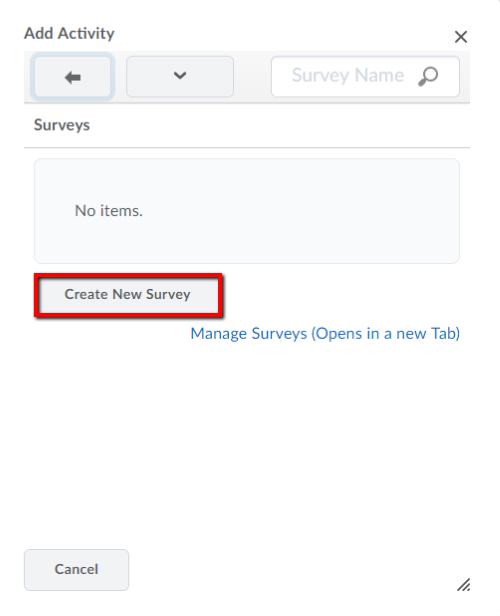 5. Give the Survey a Name and optional Description, then click Create and Insert.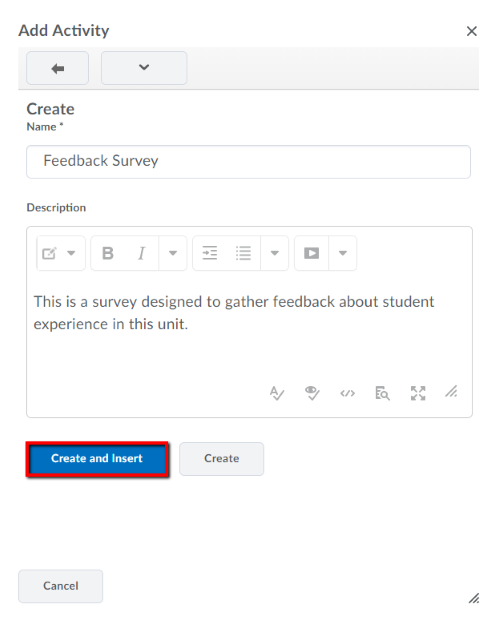 ---
1. Your survey is now created and inserted into the module. Click on the Title of the Survey to add survey questions.




Note: Your survey will be created in Draft and will need to be published once you have finalised all elements.
2. Click Survey Setup.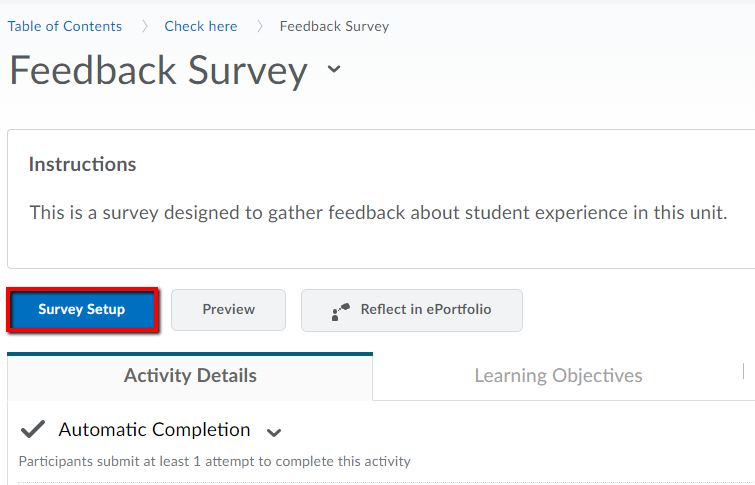 3. Select either of the options for your survey to give instant feedback or make results anonymous.

4. Click Add/Edit Questions.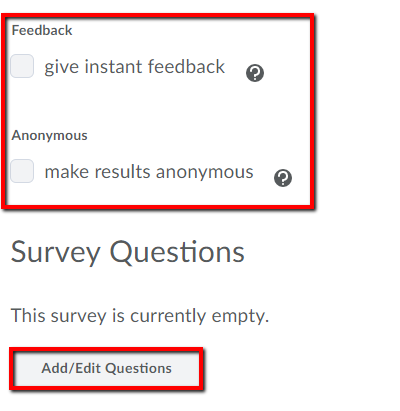 These boxes are optional, but note that if a survey is anonymous, it cannot have any restrictions put on it. The survey can not be edited to change the anonymity at a later stage.
4. Click Yes to continue.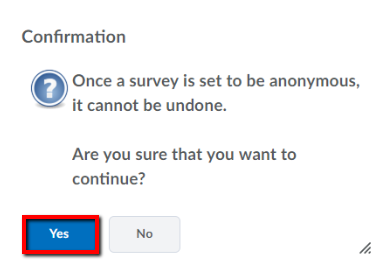 5. Click on New and select the question type you would like to add.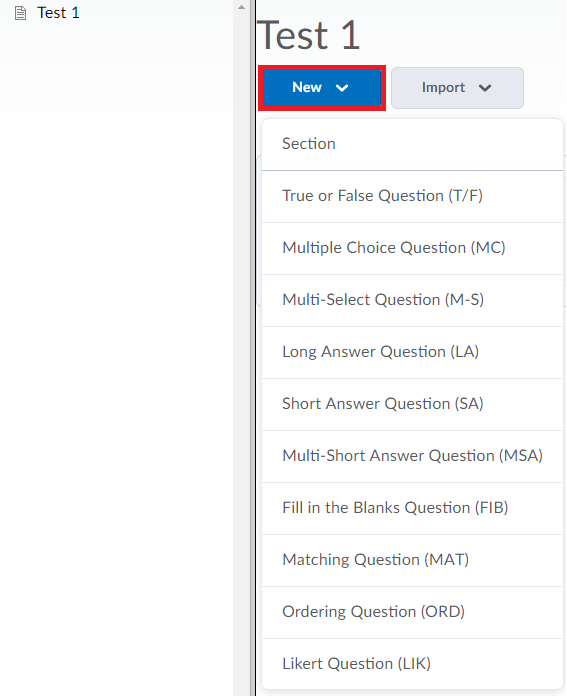 Click on one of the question types to learn more about creating them:
Note: Creating Survey questions does not require you to select/allocate points to the correct answer.
2.1 Likert Scale Survey Question Example


1. Select Likert Question.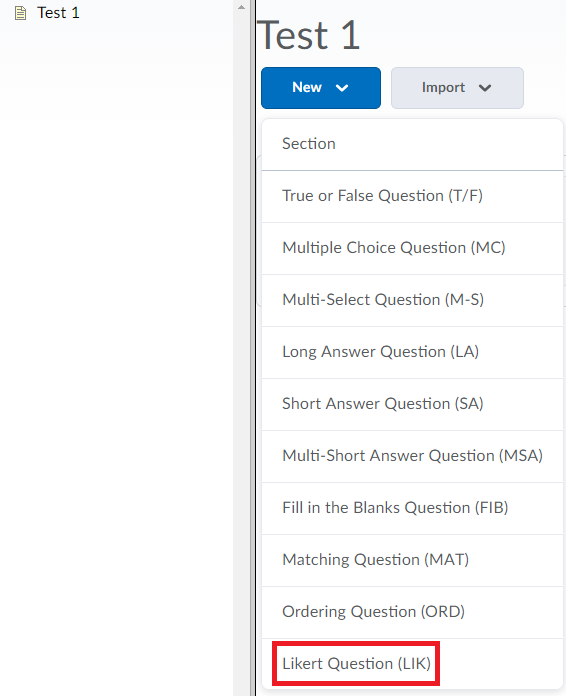 2. Enter an Introductory Text to guide students through the survey.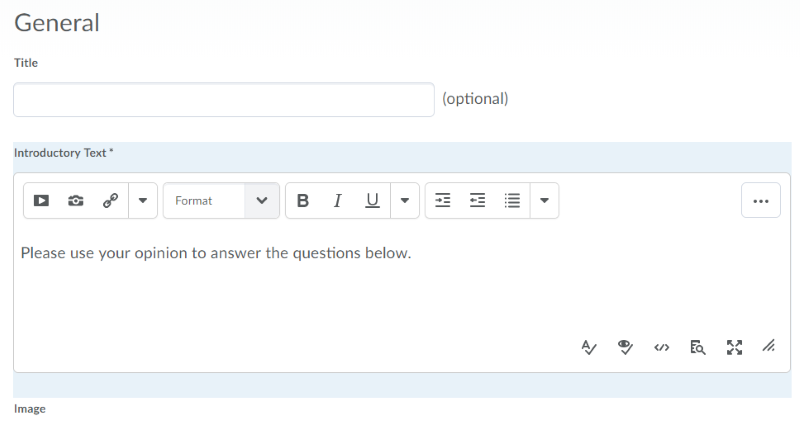 3. Select a type of Likert Scale.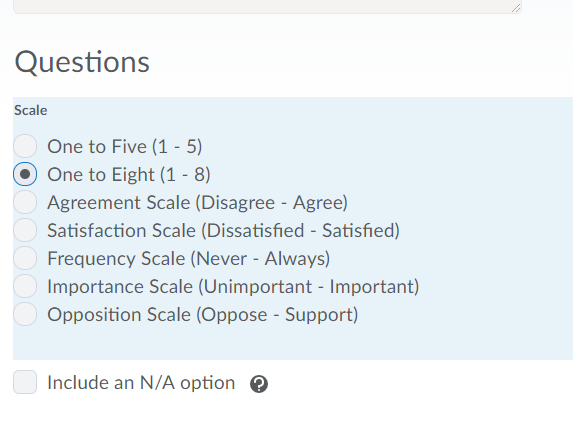 3. In the Value section, enter your questions which will correspond to the Scale that you selected in previous step.
4. To add more questions, click Add Option located on the top of the Value section.
5. Once completed, click Save.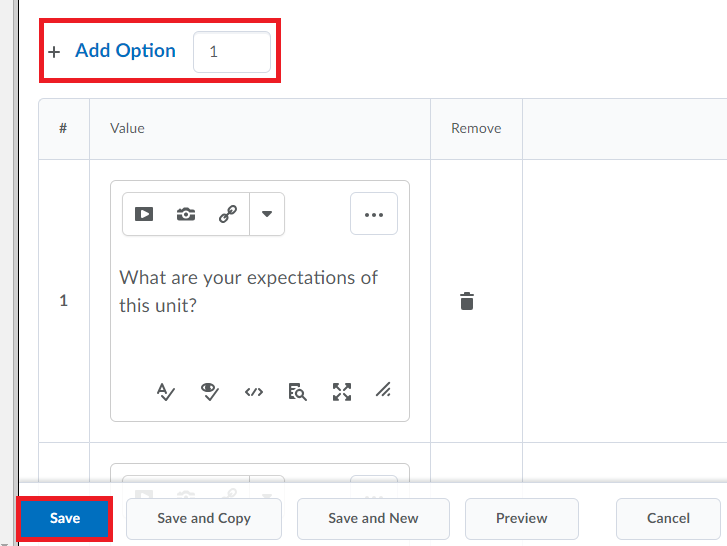 6. Your question is now completed. To check the question that you have made, click on the drop-down arrow next to the question and then select Preview.
7. From here, you can also edit your question by clicking Edit (located above Preview).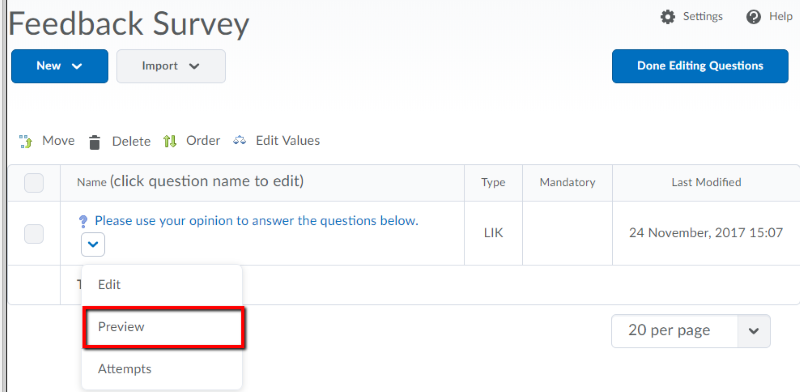 8. A preview of how the question will appear to students will be displayed.




7. Click Save and Done once reviewed.

---
1. Click Done Editing Questions once you have created all the questions for your survey.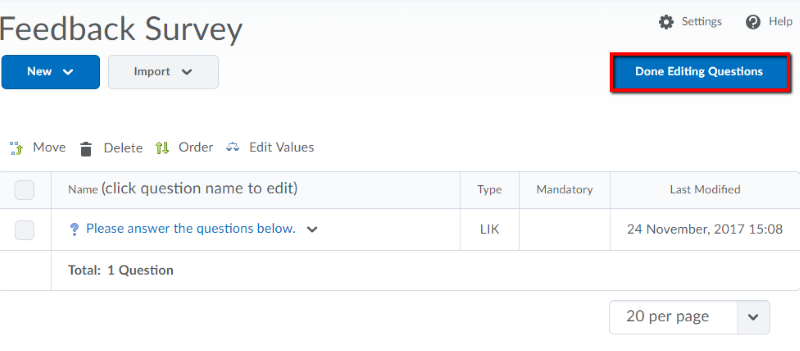 2. You will return to the Edit Survey screen, click Restrictions on the top tab.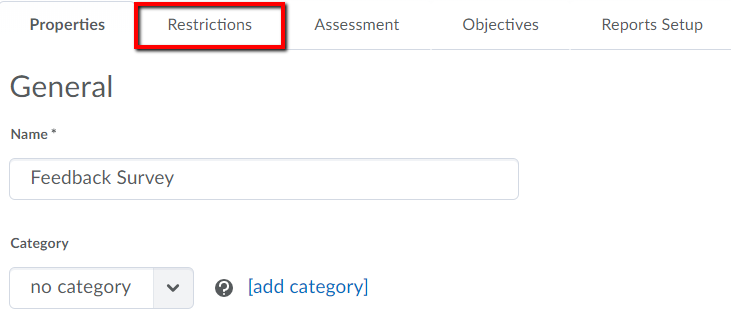 3. Click on the Status drop-down arrow and select Active. This will allow students to submit their responses to the survey.




4. Below you are able to set time restrictions if required.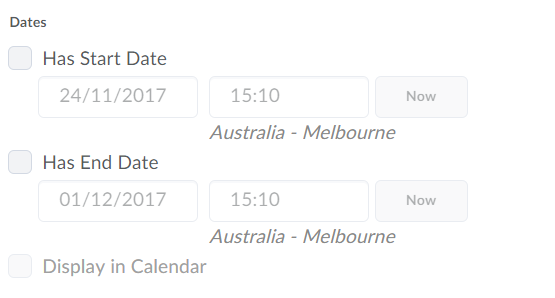 4. Decide on the number of times you would like a student to submit their feedback:
Unlimited - No capped number of survey responses per student.
Single Attempt that is editable - One survey response which can be changed by the student.
Limited - Select the number of times a student can submit a survey response.




5. Click Save and Close to save the changes you have made to the survey.



---
Further Support
Visit the VU Collaborate Help site at https://vucollaboratehelp.vu.edu.au for up to date information and resources on blended learning or email This email address is being protected from spambots. You need JavaScript enabled to view it..
Contact ITS Service Desk on (03) 9919 2777 or via self-service http://servicedesk.vu.edu.au for further technical support.