Creating a Panopto Video Assessment Dropbox
With the new integration between VU Collaborate and Panopto, students can select an existing video, upload or record a new one, and then submit their video assessment with just a few clicks (and no sharing access trouble). All video submissions will also be stored in a folder located under Video in the navbar in each unit, where they can easily be accessed by the facilitator.
Below are instructions on how to create Panopto Video Assessment Dropbox.
---
An Assessment Dropbox folder can be created from the Assessments tab, then select Assessment Dropbox. For additional information see the following guide, then return to take the next step:
---
Once you filled out all the assessment details such as title, instruction and due date; and attached the relevant grade item and rubric.
1. Click on Submission & Completion to expand the settings.

2. From Submission Type, change from File Submission to Text submission.
3. When complete select one of the save options
Save and Close – save the settings and return to Assessment Dropbox management.
Save – save the current settings, then continue to make other changes in the dropbox.
Cancel – cancel all the current changes.

For more information on other dropbox settings, refer to Creating an Assessment Dropbox
---
Student Views:
Once students entered the Text Submission Dropbox, they can simply follow the few steps below to submit their Panopto Video (no sharing access required).
Please refer them to Submitting your Panopto Video into Assessment Dropbox to learn how to submit using this Panopto for Students and Assignment Submission tab.

Instructor Views:
To access student video submission, you can simply navigate to Assessment Dropbox, and then select student submission for markings.
Instructor(s) can view all student videos directly from the assessment evaluation screen. If you cannot view student videos, please ensure they are following the correct steps to submit the video assessment.
See Marking Assignments in the Dropbox to learn how to mark any assignments in the dropbox.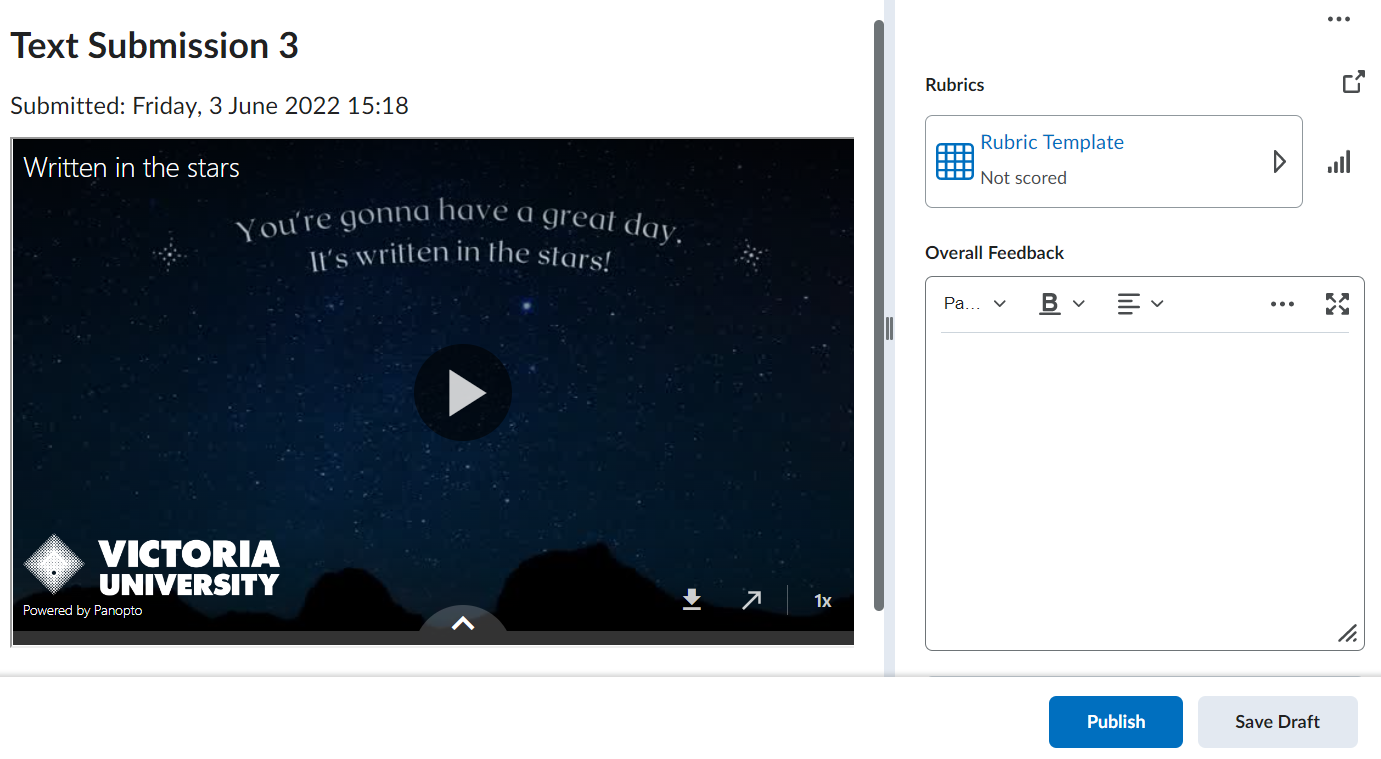 ---
Further Support
Visit the VU Collaborate Help site at https://vucollaboratehelp.vu.edu.au for up to date information and resources on blended learning or email This email address is being protected from spambots. You need JavaScript enabled to view it..
Contact ITS Service Desk on (03) 9919 2777 or via self-service http://servicedesk.vu.edu.au for further technical support.