Changing the Visibility of Grade Items
The information in this guide is intended for Instructors and Convenors.
After setting up your Gradebook and Grade Items, you may want to consider releasing grades to students at specific times to ensure consistency and accuracy.
This guide shows you step by step how to set release conditions and alter the visibility of Grade Items for students after they have been created.
Note: Grade Items must exist in your Space in order to follow this guide.
---
1. Select Assessments navbar.
2. Click on Grades.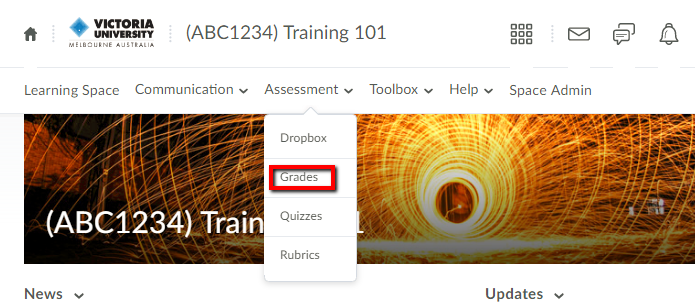 ---
1. Click on the arrow next to the Grade Item you wish to adjust.
2. Select Edit Grade Item from the drop-down menu.
Note: Grade Items must already be created in order for their visibility to be altered.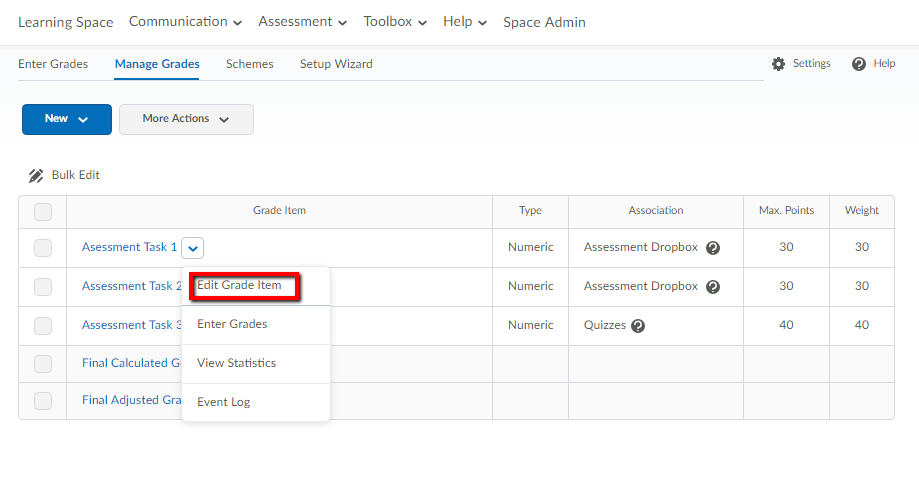 ---
1. Click on the Restrictions tab.
2. Select the corresponding condition to adjust the visibility of the Grade Item.
You are able to set your restrictions based on time and non-time based parameters
3.1 Time-Based
Grade item is always visible
Students can see grades instantly.
Hide this grade item
Grades entered into the grade item will not be released to students.
Grade item is visible for specific date range
Choose to automatically release/hide the grades available for this grade item based on a defined date range. An example of this might be to release Assignment results three weeks from today's date.
3.2 Non-Time-Based
Non-time-based release conditions allow you to attach a specific release condition such as releasing grades to a particular group of students.
1. Click the arrow under Release Conditions to Show Release Conditions.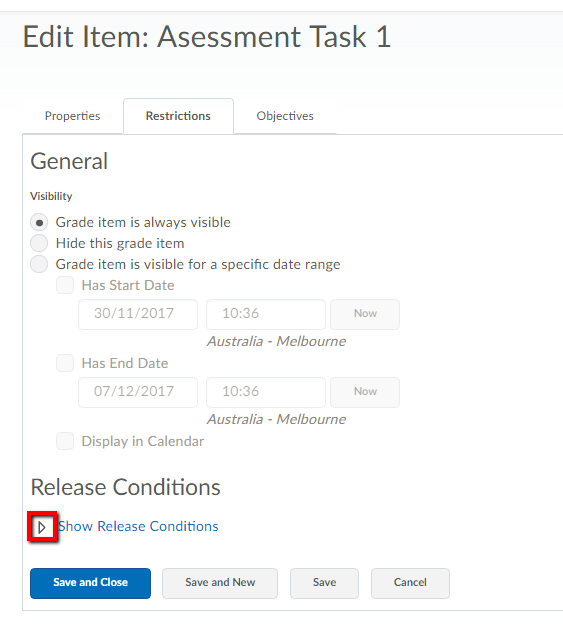 2. Click Create and Attach.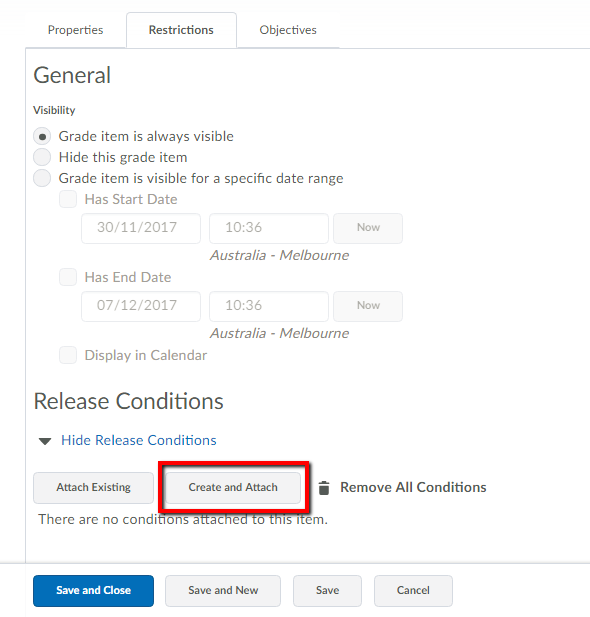 3. Select the appropriate condition to base the Grade Item visibility on (e.g. Grade Value on a Grade Item).
4. Fill in required Condition Details (in this example, Grade Item & Criteria).
5. Click Create to add the release condition.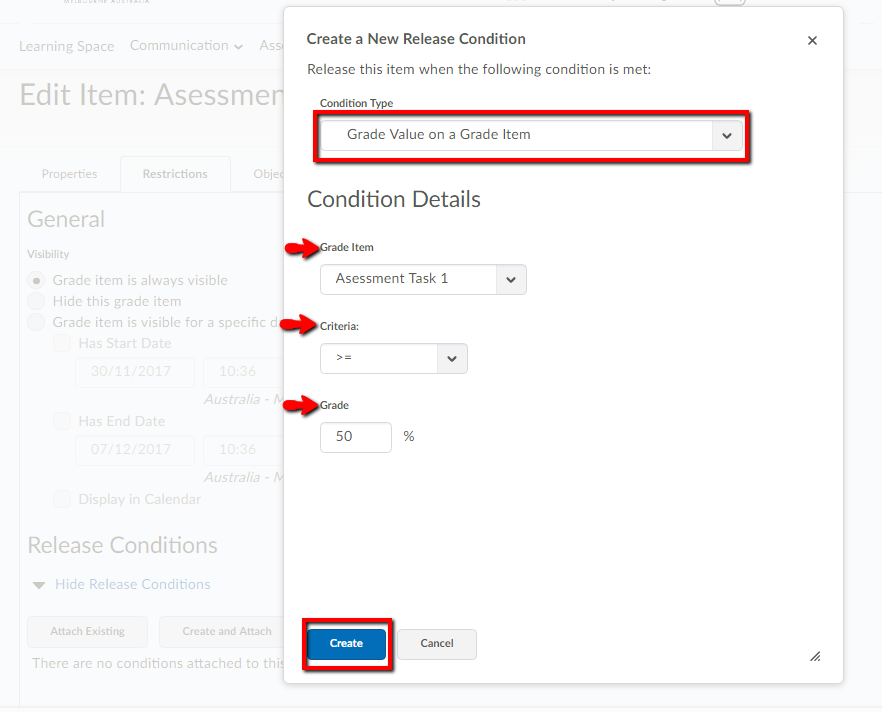 ---
Once you have selected the desired criteria, save your work.
1. Click Save and Close.
To confirm the Grade Item is set up how you want it, you can Impersonating a Test Student within your Space and access the Grades area as specified in Step One of this guide to determine how students will be able to view the Grade Item.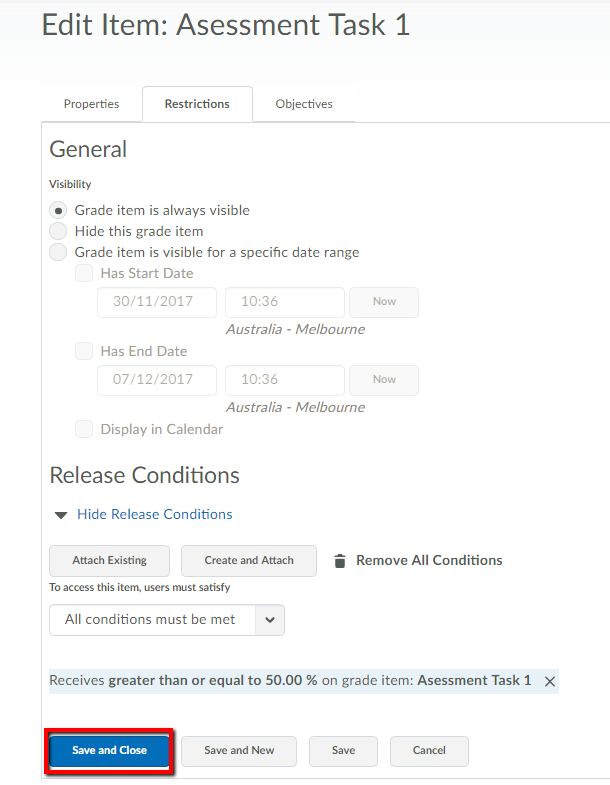 ---
Further Support
Visit the VU Collaborate Help site at https://vucollaboratehelp.vu.edu.au for up to date information and resources on blended learning or email This email address is being protected from spambots. You need JavaScript enabled to view it..
Contact ITS Service Desk on (03) 9919 2777 or via self-service http://servicedesk.vu.edu.au for further technical support.