Quiz Converter Tool
The Quiz Converter Tool provides a quick way to create quiz questions in VU Collaborate. Mark your questions up with the converter format, convert them into a CSV file, and then import them into Quiz or Quiz Question Library in VU Collaborate.
This guide will show you how to create questions in the Quiz Converter tool, import them into a Quiz Question Library, and then add them to a quiz.
On this page:
---
Do you have many Multiple Choice Questions?
The Quiz convert tool can speed up the creation process in VU Collaborate.
1. Prepare your quiz questions using the required format for your question type.
---
Go to VU Collaborate Essentials
1. In VU Collaborate, from the waffle (1), enter VU Collaborate Essentials (2), select the search icon (3), and then select VU Collaborate Essentials (4) from the dropdown list.

Access Quiz Converter tool
2. From the Learning Space, select Quizzes and Surveys (1) module, and then Quiz Question Converter (2).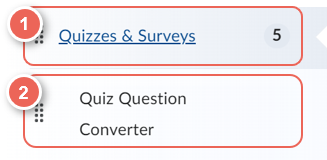 3. Once inside the module, select Quiz Question Converter to access the tool.

Create a CSV file of questions
4. Open your document with the saved quiz questions. Highlight/Select all the questions and copy the document (CTRL + C) and paste (CTRL + V) into the Quiz Converter Tool text box.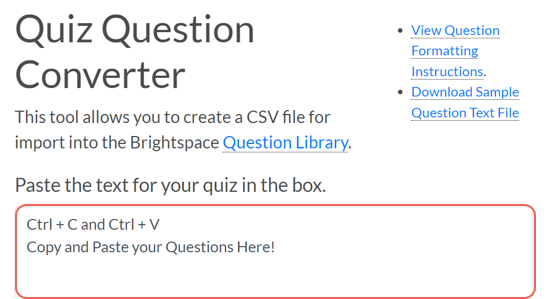 5. Once you are happy with the questions, scroll down to the end of the page and click Convert (1). This will convert the questions into a CSV file.


---
1. Head into the unit space where you would like to add the quiz questions and select the Assessments tab and from the options select Quizzes.


2. Select the Question Library tab.

3. From Import (1), select Upload a File (2).

4. From here, you can select Browse Files and search for your recently downloaded .CSV file or alternatively, drag the .CSV file directly into the Drag and drop box.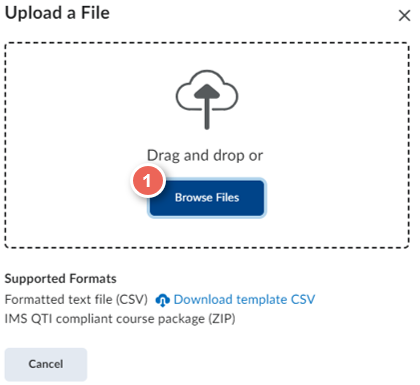 5. Once the upload process is complete, the following message will appear: Upload Complete. If you would like to review the questions before importing, then select the Review button. To import the questions select Import All.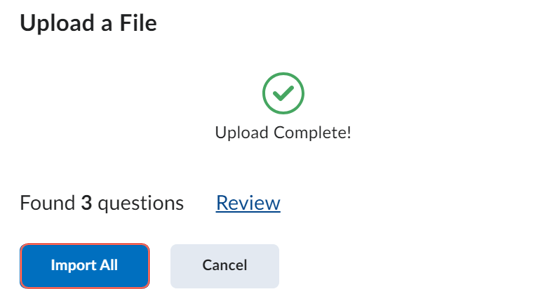 6. The questions will now appear in the Question Library. When complete, select Done Editing Questions to return to your quiz list.

---
This guide shows how to add questions to an existing quiz, to learn how to create a new quiz see Creating a Quiz.
1. From the list of quizzes, select the title of the quiz you wish to edit.


2. Under Questions select Add Existing (1), then Browse Question Library (2).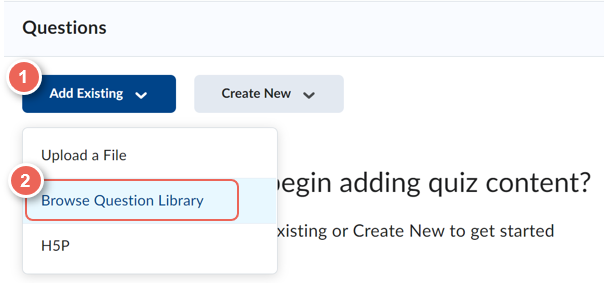 3. Tick (1) to select the required questions, then select Import (2), to add the question to the quiz.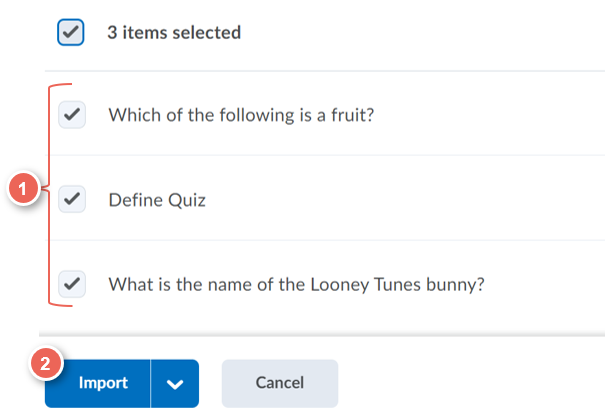 ---
Further Support
Contact us This email address is being protected from spambots. You need JavaScript enabled to view it., for information and resources on technology-enhanced learning, or visit VUCollaborateHelp.vu.edu.au.
Contact ITS Service Desk on (03) 9919 2777 or via self-service servicedesk.vu.edu.au for technical support.