Creating a Quiz using the New Interface
Welcome the new interface
Welcome to the new quiz create/edit interface! You currently have the option to
(A) Leave it on, and experience the new look, or
(B) Turn it off, and return to the current interface.
(C) Expand the view options panel to toggle between the two interfaces at any time.
The VU Collaborate Quiz tool is effective at testing and identifying gaps in knowledge and providing feedback to instructors and students. You can create a quiz in VU Collaborate and link it to the Gradebook to form a component of students' assessments. This guide will show you how to create a quiz, insert restrictions by date and student, and link to the Gradebook and the reports that can be generated.
This guide illustrates the steps needed to create and set up a quiz.
Quizzes can only be created by Block Convenors or Block Key Academics in the master space. Once the quiz is transferred into the delivery space (automatically two weeks before class starts) only minor changes should be made.
---
1. To begin, navigate to Assessment then select Quizzes.

2. Select New Quiz to create a blank quiz.

---
Fill in the following fields:
1. Name: This is where you enter the title of your quiz. This should match the title of the grade item if the quiz is contributing to a final grade.

2. To link the quiz to the grade book, simply click on Not in Gradebook to expand the options:
Edit or Link to Existing: to create a new item or link to an existing one.
Add to Gradebook: create a new grade item.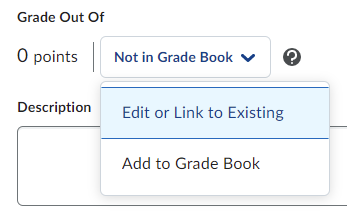 Other properties:
Due Date: set a date and time for when the quiz is to be completed.
Description: this is where you describe your quiz.
3. There are two ways of adding your questions:
Select (1) Add Existing
Select (2) Create New to add a New Question, Section or Question Pool
4. Once all the questions are added, you can move them by selecting the question then select Move To and choose whether you want to move the question to Top of the Quiz or Bottom of the Quiz or to Section.
Or More Actions to delete and set points for the questions.
---
1. Click on the Availability Dates & Conditions to expand the settings.
Some instructors use this option as well as, or instead of setting dates as shown below. This can be useful if there are multiple classes of students taking the same quiz. You are able to make the quiz visible once a class has started and hide it again once the students have completed the quiz. If this is done alongside changing the password for each class (in point 5), it ensures that students in different classes will not be able to access the quiz until it is their set time to do so.
2. Adding a Start Date and End Date for the quiz will determine when the quiz is visible to students. The start date is the date that students will be able to see the quiz and the end date is when it will become hidden from them. You can always go back and change them later.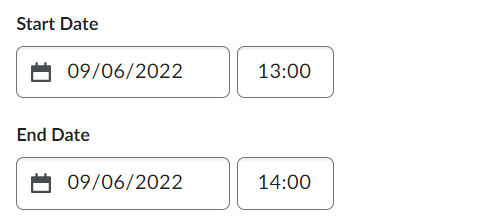 3. (Optional) you can set release conditions to create a predefined condition to either allow students to take the quiz after a learning path or to release the quiz to specific student groups. Refer to Using Release Conditions for more information.

4. (Optional) Special Access allows quizzes to be available to only a select group of users or individualized due dates for certain users. It is often due to assignment extensions but can also apply to the length of time available to complete a quiz. Refer to Granting Student Extensions using Special Access Options in Quizzes for more details.

5. A password may be entered and students will have to enter this password to start the quiz.

6. Click on the Manage IP Restrictions to set predefined IP addresses (IPv4).
This is where you can set IP restrictions (restricting access to those who use a specific type of IP address).

---
1. Click on the Timing & Display to expand the settings.

2. By default, the quiz timing is set as the Recommended time limit of 120 minutes. You can simply change this through Manage Timing.

Recommended time limit: This allows you to specify the time limit for the quiz and identify whether you want a clock to appear on the screen while the students complete the quiz.
Enforced time limit: This specifies the time limit for the students to complete the quiz. It allows you to set a grace period before the quiz is flagged as late.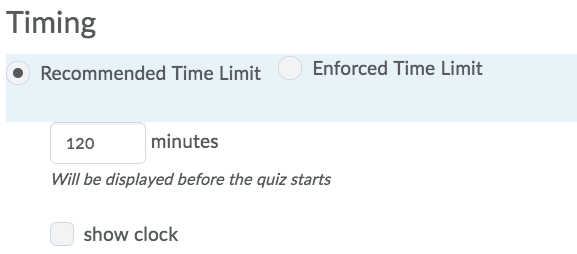 2.1. Click Enforced Time Limit to edit the Grace Period.
Grace period: This is an additional window of time granted to students to continue working on their quizzes after the enforced time limit expires. This time is not shown on the clock. Any student who does not submit their work within this time will be flagged as a late submission and any changes made to their answers after the grace period expires will not be saved. (In the example below the grace period has been set to 5 minutes).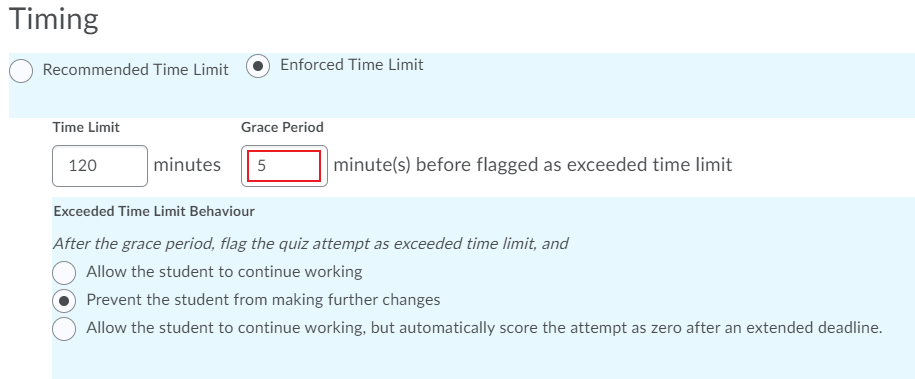 2.2. Exceeded Time Limit Behaviour: Select what will happen when the grace period provided has ended.
Allow students to continue working: This allows students to take as much time as needed to complete the quiz but flags the quiz as late.
Prevent the students from making further changes: This will prevent students from making any further changes to their answers. If the student does not click submit after the grace period expires their submission is flagged as late.
Allow the student to continue working, but automatically score the attempt as zero after an extended deadline: This will allow the student to continue working on the quiz but will automatically score them a zero once the time expires.
The timer to a quiz begins the moment the student enters the quiz and can see the quiz questions. If a student has exited a quiz before submitting (e.g., poor internet connection has kicked them out of the quiz) please note, the timer will continue running in the background. If a student has exceeded the time limit before they are able to return back into the quiz, then the teacher will need to do the following:
1. Submit the quiz on behalf of the student. For more information, please see this guide: Submitting a quiz on behalf of a student.
2. Provide Special Access to the student to complete the quiz. For more information, please continue reading to the next section: 4.2 Special Access Capabilities.

Late submissions are flagged in red.
3. By default, all questions will be displayed on one page, click on the dropdown to change this.
All questions displayed together
1 question per page
Add page break after each section
Shuffle Quiz: to shuffle questions and sections within a quiz. This does not cascade to sub-sections.
4. Display: to display hints to students, or disable some functions below:
Allow hints
Disable right-click
Disable Email, Instant Messages, and Alerts within Brightspace
Heater and Footer: You can add this to your quiz. For example, AAA1000 Assessment 2 Quiz.
---
1. Click on Attempts & Completion to expand the settings.

Within this area in the assessment tab, you can set:
1. Attempts Allowed: the system will set 1 attempt allowed as a default. Click on Manage Attempts to change this.

Click on Attempts allowed and select the number of attempts you would like to allow.
If the number of attempts provided is between 2 - 10, you can choose how Overall Grade Calculation works by clicking the drop-down.
You can allow users one or more quiz attempts and calculate a grade based on their highest attempt, lowest attempt, first attempt, last attempt, or an average of all attempts.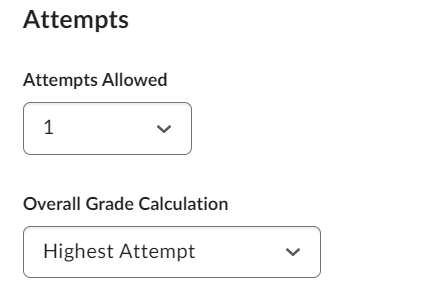 Select the OK button to save your changes, or Cancel to go back.

2. Notification Email: to receive notifications when a quiz is attempted, enter an email address or multiple email addresses separated by a comma.
3. Completion Tracking: to mark the quiz as completed if the quiz is inserted under Learning Space -> Table of Contents.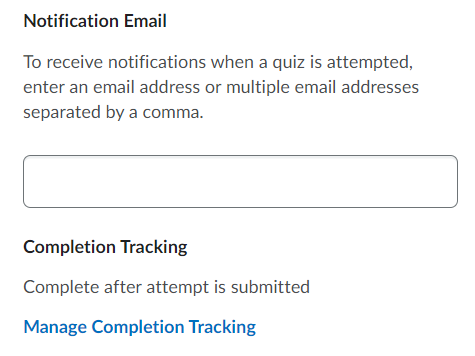 ---
1. Click on the Evaluation & Feedback for options to edit grade application and student views.

2. Here you will be able to add more settings to the quiz.
Auto-publish attempt results immediately upon completion: auto-evaluated attempt results will be published and appear to students once they submitted their attempts.
Synchronize to grade book on publish: student's grade will be automatically published to the grade book once it has been evaluated and published.
When published, display to learners: Quiz results display determines how students can view their published quiz attempt results, both immediately following submission, or later when reviewing their attempt.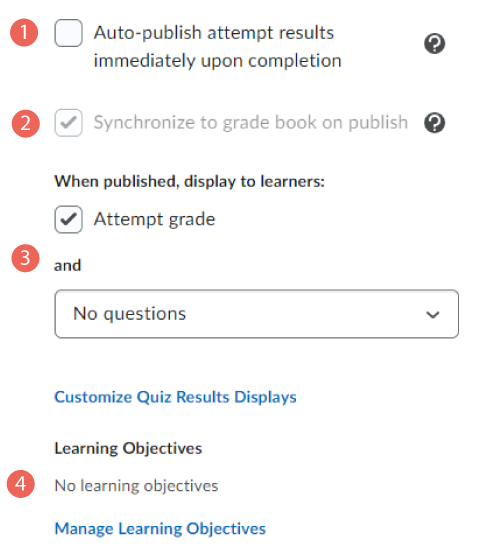 ---
Further Support
Visit the VU Collaborate Help site at https://vucollaboratehelp.vu.edu.au for up to date information and resources on blended learning or email This email address is being protected from spambots. You need JavaScript enabled to view it..
Contact ITS Service Desk on (03) 9919 2777 or via self-service http://servicedesk.vu.edu.au for further technical support.