Creating an H5P with Smart Import
Provide H5Ps Smart Import with content from a file, web page or text and it will create one or more H5P content types of your choosing. H5Ps AI engine will analyse and enhance the provided content. Identify key concepts, and then create information and interactives to test users knowledge.
This guide will walk you through the steps to create H5Ps with Smart Import.
On this page:
Related guides:
To access H5P either from VU Collaborate space or the H5P dashboard, see Introduction to H5P.
Access the H5P dashboard and navigate to your required folder.
Select Smart Import.


Content types that can be uploaded, are text, audio, or video, sourced from a file, webpage or directly entered text. In this step you can load multiple sources, to create multiple H5P creations. However, each H5P will only be generated from one source.
Provide your content from one of the following options:
A file: Select Choose a file to locate and select a file. Then select Upload.
Web page: enter a URL, then select Import.
Paste text: select Paste Text, enter a Title and Text. When complete select Submit.

Content types that can be processed:
Audio: MP3, WAS, OPUS, OGG, OGA, M4A, SoundCloud
Video: M4V, MP4, OGV, AVI, WebM, Wistia, YouTube
Document: PDF, DOC, DOCX, ODT
Wait for you content to be processed. When complete, your source content will be listed under imports, ready to be reviewed.
Select Review Text (1) next to your source name.
Review (2) to add, modify or delete unwanted text.
When complete select Continue (3).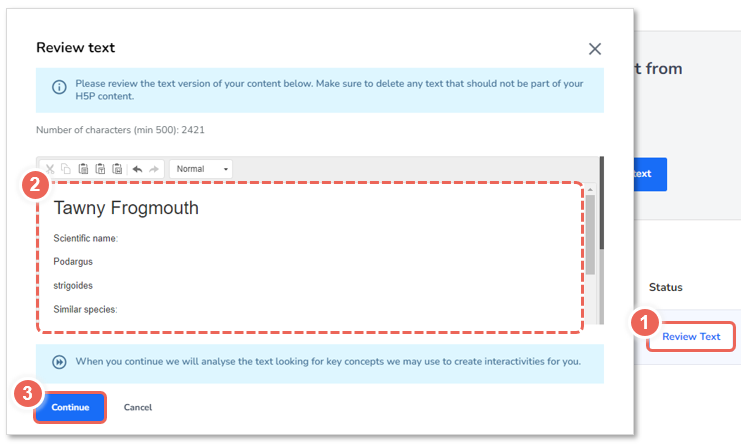 Wait for the content to be analysed and concepts determined. These concepts will be used to present information and create interactives to test users' knowledge.
Select Review Concepts (1).
Review the key concepts and Unselect (2) less relevant points.
When complete select Continue (3).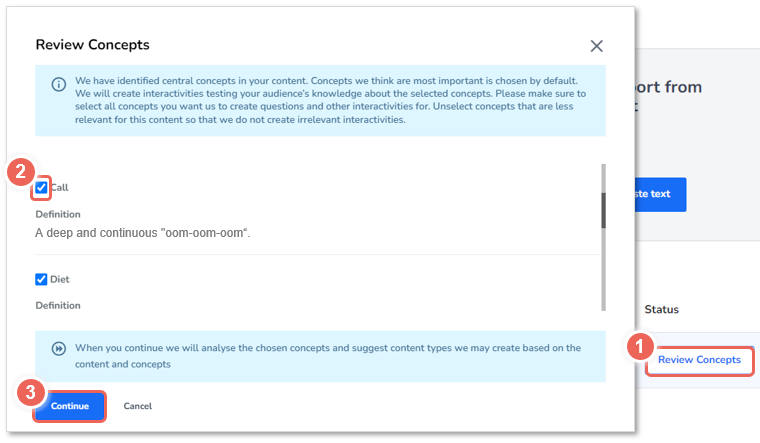 Tick to select the types of H5P to create from your content.
Click Select Content Types (1).
Tick (2) to select required H5P content types.
When complete select Generate Content (3).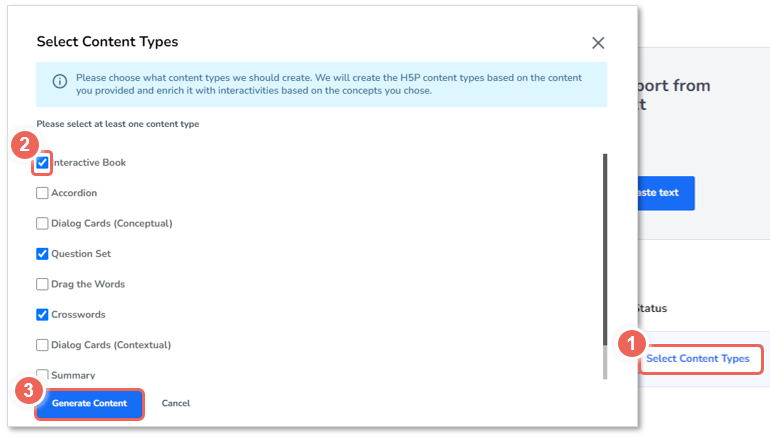 Wait for your H5Ps to be created. When complete view and if required edit your creations.
Select See Content (1).
Select the Title (2) to view.
Select the Edit icon (3) to edit.

Interactive books
With Interactive books, standard sections of course content, glossary, and inteactions will be created.
See Creating an H5P Interactive Book, to learn how to edit your creation.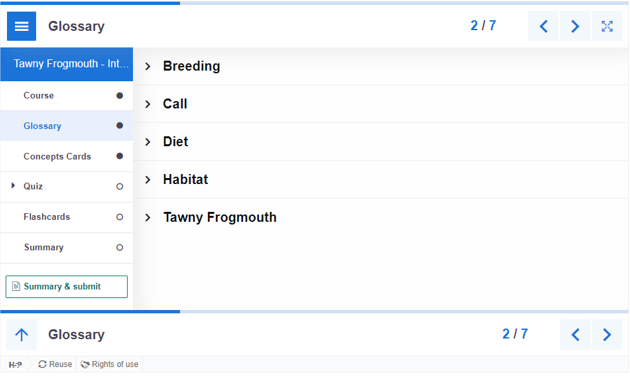 ---
Further Support
Contact us This email address is being protected from spambots. You need JavaScript enabled to view it., for information and resources on technology-enhanced learning, or visit VUCollaborateHelp.vu.edu.au.
Contact ITS Service Desk on (03) 9919 2777 or via self-service servicedesk.vu.edu.au for technical support.