Introduction to H5P
H5P is an open-source software integrated within VU Collaborate, which allows you to easily create interactive content which can form an essential resource. You can use H5P Learning Objects to create, share and reuse interactive content to engage students and stimulate their learning within VU Collaborate.
This guide explains the basic settings and links to guides, to assist you when creating your own H5P learning object.
---
---
1. Login into VU Collaborate (external link) and select your desired unit space.
All files created/shared using H5P can be accessed through all your unit spaces. It is linked to your user account, not your unit space.
2. Click on Learning Space on the navigation bar.

3. Click on your preferred module.
4. Select New, then New Document.

5. In the text edit box, click on the Insert Stuff button.

6. Click on H5P Learning Object.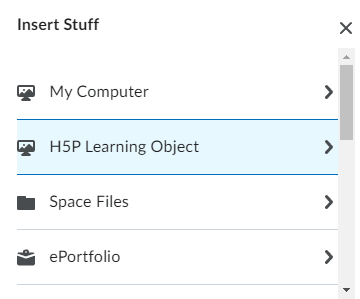 ---
Accessing H5P from H5P Dashboard
H5P Dashboard is a site where you can access and manage all of your H5P contents before embedding them into learning spaces. Here you can create, view, edit, insert, move, clone or delete learning objects.
Follow this link vu.h5p.com (external link) to access the VU H5P Dashboard, which we recommend bookmarking on your browser.
Managing your H5P
1. The first image is showing what the H5P Dashboard looks like.
A - My Content: to view or manage all H5P activities created by you.
B - Shared with me: to view or manage all H5P activities created by your colleagues or other VU staff.
C - All Content: to view all content including Public content, your content and shared with me contents.
D - Add Content: to add a new H5P activity.
E - New Folder: to create a new H5P folder for organising purposes.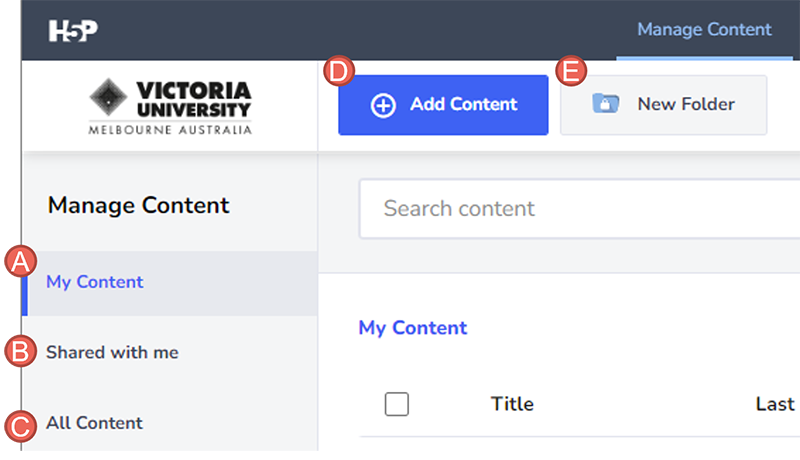 2. The middle search bar (A) allows you to search for an H5P learning object by entering a search term (e.g the title of your H5P). You can also select Filter the list (B) to find specific content.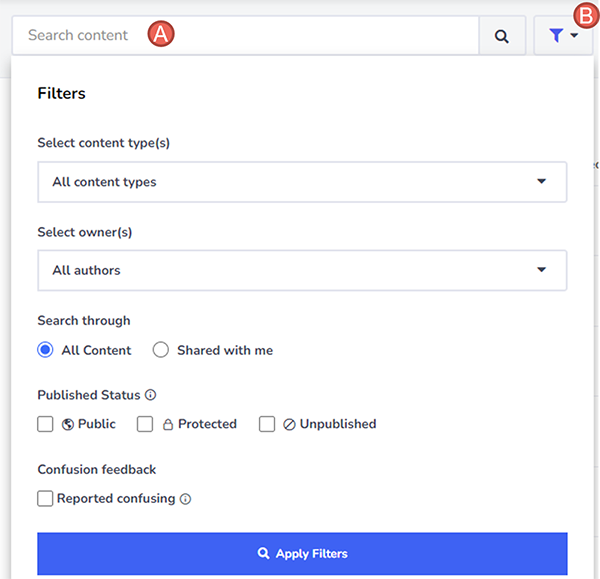 3. The right side of your screen is where you can view a list of H5P activities.
A - display title and content type.
B - Edit: allows you to change settings and modify your H5P learning object.
C - More Options: there are a number of Actions available on your H5P dashboard, Edit, Clone, Insert, Move and Delete (see the next step for more details).

More Options
Select the three dots to view more actions for each H5P activity.
Clone: makes a copy of your existing H5P learning object. The cloned object will be named 'Clone of (+ your H5P's title)', for example, 'Clone of Session 1 - ABC1112'.
Move: to move an H5P to a different folder.
Delete: to remove the H5P learning object. Note that this process cannot be reverted, be mindful of what content you are removing.
Share with organization: to share H5P contents within the VU organization or with other VU staff.
Publish: to change the status of H5P.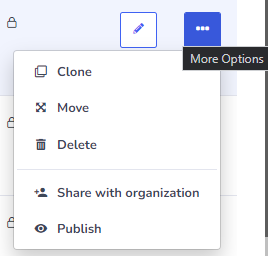 ---
Add New H5P content
Note - For best practice, it is recommended to create H5P activity within the VU H5P Dashboard to ensure all changes are saved properly. All files created/shared using H5P can be accessed through all your unit spaces. It is linked to your user account, not your unit space.
1. Select Add Content button at the top of the page.

2. The 'Create New Content' screen will appear. On this screen you can select:
Create Content or Upload content, the upload function can be used to upload an already existing H5P (in .h5p file) that you have downloaded previously on your computer.
You can search for different H5P types in the search field, e.g. Course Presentation.
Or select Details to view descriptions and examples of each H5P content type.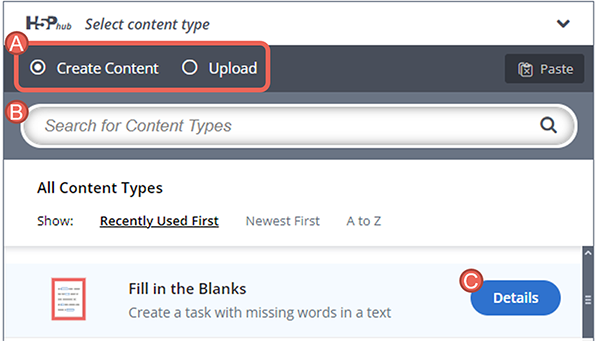 3. To create a content type, select the tile of the H5P type (e.g. The Chase).

4. Give your H5P learning object a Title.
Tip: Select a title that is easily identifiable, such as your unit number followed by the learning object name. This will make it easier for you to locate this object and share it with your colleagues in the future.
Refer to the Full List of H5P Learning Objects Guides to learn more about the different H5P types.

Adjust the H5P settings
At the bottom of the screen you can adjust your H5P's settings (you can leave these settings by default or make alterations):
1 - Display options: What options do you want to be visible to the user, for example, you can tick
Allow users to download the content - to enable students/staff to export the activity into a .h5p file to their computer.
Display embed button - to allow users to embed the H5P into their HTML editor in VU Collaborate.
Display Confusion Indicator - allow feedback from students directly into your H5P activity.
2 - Publish: to make the H5P Unpublished (content can not be inserted into VUC), Protected (content can be inserted into VUC) or Public (visible to the public using a content link and the content can be inserted into LMS and be embedded). Protected is the default setting and it is recommended to leave this setting as it is.
3 - Folder: By default, all contents will be saved under My Content. You can move or organise the content into the desired folder.
4 - Collaborators: add another staff member to give them access to edit your H5Ps. Simply type their full names or email addresses into the search bar.
5 - Share with organization: to place H5P into a public folder that is available to the VU organisation. There is also an option to share the H5P with a specific college.
6 - LTI Settings: to link H5P to VU Collaborate gradebook. If you would like to set the H5P as an assessment and send results into gradebook, contact This email address is being protected from spambots. You need JavaScript enabled to view it. for more instructions.
7 - Attempts: to limit the number of attempts.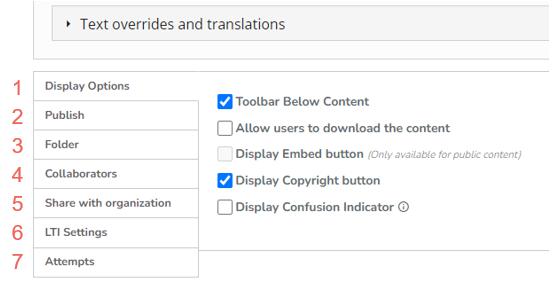 Once completed, select Save to apply the changes.

To insert your H5P from VU H5P Dashboard into VU Collaborate space, refer to the guide: Inserting an H5P in VU Collaborate
---
From VU H5P Dashboard
Select Shared with Me under the Manage Content column on the left side.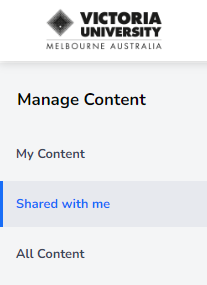 From VU Collaborate Insert Stuff
Select Shared with Me from the dropdown menu next to My Content.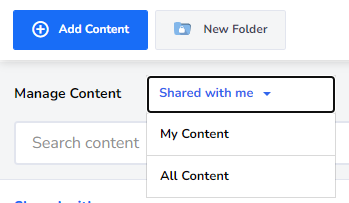 2. Type in the keyword or title of the H5P that you're looking for (i.e: ABC1212 Session 1 Presentation)
3. Press Enter from your keyboard or select magnifying glass icon.
If you are having trouble finding a learning object, contact the original creator of the H5P Learning Object and ensure that it has been shared.

---
There are additional H5P features that assist you to improve your activity and can give you valuable data to help understand and respond to your student's progress.
Click on each panel below for more details.
---
What do you do when students can't see the H5P but you can?
At times, links may appear broken in spaces during the creation stage or when the activity is not copied correctly between the spaces, leading students to not being able to access the interactive tools. Instead, an error message will appear such as: 'Unavailable Quicklink' see image below.

Or 'Error: Page Not Found'

You may be able to see the H5Ps because you have superior access to VU Collaborate from students. When this happens, you will need to re-insert the H5P again in the space.
1. Navigate to the module where the H5P is not available for students and select Edit HTML from the dropdown menu.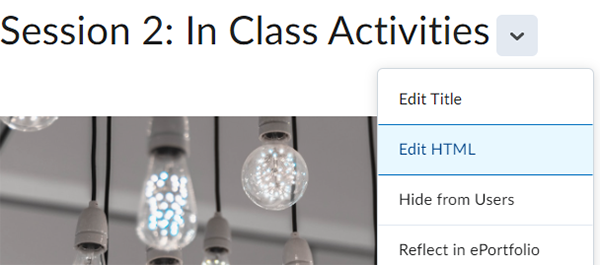 2. Scroll through the module and delete the H5P that you want to re-insert.
For example, highlighted the error message blur and press Delete from your keyboard.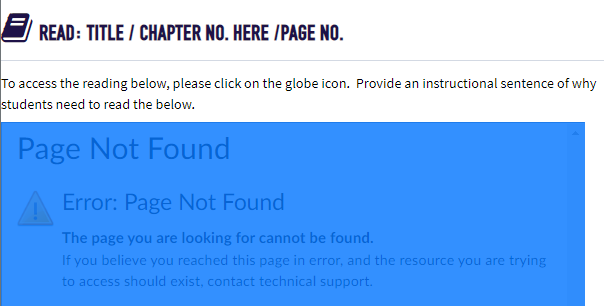 3. Place the cursor on where you want the activity to be, then click Insert Stuff.

4. Scroll through the options and select H5P Learning Object, then select the H5P activity from the list and click Insert.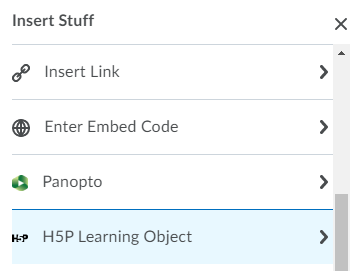 5. Within the Preview screen, select the Insert button at the bottom to confirm the action.

6. Once you have inserted the H5P, click Save and Close to save the H5P into VU Collaborate.

---
Further Support
Contact us This email address is being protected from spambots. You need JavaScript enabled to view it., for information and resources on technology-enhanced learning, or visit VUCollaborateHelp.vu.edu.au.
Contact ITS Service Desk on (03) 9919 2777 or via self-service servicedesk.vu.edu.au for technical support.