Creating an Attendance Register
The Attendance tool within VU Collaborate allows teaching staff to create and monitor attendance for teaching sessions. You can also set up an alert system, for example, if students have not attended 80% of the total number of sessions. Students can also view their Attendance Register to be aware of how many sessions they have attended or missed.
This guide explains how you can create an Attendance Register to record sessions in your unit with VU Collaborate. The sessions can be anything related to your class such as: class attendance by date, tutorials attendance by tutor per week, workshops attendance by specific dates, etc.
Here are the steps to create an attendance register:
Please note that only ONE Attendance Register needs to be created within the master space, either by a block convenor or block instructor. It can only be marked in the delivery space. Visit User Roles Explained for more information. Once a register has been created, follow the guide: Recording Attendance. If the unit you are teaching has multiple groups created (either through Allocate+ or manually created groups), then this guide will cover the required steps necessary to access/filter through to relevant groups. The Recording Attendance guide also covers steps for units that do not contain groups, but necessary for recording attendance for all users within the unit.
---
1. In a space from the navbar select Toolbox then Attendance.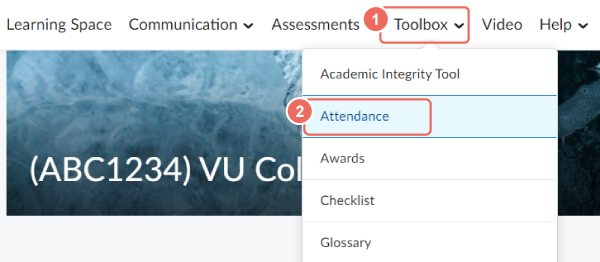 ---
An Attendance Register can be created to record student attendance during classes, workshops or tutorials.
Create a New Register
1. Select New Register.


Enter New Register details
Enter a Name for the attendance list, for example, Session, Workshop or Lab.
Optionally enter a Description, for example, Nabin's Wednesday class.
Choose an Attendance Scheme from the drop-down list.
The default scheme is System Scheme, to create a new scheme see Creating an Attendance Scheme.
Enter a percentage number in the Cause for Concern field, to provide a visual warning when attendance falls below this level.
For example, entering 80 would show the % Attendance in red with an alert, for any student with an average attendance below 80%.
Check Allow users to view this attendance register, if you would like students to see the attendance list and the recorded attendance data.
For example, students will be able to see if they were Present or Absent in a session.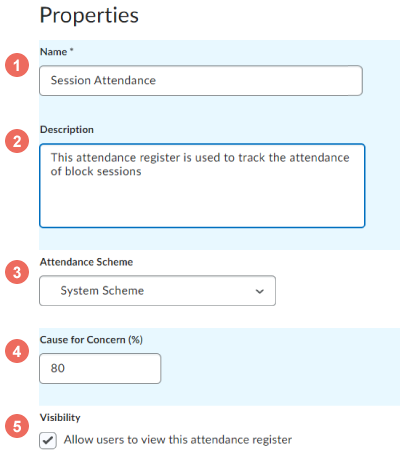 6. Select (a) include all users, or (b) select from groups or sections. The recommended selection is select all users, as you can easily filter all users by group or section when you record the attendance. See Recording Attendance for details.

---
1. Enter the Session Name and date. Alternatively, you can just enter Session1, Session 2, etc.
2. Optionally, you can write a description for each session to include information such as contents, place of delivery and name of a tutor.
3. Click on Save to confirm changes.



---
Enter the number of sessions to add in the blank box next to the Add Sessions title, then click on Add Sessions.
For example, if you type 2 in the Add Sessions field, this will add two empty extra rows where you can enter the details for each session.



---
1. You can delete sessions by clicking the Delete icon in the right-hand column. This will result in a plus icon appearing, indicating that you can restore what you have deleted.
2. To confirm that you want to delete the session click on Save.
Deleting a session clears all data previously recorded. If you have recorded attendance make sure that you no longer need the data before deleting the session
3. You can view previously deleted registers from the space by clicking the dropdown arrow in the More Actions button and selecting View Deleted Registers.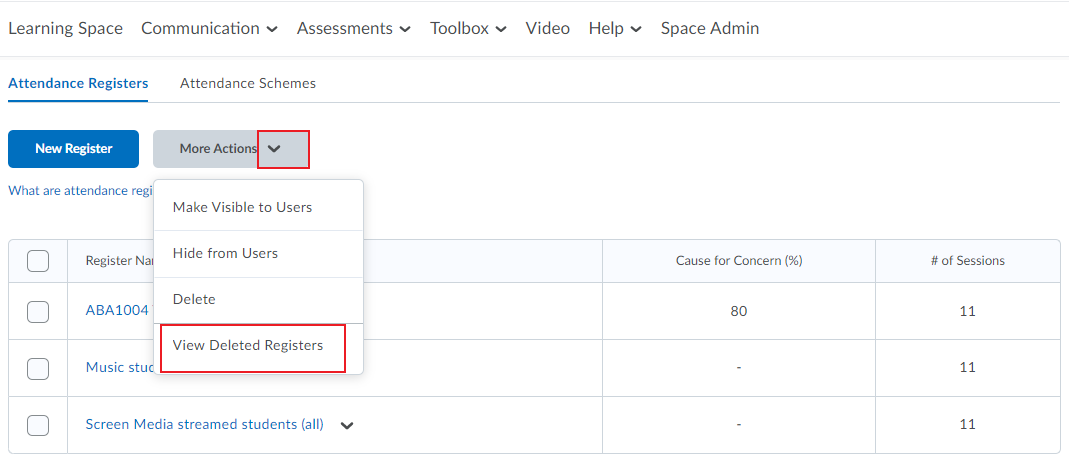 4. If you realise that you made a mistake deleting this register, you can click Restore button to put it back into the space.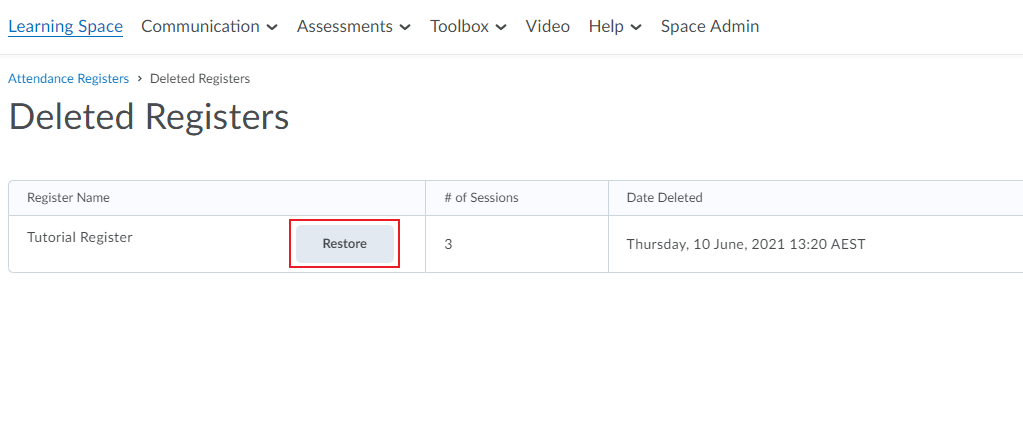 ---
1.You can reorder the sessions via the dropdown menu list that appears under Order.
2. To reorder, simply click on the drop down arrow (located to the right of the order number you would like reordered), and select the new order number.
3.To confirm that the order has been changed, click on Save.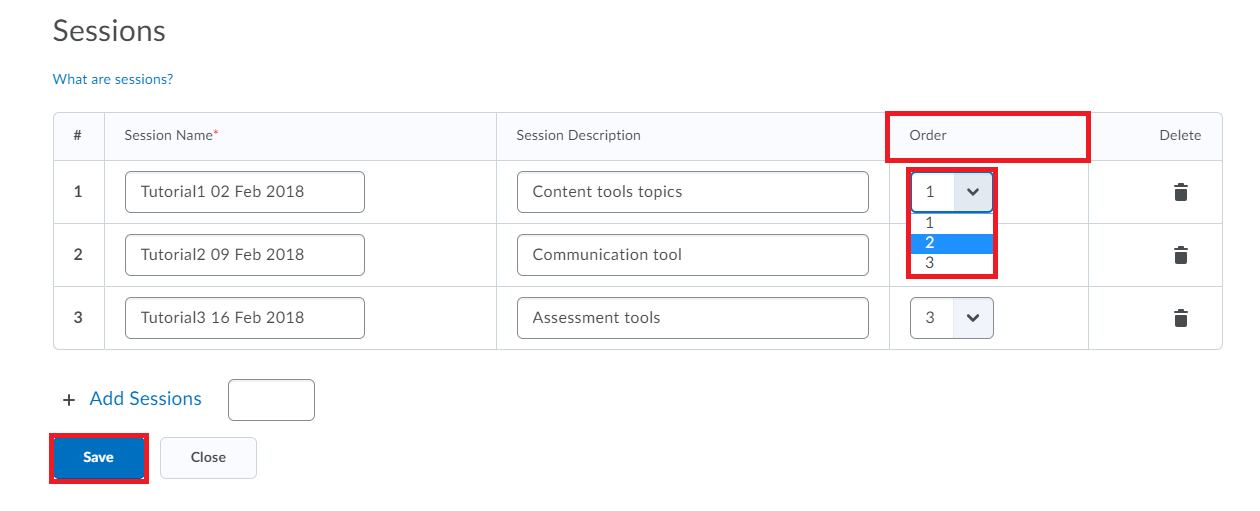 ---
1. Click on Close when you have finalised updating the information on your new Attendance Register.
2. Under the Attendance Registers Menu, you will be able to see the new register created displaying Register Name, Cause for Concern and Number of Sessions.

---
Further Support
Visit the VU Collaborate Help site at https://vucollaboratehelp.vu.edu.au for up to date information and resources on blended learning or email This email address is being protected from spambots. You need JavaScript enabled to view it..
Contact ITS Service Desk on (03) 9919 2777 or via self-service http://servicedesk.vu.edu.au for further technical support.