Setting up the Gradebook
The Grades Setup Wizard guides you through a process to set up the gradebook for your unit. This process should be completed before creating grade items or categories. Navigate to your desired unit space and then follow these instructions.
To see a short video on How to Set Up a Gradebook, see the video below:
Here are the steps to set up the Gradebook:
---
1. Select Assessment on the main navigation bar.
2. Click Grades.


---
The Setup Wizard will automatically open if you have not set up a gradebook for the space. Alternatively, click the Setup Wizard tab.
1. Click on the Start button located at the bottom of the screen.

---
The grading system determines how the grade items in your grade book are calculated for students' final grades.
1. Select the type of grading system you would like to use.

2. Click Continue.
Weighted: Grade items and categories are calculated as a percentage of a final grade worth 100%. The maximum points assigned to individual grade items can be any value, but their contribution towards the final grade is always the assigned percentage value.
Points: Grade items are calculated using a points system in which the points assigned to each grade item are totalled for the final grade. The final grade amount can be any number of points.
Formula: Grade items are calculated using the points system, but a formula is used to set conditions around how grade items contribute to the final grade.
For further information see Understanding Grading Systems.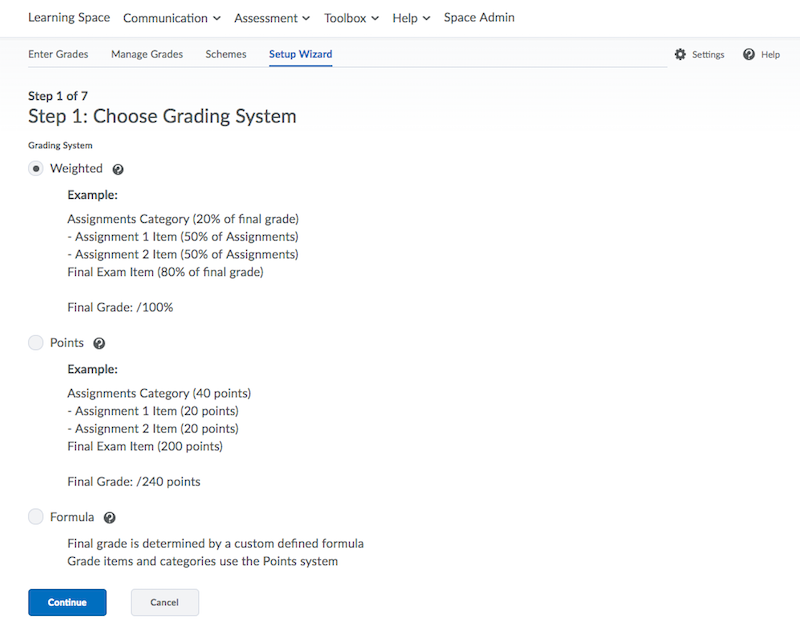 ---
1. Select the final grade you wish to display to students.

2. Click Continue.
Calculated Final Grade: The final grade calculated by the grade book.
Adjusted Final Grade: A modified or adjusted final grade entered manually.
The calculated or adjusted final grade is not automatically released to students.
For further information see the Understanding final grade calculations article.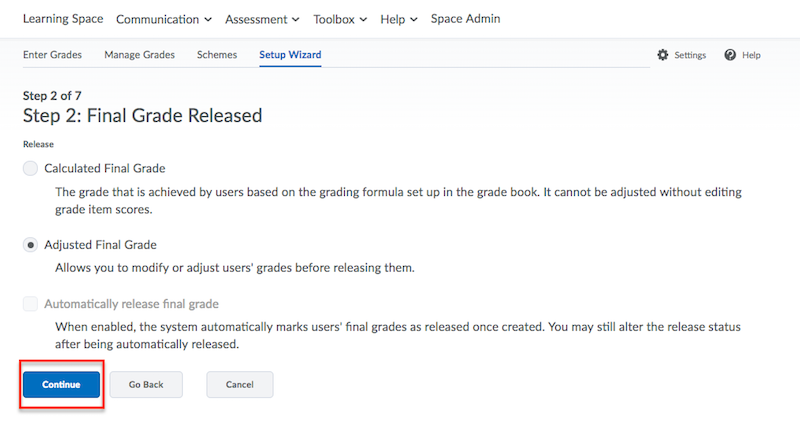 ---
1. Select an option from ungraded items.
The grade calculations options provide additional choices for calculating students' grades. Specifically, it lets you decide how you want to calculate ungraded items and whether you want to keep students' final grades up to date automatically.
Drop ungraded items: Grade items that do not have grade values are not counted towards the student's final calculated/adjusted grade. The final grade value will progressively increase throughout the semester as grades are given to students in the grade book.
Treat ungraded items as 0: Grade items that do not have grade values are counted as 0 towards the student's final calculated/adjusted grade. This setting automatically scores students 0 for each grade item until they are updated.
If you add new items to the grade book later, users receive a 0 until you update their score.
2. Tick the Auto Update box if you wish to automatically adjust the final grade after changing a grade or calculation option.

Automatically keep final grade updated: If you select this option, final grades are automatically adjusted after changing a grade item or a calculation option. If you do not select this option, you must tell the grade book when to recalculate final grades.
3. Click Continue.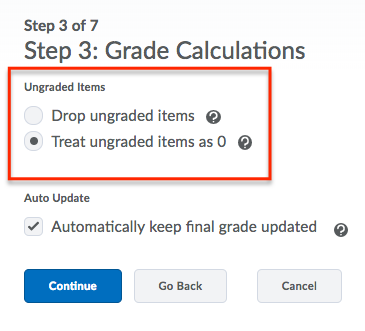 ---
1. Select a Default Grade Scheme.
2. Click Continue.

Grade schemes define how grades are organised or labelled within a unit or for a particular grade item.
For Higher Education Undergraduate programs select HE Grading Scheme.
For Postgraduate programs select HE Postgraduate Grading Scheme.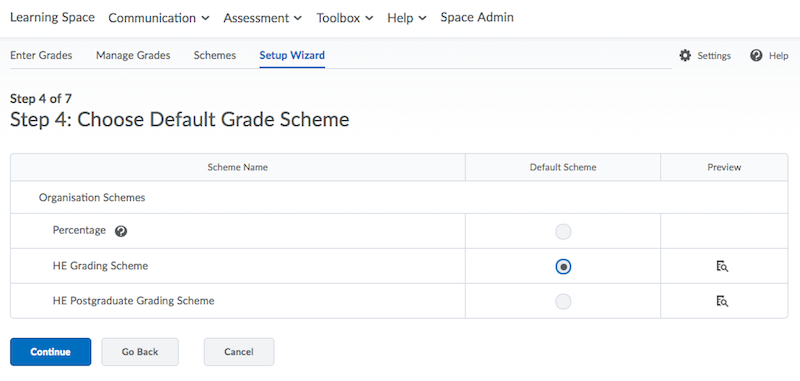 ---
1. Type the number of decimal places you would like to display in your managing view. The default value is 2 and the maximum value is 5.

2. Click Continue.

---
1. Select the Grade Details you would like to be visible to students.

This step allows you to control what grade information is displayed to students.
Points grade: Shows students the grade value given, for example, 6/10.
Weighted grade: Shows students how much the grade item is worth in relation to its category or final grade weight.
This option is only available if you chose the weighted grading system in step three.
Grade scheme symbol: Shows students scheme level they received on a grade item. For example, P, C, D, HD.
Grade scheme colour: Shows students a colour associated with the scheme level they received. You must also select grade scheme symbol for this option to work.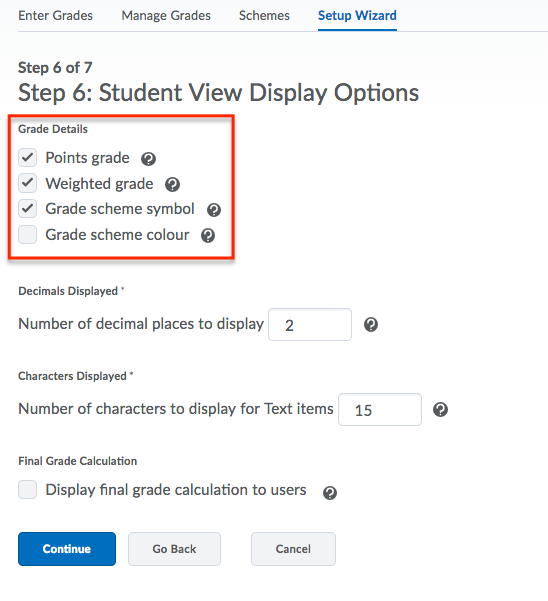 8.1 Number of Decimals
Type in the number of decimals students can see in the grade book. The default value is 2 and the maximum value is 5.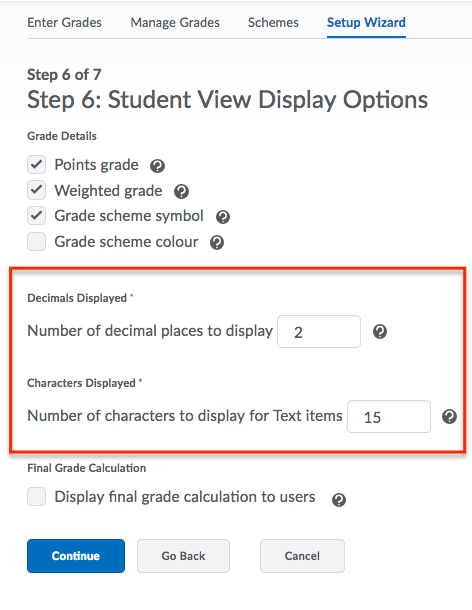 8.2 Number of Characters
Type in the number of characters students see for a text grade item. The default value is 15 but it can be set to between 0 and 50 characters in length.
8.3 Final Grade Calculation
1. This option will show students how their final grade was calculated. This will show which grade items contributed to their final grade and how much, which grade items were bonus grades, and whether their grade was adjusted. The default is not ticked and there is no need to tick it.

2. Click Continue.
---
1. Click Finish to complete your gradebook setup.

The final step summarises the choices you made while setting up your grade book.
If you would like to change any of these settings click Go Back to return to a step and adjust it.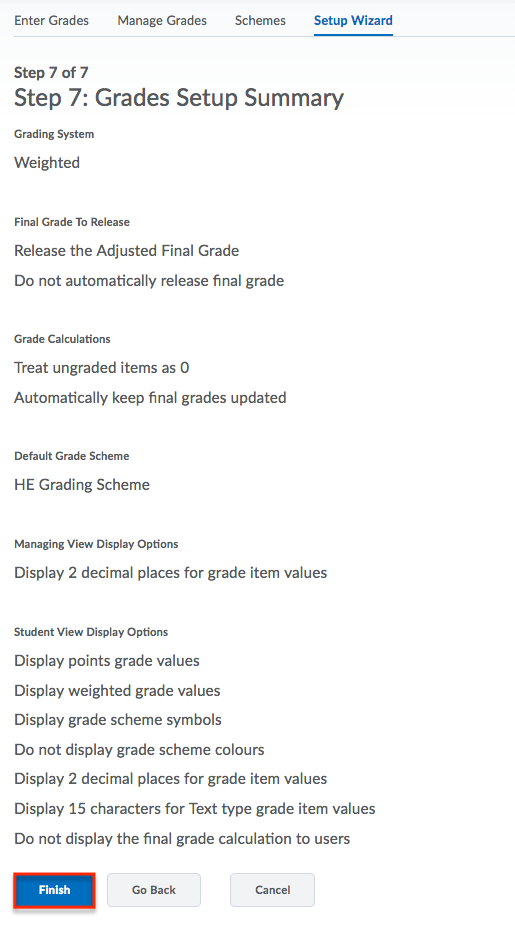 ---
Further Support
Visit the VU Collaborate Help site at https://vucollaboratehelp.vu.edu.au for up to date information and resources on blended learning or email This email address is being protected from spambots. You need JavaScript enabled to view it..
Contact ITS Service Desk on (03) 9919 2777 or via self-service http://servicedesk.vu.edu.au for further technical support.