Space & Content Creation Automation
Learn about the role of Master Spaces in Automated Delivery Spaces creation.
VU Collaborate space creation runs via a process where all unit delivery spaces are automatically generated based on the parent master space. The master space is a template for every delivery space iteration of your unit. Thus, delivery spaces are automatically created two weeks before the start of each block (5 weeks before within placement units), taking up to one full day for the complete creation of all delivery spaces.
The material that is automatically transferred into the delivery space is an exact copy of what is present in the unit master space when delivery spaces are created. Along with learning material, the current staff enrolments, assessments, discussions, checklists and grade items are also transferred to the delivery space. For more information on master spaces, see the Unit Master Space Guide.
Once the delivery space has been automatically created, you will have one week to review the transferred content, add or edit due dates and hide or unhide assessment items. At the end of this review period, one week before class starts, the delivery space will go live for students to explore the unit and become familiar with the material. Students are automatically allocated into delivery spaces based on their enrolment selections within Allocate+ and the Student Management System.
Before copying the content, the learning space and staff enrollment must be updated in the unit master space, and the delivery space is created. Once the delivery space is generated, you cannot make significant changes to the learning materials.
2022 Master Space variations
Example
Delivery Mode
Master Space

RBF2620 AUSTRALIAN PLANTS (1)

Standard Semester (Onshore)
RBF2620 AUSTRALIAN PLANTS (1) (8Week Block)
8-week Block
8-Weeks Block Master

RBF2620 AUSTRALIAN PLANTS (1) (Block)

No longer used
No longer used
RBF2620 AUSTRALIAN PLANTS (1) (Offshore)
Offshore units
Offshore (OFS)
RBF2620 AUSTRALIAN PLANTS (1) (Online SP)
4 week block Online Self-paced
Online Self paced (OSP)
RBF2620 AUSTRALIAN PLANTS (1) (Online)
4-week block On-campus
4-week block Online Real-time
Online Master Space
RBF2620 AUSTRALIAN PLANTS (1) (VU Online)
VU Online College
VU Online (VO)
** Note: Melbourne/Sydney (Campus & ORT), 4-Week UG & PG Block Delivery Spaces will continue to be created from the (Online) Master Space
---
Your master and delivery spaces can be found on the VU Collaborate home page below:
1. To access delivery spaces, click on the unit under My Spaces.
2. To access master spaces directly, you can enter the Unit Code under the My Master Spaces field.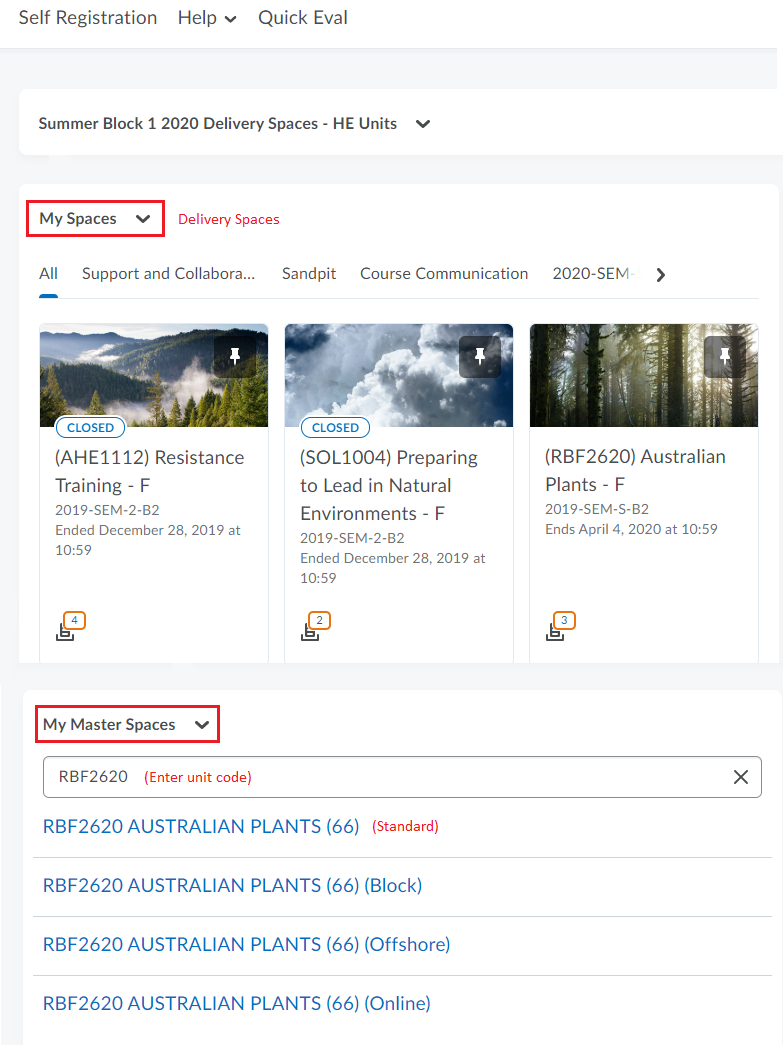 3. You can also view delivery spaces by clicking on the Waffle icon in the top navigation bar.
4. Click the Pin icon to save the space to the top of your Waffle list in blue.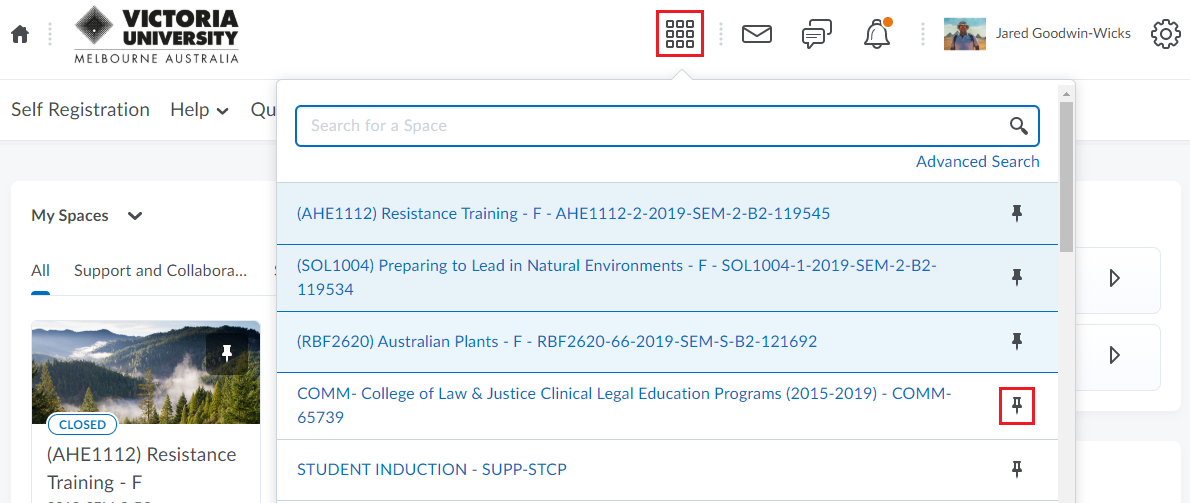 You must be enrolled as a Block Key Academic or Block Convenor to build content in the master space. Check the User Roles Explained guide to know more about roles and permissions in VU Collaborate. If you cannot see your unit within VU Collaborate, contact the unit convenor who can enrol you into the unit or contact This email address is being protected from spambots. You need JavaScript enabled to view it. with the unit code and your staff number to have your enrollment checked.
If you require a multi-unit, support, or collaboration space in VU Collaborate, please log a request with ITS. Log in using your MYVU Portal or Active Directory (AD) username and password (same as your staff email login details).
---
Further Support
Contact us This email address is being protected from spambots. You need JavaScript enabled to view it., for information and resources on technology-enhanced learning, or visit VUCollaborateHelp.vu.edu.au.
Contact ITS Service Desk on (03) 9919 2777 or via self-service servicedesk.vu.edu.au for technical support.