Copying Selected Components Between Spaces
VU Collaborate has a function for Convenors, Block Convenors and Block Key Academics to copy components (including nearly all content) between spaces. Based on the access provided to your role you can copy dropbox folders, discussion forums, news items, interactive activities, and more.
Before following this guide, please ensure that you are a Convenor, Block Convenor or Block Key Academic in both the space you are copying from and to. If you want to know more about roles, check User Roles Explained Guide.
Here is a short video on How to Copy Components Between Spaces:


The steps to copy selected components between spaces are as follows:
---
1. Navigate to your desired VU Collaborate space and click on Space Admin.
2. Click Import/Export/Copy Components.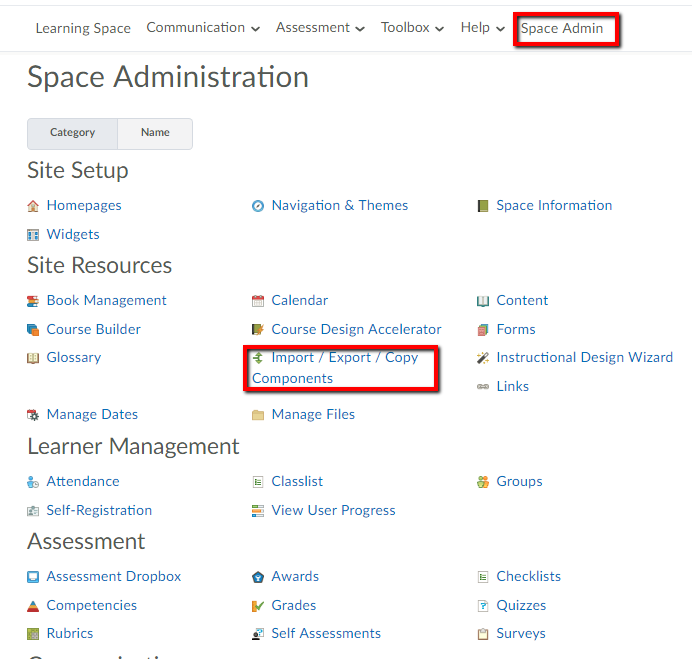 ---
2.0 Copy content from a Delivery or Sandpit Space to another Delivery Space.
1. Choose Copy Components from Another Delivery Space (an "org unit" simply refers to another Space in VU Collaborate).
2. Click Search for offering to select the Space you wish to copy from.
This step can be used for copying modules or entires spaces from Delivery to Delivery Spaces or a personal Sandpit to a Delivery Space.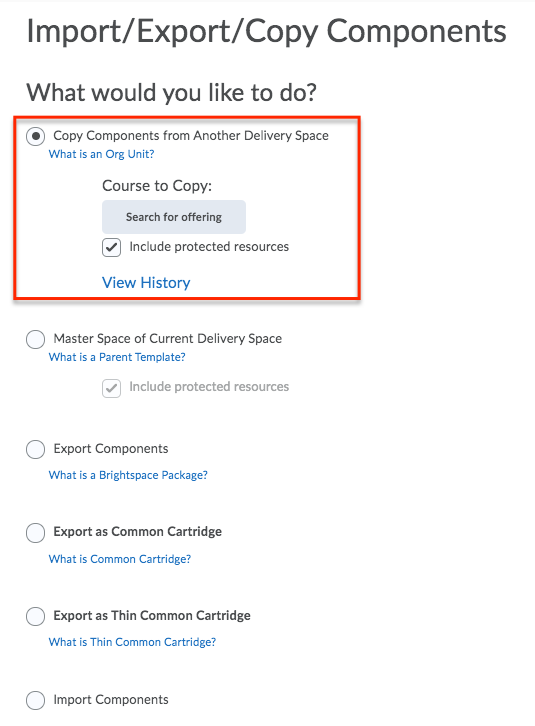 2.1 Copy content from a Master Space to a Delivery Space.
1. A Master Space associated with a Delivery Space will only appear if you are in a Delivery Space. Click the radio button for Master Space of Current Delivery Space.

This step can be used for copying modules or an entire space from the Master Space to the Delivery Space within the Delivery Space that needs updating.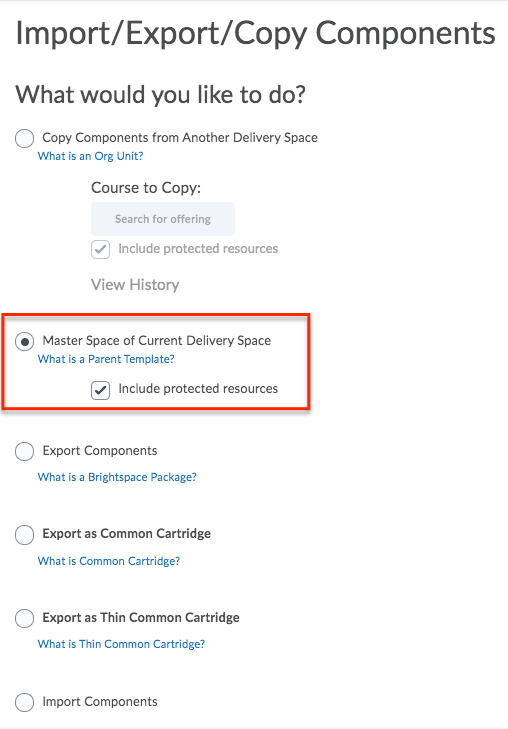 2. Click Copy All Components to copy all course material or click Select Components to choose groups of items or individual items to copy across.


2.2 Copy components from a Delivery Space to a Master Space.
1. Click on Search for child offering to find the Delivery Space of a Master Space; this will only appear if you are in a Master Space.
This step can be used for copying modules or an entire space from the Delivery Space into the Master Space within the Master Space that needs updating.

---
1. In the Search For field enter the Space name or code you wish to copy from.
2. Click the Search

button.
3. Select the radio button next to the correct Space.
4. Click Add Selected.
Make sure to type in the Unit Code correctly with the year associated with the space. For example, EXA3000 2020.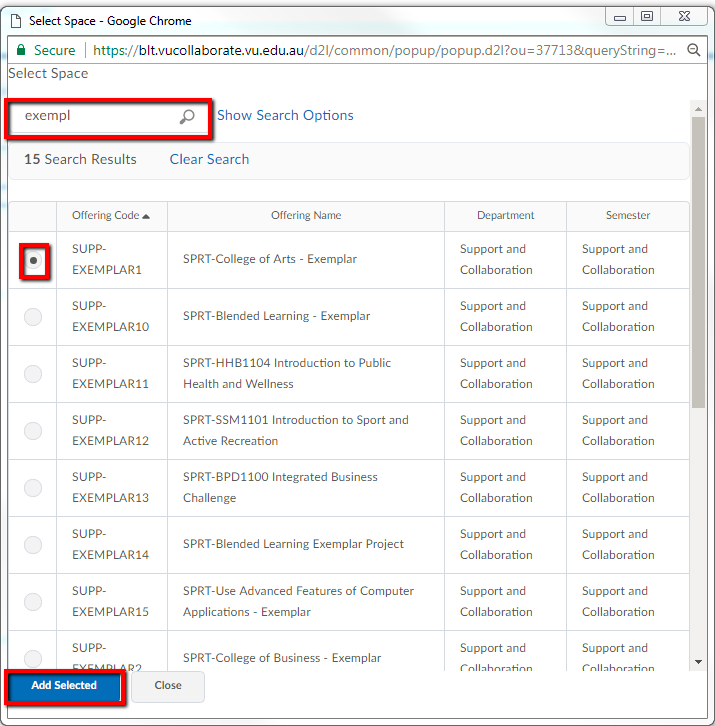 ---
Once you have added the correct space:
1. Click Select Components.
If you wish to copy everything from the Space selected in step three, click Copy All Components.

---
1. Select the appropriate elements by ticking the boxes next to the desired components and tools.
2. Select the corresponding External Learning Tool Link if you have used learning tools such as H5P and Campus Pack tools.
If you have embedded any of the available external learning tools such as H5P or Campus Pack activities in a VU Collaborate Space, you must select the External Learning Tool option when choosing components to copy into your unit Space. If you do not select the correct External Learning Tool link to match the H5P or Campus Pack activity, it will not work in the VU Collaborate space.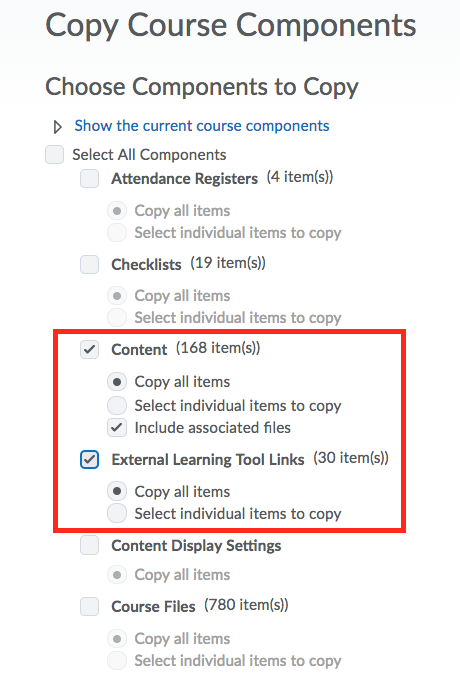 3. To further narrow down your selection to individual items, click Select individual items to copy radio button for each selected component.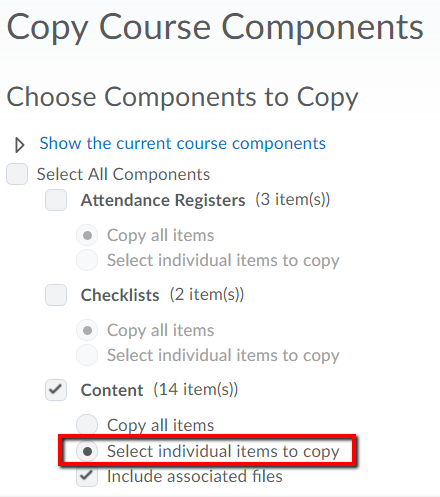 4. Once selected, click Continue.
5. The screen will then show the individual items in the area chosen. Click on the + symbol to the left of the module title to open the module content. You can then select specific items of content to copy into the space.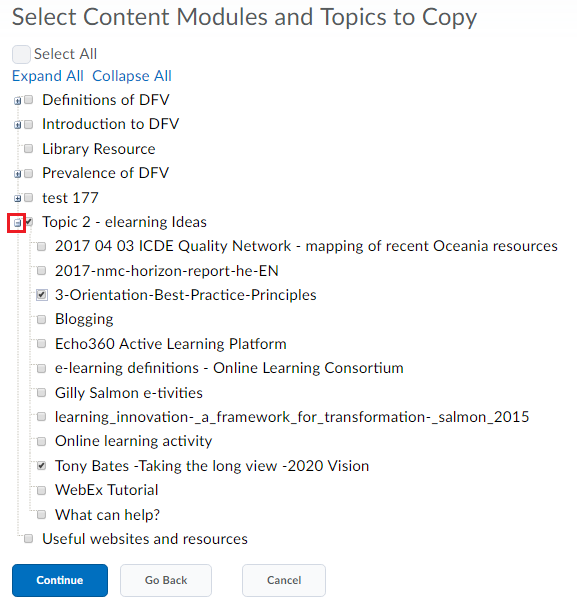 6. Click Continue when you have finished selecting items.
---
1. A confirmation of the selected materials and tools to be copied will appear.
2. Click Finish to start the copying process.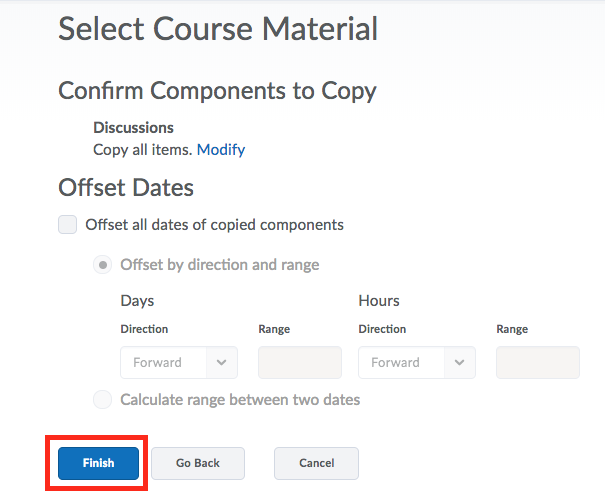 ---
1. While the copying process is underway, there will be a striped bar to the right.
2. Once the copying process is complete, there will be a green tick to the right of the selected component.
3. Click Copy Another Package to repeat the process and copy more content from different spaces or select View Content to return to the content area of your current space.
If you go through this process more than once your components will be duplicated, not overwritten.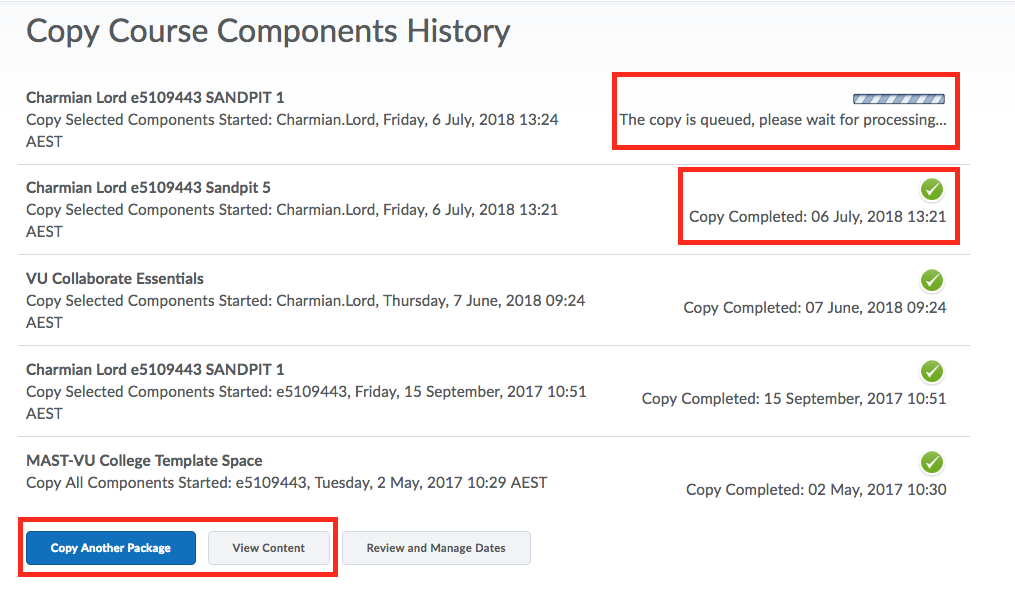 ---
Further Support
Visit the VU Collaborate Help site at https://vucollaboratehelp.vu.edu.au for up to date information and resources on blended learning or email This email address is being protected from spambots. You need JavaScript enabled to view it..
Contact ITS Service Desk on (03) 9919 2777 or via self-service http://servicedesk.vu.edu.au for further technical support.