Understanding the Attendance Data
This guide is about understanding the attendance data. Before following this guide, please ensure that you have created an attendance register (Creating an Attendance Register) and recorded attendance (Recording attendance). Below are links to different points about the attendance register.
Options for viewing attendance data
View by: All students in the class list
---
Attendance Data consists of student Names, Sessions, Totals and % of Attendance.
All students, including withdrawn students, are shown in the Attendance Data Sessions when you are recording attendance for your students. This can be done by day, week, or by topic. To learn more about how to record attendance, see Recording Attendance.
Totals display the total number of each status received per student. For example, Student 03 has the status of Present for two sessions, Absent for one session and Arrived Late/ Left Early for one session.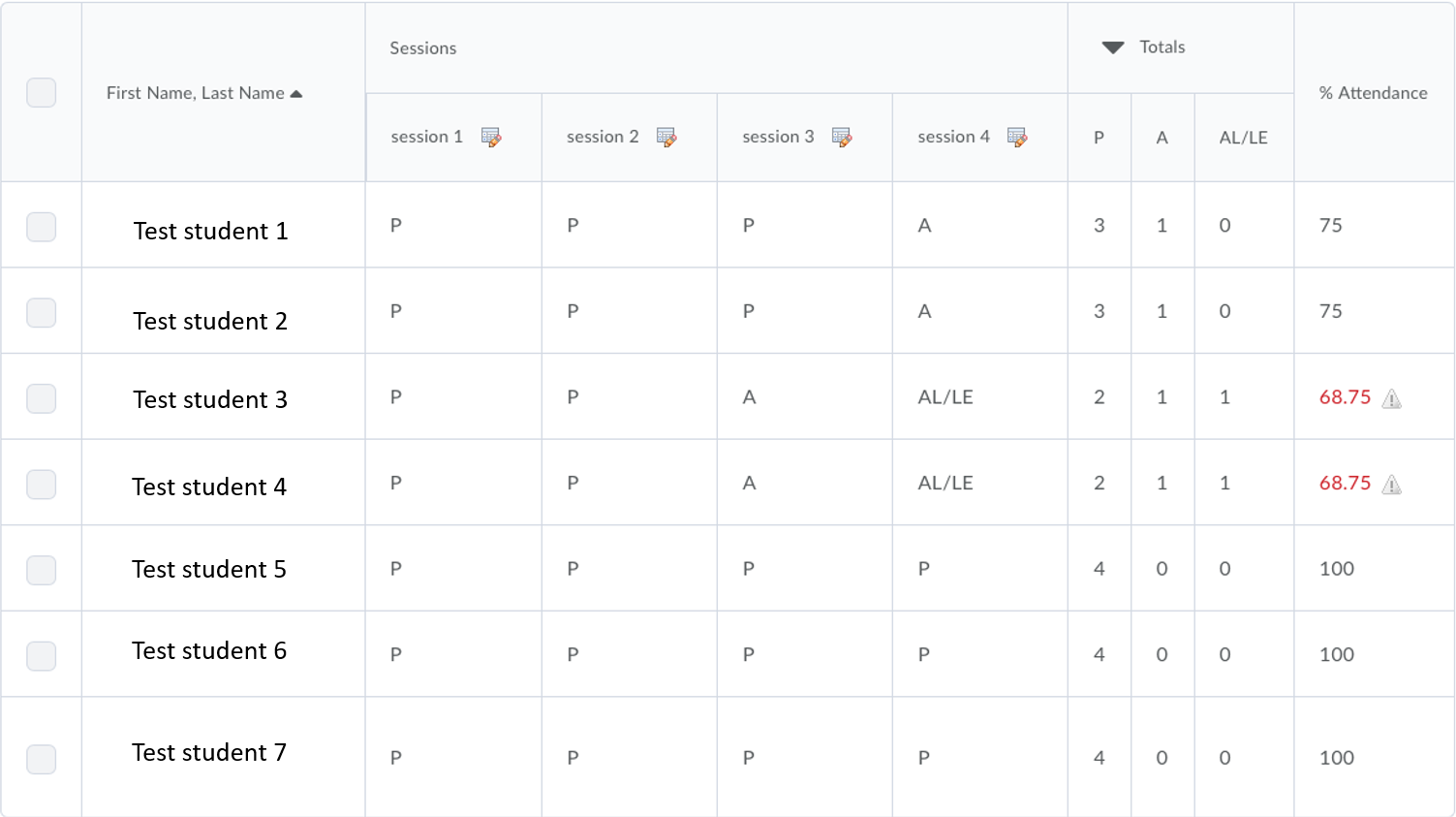 % Attendance indicates the percentage of students attending classes based on the statuses recorded. Please refer to the Creating an Attendance Scheme to learn about adding percentage values to statuses.
For this example, Present = 100%, Absent = 0%, Left Early = 75%, Arrived Late = 75%.

Based on those percentages, the % Attendance for Student 03 is calculated by adding (100 + 100 + 0 +75) divided by the total number of sessions recorded (4). Thus, Student03 has attended 68.75 % of the sessions recorded.
A Cause for Concern value indicates when you would like to track students that fail to meet attendance requirements. Please refer to the Creating an Attendance Register to learn more about this.
For this example, the Cause for Concern value is 75%. Thus, Student 03 has failed to meet the attendance requirements with a total attendance value of 68.75%.
An alert icon and red text will appear in the % Attendance column indicating that the student has not met attendance requirements.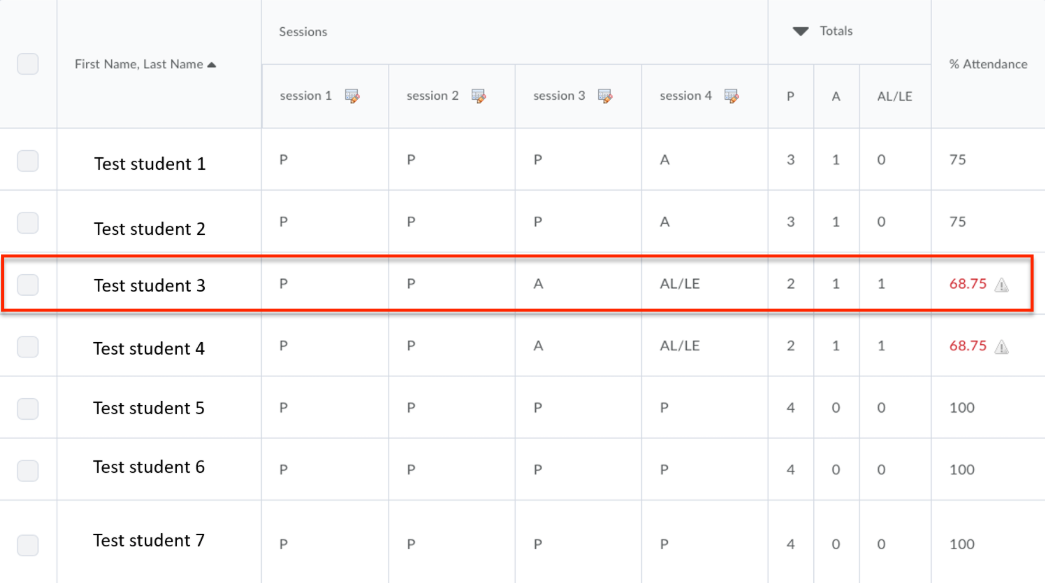 ---
1. To view attendance data, Select the Register Name.
---
1. Select User from the View By dropdown menu and click Apply.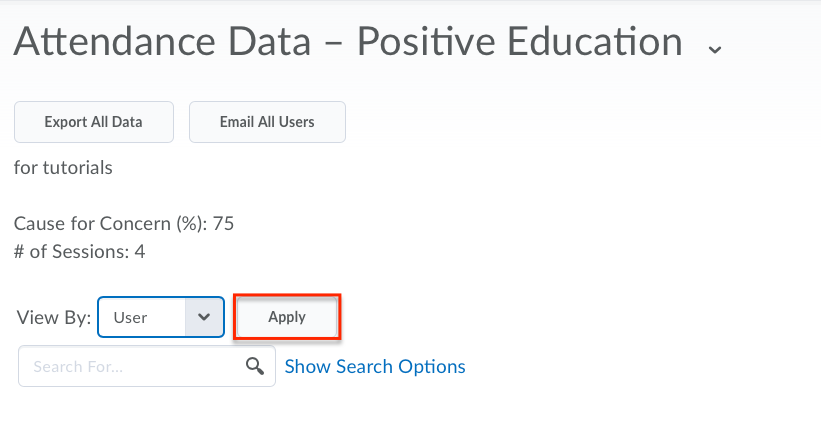 ---
1. Type the name of the student in the Search For field and click the Search icon.

---
1. Select Groups from the View By dropdown menu and click Apply.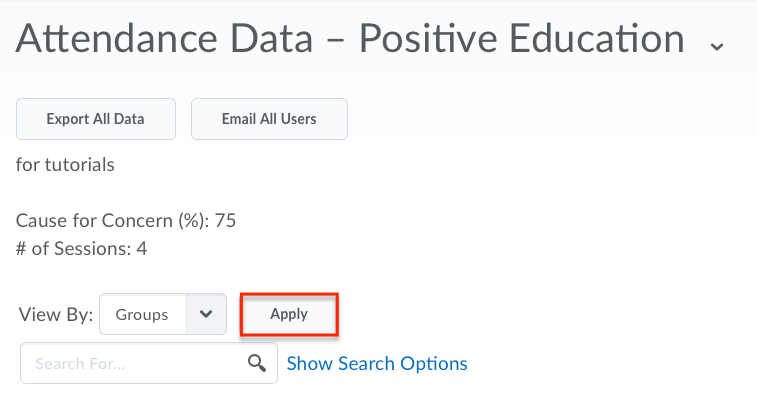 2. Select a group (e.g. Group 3). Click Apply again to finish.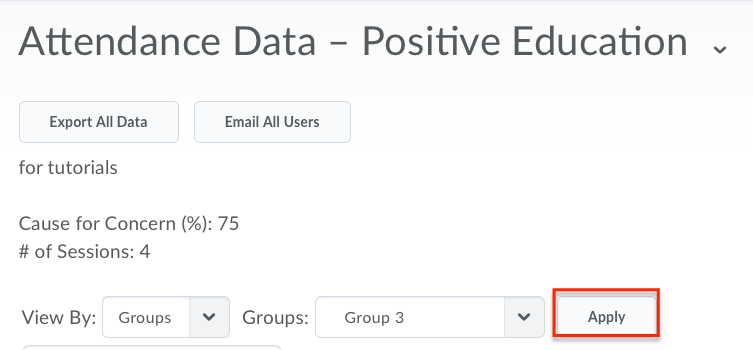 ---
Further Support
Contact us This email address is being protected from spambots. You need JavaScript enabled to view it., for information and resources on technology-enhanced learning, or visit VUCollaborateHelp.vu.edu.au.
Contact ITS Service Desk on (03) 9919 2777 or via self-service servicedesk.vu.edu.au for technical support.