Grading and Publishing to Students
Viewing and finalising grades in the Grade Book
In addition to providing feedback to students, the grade book moves grades from VU Collaborate directly to VU Connect to provide final grades to students.
This guide will take you through the tasks needed to get your grade book ready.
Viewing and publishing grades and feedback:
---
Go to your Grade Book
In your VU Collaborate space on the navigation bar, click Assessments then Grades.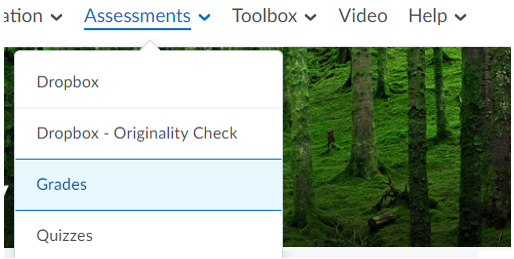 Go to the Enter Grades page
The Manage Grades page in Grades lists all your grade items and the assessment items they are associated with (i.e. Assessment Dropbox, Discussions or Quizzes). To view student grades by assessment, go to the Enter Grades page.

Click Enter Grades.

On the Enter Grades page, you can switch between Standard View (to view grades, and submissions) or Spreadsheet View (to enter grades).
Check you are in Standard View
To view grades and submissions, check that you are in Standard View. If you are in Spreadsheet view click the Switch to Standard View button.

Standard View
In Standard View, you will see grades and icons for assessment submission.
In the example below you can see:
1. Assessment submission icons, clicking these will take you directly to the student submission.
2. Assessment submission icons with a small orange circle, indicates a new submission.
3. New Dropbox submission, previously graded
4. New submission, not yet graded
5. No submission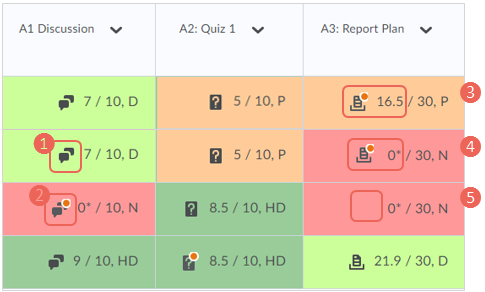 Grade items in the grade book should be associated with an online assessment submission wherever possible, in line with VU's Assessment for Learning standards. Grades for these assessments (i.e. Assessment Dropboxes, graded Discussion or graded Quizzes) automatically flow into the grade book on publishing feedback.
These grades will not be viewable in the grade book until they are published.
To learn how to publish feedback see the following guides:
For assessment items where online submission is not possible, you can enter grades and feedback directly into the grade book.
Note: Callista Result Code has now been renamed to SMS Result Code.
The Final Calculated Grade is the default grade item given to students unless you enter a Final Adjusted Grade or a SMS Result Code.
Final Calculated Grade: This is the primary system-generated grade item, and is automatically populated with a cumulative score calculated by the sum and weight of the assessment items set out in your unit.
If there is no Final Adjusted Grade or SMS Result Code in place, this is the score that will be provided to students.


Final Adjusted Grade: This is a system-generated grade item, and can be used to override a calculated numeric grade during the grade moderation process. The moderated/final adjusted grades are entered here so the integrity of marks for individual assessments and the final calculated grade is maintained. For moderation, rounding and adjustments see Final Friday.
This grade will overwrite the Final Calculated Grade.


SMS Result Code: You may use L (Unconfirmed/Late grade) where needed and S (Satisfactory ungraded pass) or U (Ungraded fail) for Pass/Fail units.
This grade will overwrite the Final Calculated Grade.

To enter changes make sure you Switch to Spreadsheet View.
In the example below grades will be transferred as follows:
1 - SMS Result Code 'L'
2 - Final Adjusted Grade '50'
3 - Final Calculated Grade (rows with no SMS Result Code or Final Adjusted Grade)
First Row - (lower than .5, will be rounded down): 69
Last Row - (high than .5, will be rounded up): 71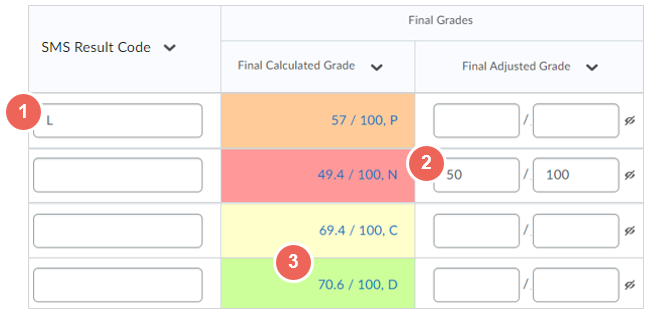 Placement units with a professional experience attached to them will have a 'PL' code automatically entered in SMS Result Code for each student by default. If you are ready to release grades you will need to remove the PL grade before results are finalised.
In Spreadsheet View or Standard View, from the SMS Result Code context drop-down menu, select Enter Grades.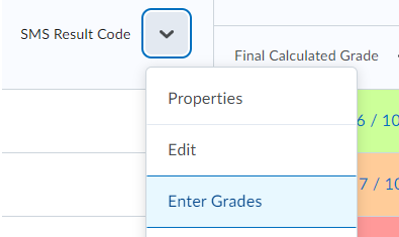 Tick the (1) top check box to select all students, then click (2) clear grades to remove all PL grades.

On the confirmation message, click Yes to confirm changes.

Then from the bottom of the window click Save and Close, then Yes to return to the Enter Grades page.


---
As grades can be updated at any time, to view who and when a change has been made, from the More Actions button select Event Log.
Or to view the event log for one grade item, select the Event Log from the Grade Items drop-down context menu.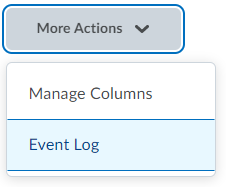 ---
Further Support
Contact us This email address is being protected from spambots. You need JavaScript enabled to view it., for information and resources on technology-enhanced learning, or visit VUCollaborateHelp.vu.edu.au.
Contact ITS Service Desk on (03) 9919 2777 or via self-service servicedesk.vu.edu.au for technical support.