Creating a Holistic Rubric
A holistic rubric provides you with a quick option to assess student work as a whole. In holistic rubrics, there is only one single dimension where you can assign criteria, feedback and percentage value to evaluate students work. Use holistic rubrics to assess students overall quality, proficiency, or understanding of content and skills.
Holistic rubrics can also be used with a no scoring option or "text rubric". Text rubrics can be helpful to present important criteria without having to assign a score. For example, pass/fail criteria.
Here are the steps to create a holistic rubric:
---
1. From the navbar select Assessments, then Rubrics.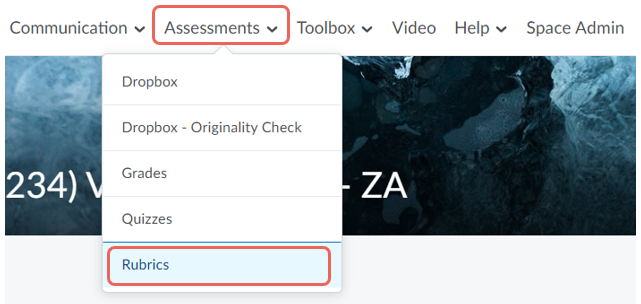 ---
1. Click New Rubric.

---
1. Start by entering a descriptive Name for your rubric. You will use this name to locate your rubric when attaching it to an assessment item.
2. Your progress will be automatically saved as you go as marked by the "✔ Saved" notification.

3. Select Holistic from the rubric type dropdown list.

4. Select the type of Scoring Method from the drop-down list.
Choose Percentage to provide a scoring method for the levels used in your rubric. You will be able to include feedback for each level and also use the rubric to pass the grade value to the associated dropbox folder.
Choose No Score to provide overall text-based feedback and to present a guide for students to visualise important criteria without having to be associated with any grade value.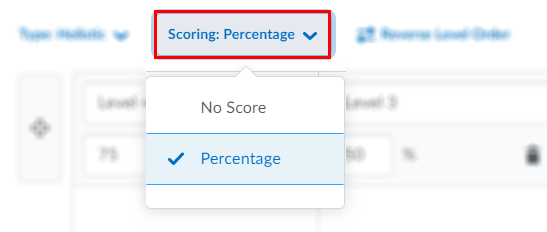 An example of a No Score - Text Only rubric: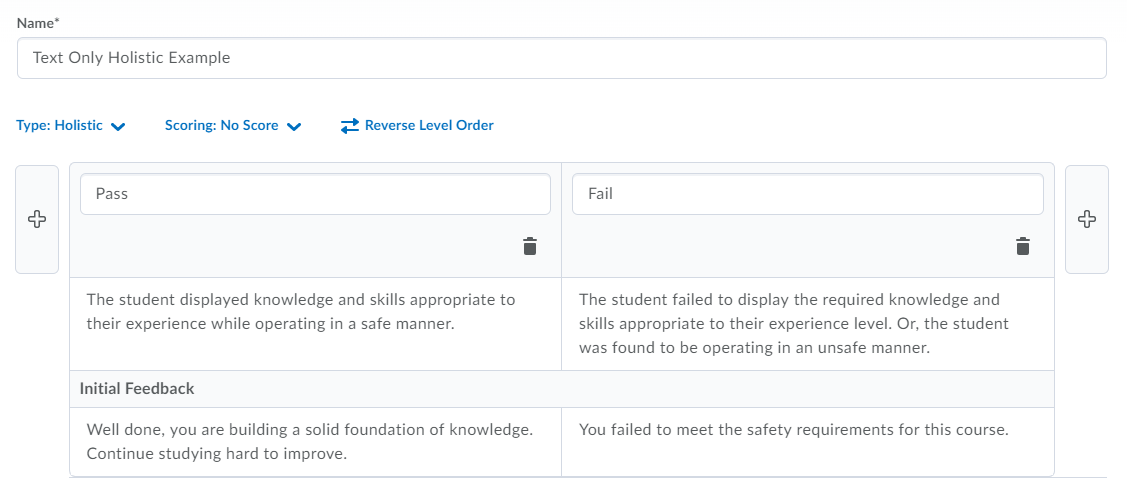 An example of a Percentage rubric: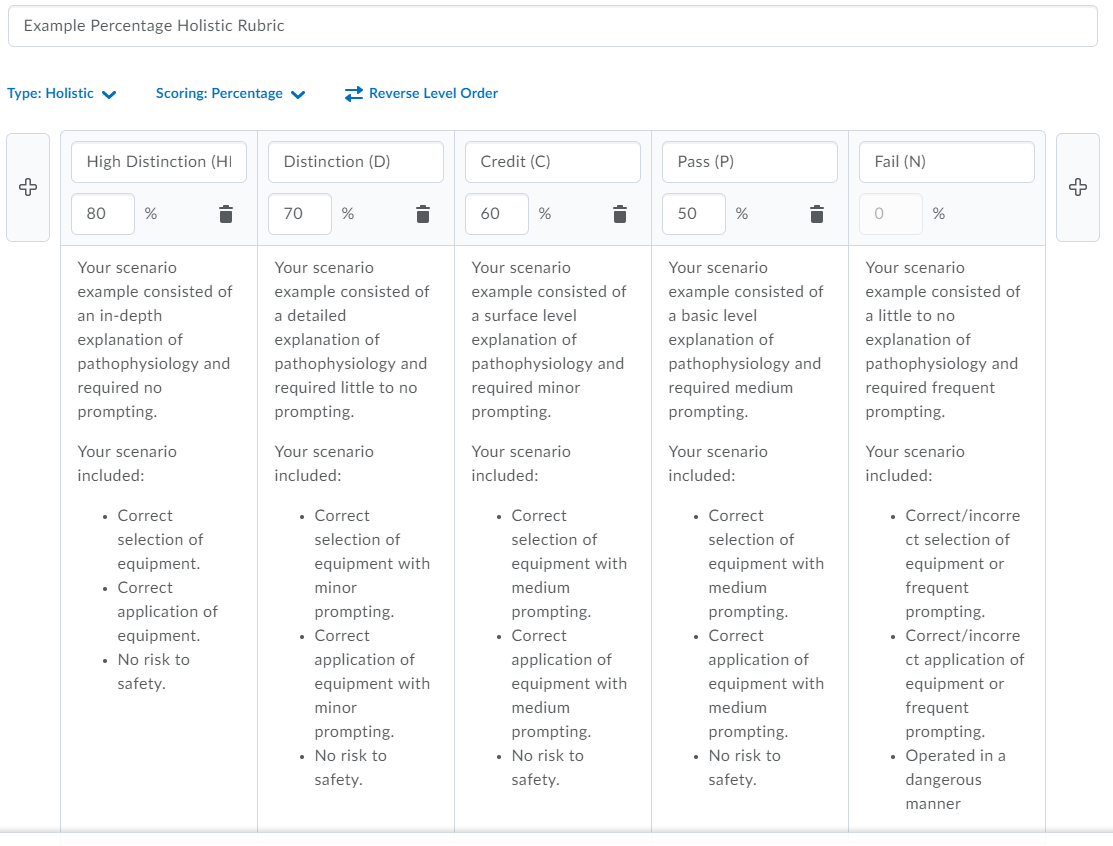 5. Enter the number of levels in your rubric.
Levels should reflect the quality of the submitted work. Normally rubrics have 5 levels which are High Distinction, Distinction, Credit, Pass and Fail. However, you can have a different number of levels and different names. For example, you can have 4 levels: Exemplary, Good, Satisfactory, Unsatisfactory.

1. - Add Level. Used to add more levels from the left. Can also add levels from the right-hand side.
2. - Level Name. Enter a name for each level, ie. Distinction or credit.
3. - Percentage Value. Set the percentage value for each level. ie. 80% HD, 70% D. (this option is only available for Percentage scoring)
4. - Delete Individual Level. Delete selected levels directly with the delete bin icon.
5. - Criteria Description.

The Criteria Descrition HTML editor has the following options: Bold, Italic, bullet lists and Insert Stuff (links etc.,).
You can also click on the Fullscreen button located on the right of the tool bar. Re-click on the same button to go back.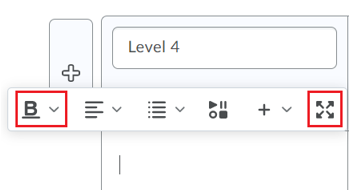 ---
1. Scroll down to the bottom and expand the Options setting.
2. Rubric Visibility. You have the choice of hiding or allowing students to view their rubrics before or after the publishing of feedback.
3. You can hide the overall score for students on rubrics. This is more useful on multi-criteria rubrics rather than single criteria rubrics as students generally know how many points an HD or D is worth.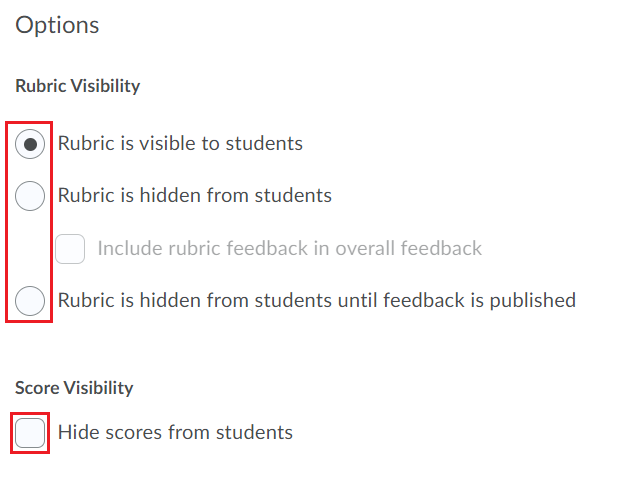 You could select the Hide Scores checkbox if you do not want students to view their scores within the rubric. However, it is better to use the no score text only rubric if you do not need to associate any score to a rubric. Remember that it is best practice to ensure that students understand how they will be marked, thus, it is important for students to be able to see their scores.
4. Description: Add a description for your personal reference (i.e: use for score explains or how to marks using the rubric). The description will not be shared with students.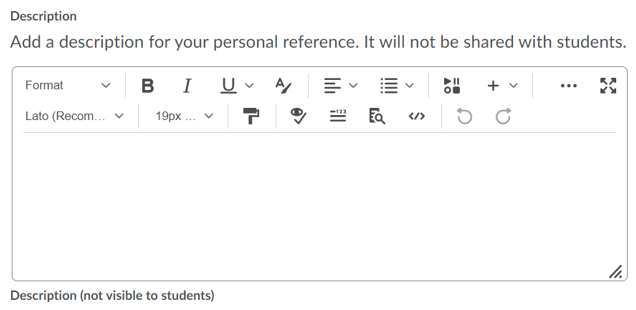 5. Advanced availability.
Ensure the checkbox for Competencies is checked. This allows the rubric to be linked to a dropbox.
Select the checkbox for My ePortfolio if you would like the rubric to be able to be accessed from the ePortfolio. This can be used to enable students to assess each other within files shared through ePortfolio.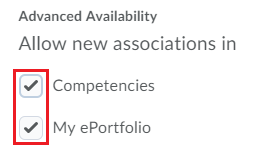 ---
1. For your rubric to be used with an assessment item it must be moved from draft mode to published. Ensure that the information entered is correct and move on to the next step.
2. Scroll to the top of the page and using the Status drop-down in the top right select Published from the menu.

Once a rubric has been published you will not be able to make any further changes. For example: editing the name, description, levels and criteria and assigning any associations with assessment dropboxes. If you need to make any changes to a published rubric please change the status back to Draft or create a new copy of the rubric, if you have already evaluated student submissions.
Rubric Status:
Select draft if you are not ready to link your rubric with an assessment tool.
Select published if you are ready to use your rubric and associate it with assessment dropboxes.
Select archived to remove your rubric from the search results and to make sure that it is not available to be associated with any assessment dropbox
3. Once you received the Saved message, you can click Close at the bottom of the page. All changes are saved as you work.

To link a rubric to a dropbox, refer to this guide: Linking a Rubric to an Assessment Dropbox Folder
---
Further Support
Visit the VU Collaborate Help site at https://vucollaboratehelp.vu.edu.au for up to date information and resources on blended learning or email This email address is being protected from spambots. You need JavaScript enabled to view it..
Contact ITS Service Desk on (03) 9919 2777 or via self-service http://servicedesk.vu.edu.au for further technical support.