About Content
The VU Collaborate Content tool is used to view, add, edit and organise course materials such as readings, lecture notes, audio and video recordings. Using the Content tool you can:
Add content from existing sources such as documents as weblinks

Link course activities such as discussions, quizzes, assessment dropboxes and H5P

Release content selectively and track which modules have been completed




Finding Content
---
Content is accessed from the Learning Space on your Space homepage located on the navbar.



Content Features
---
Below is the Content page and the features available.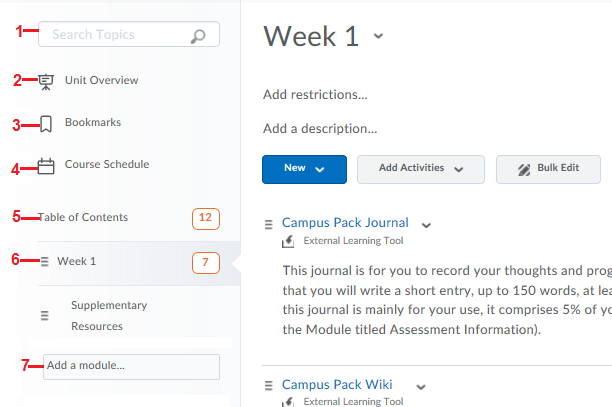 1. Search Topics - Find a topic within the space
2. Unit Overview – we recommend NOT to add information in this area because there are no associated analytics. This will not be confusing for students because they will not see the link if you leave it empty. The Unit Guide is now accesssible via a widget on the front page of the unit, on the right side of the news item/s.
3. Bookmarks – lists the topics you've bookmarked.
4. Course Schedule – lists unit material due dates and other unit events.
5. Table of Contents – lists all unit materials per module.
6. Module currently in view.
7. Add a module – enter text to add a module.


More Content Features within a Module
---
Below is the Content within a Module. For further information on how to add content or activities to a module read these guides on Adding Content to a Module and Adding Activities to a Module.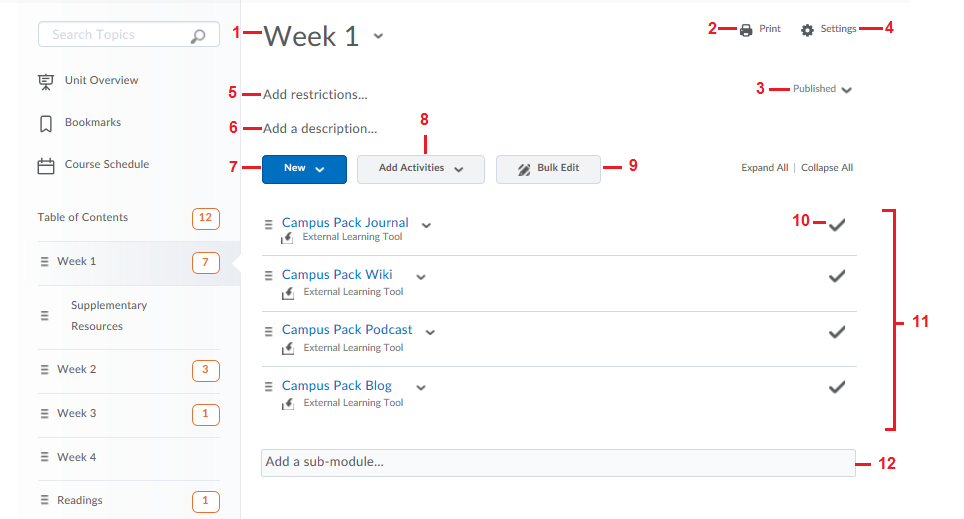 1. Module name.
2. Print - Click here to print what is on the screen.
3. Set module as Published or Draft (that is, Visible or Invisible to students)
4. Settings - Change the completion tracking here, we advise that you do not use the other Setting functions available.
5. Add Restrictions to the module or a module description.
6. Description - Add instructions or information about a certain type of content or activity here.
7. New - Use this function to create new content or learning activities.
8. Add Activities - Add links to modules you have already created or access External Learning tools here.
9. Bulk Edit - Allows for you to edit multiple content item titles, restrictions, descriptions, completion methods and status (Published/Draft) at once.
10. Content - Content placed in the current module can be found here.
11. Completion tracking (ticks) – Can be made to be tracked automatically (recorded upon first visit by student), manually (students must tick the tickbox) or not at all.
12. Add a sub-module – Enter text to create a sub-module.
The New Menu
---
Use the New menu to create new content or learning activities.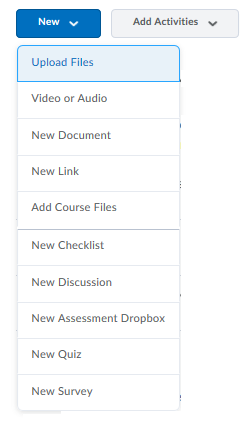 Upload Files - Use this function to upload files (eg. PDF and Word documents)
Video or Audio - Upload Video or Audio files here. However, we do not recommend using this function. Follow these steps instead for Uploading, Linking or Embedding your Video on VU Collaborate.
New Document - This creates a blank document (html editor) which you can use to embed words, videos, pictures, links and tables. Additionally, you can find access and insert H5P learning objects here.
New Link - Insert a website link to enable your students to view weblink sources.
Add Course Files - Use this function to insert files which have been uploaded in the VU Collaborate space.
New Checklist - Create and insert a new checklist into your module.
New Discussions - Create and insert a new discussion topic into your module.
New Assessment Dropbox - Create and insert a new Assessment Dropbox into your module.
New Quiz- Create and insert a new Quiz into your module.
New Survey- Create and insert a new Survey here.
The Add Activities Menu
---
Use the Add Activities menu to add links in your module to learning activities that you have already created or link an External Learning Tool.

You can use this menu to add existing assessment dropboxes, chat rooms, checklists, discussions, eportfolio items, quizzes, surveys, virtual classrooms or upload a document from One Drive.

Additionally, you can use the Add Activities menu to link external learning tools including:

Bulk Edit
---

Use Bulk Edit to edit all topics within the module at the same time.




Using Bulk Edit, the editable features including:
1. Topic title - Click on the Topic title to rename it.
2. Add restrictions - Click on Add restrictions to attach release conditions.
3. Add a description - Click on Add a description to add instructions or a short description of the topic.
4. Draft/published status - Click on this drop-down menu to toggle between the draft and published status.

5. Delete - Click on this icon to delete the topic.
6. Completion tracking - This completion method can be used to track students progress of a completion of a topic or tied to tools such as restrictions and intelligent agents.
---
Further Support
Visit the VU Collaborate Help site at https://vucollaboratehelp.vu.edu.au for up to date information and resources on blended learning or email This email address is being protected from spambots. You need JavaScript enabled to view it..
Contact ITS Service Desk on (03) 9919 2777 or via self-service http://servicedesk.vu.edu.au for further technical support.