Creating Multi-Short Answer Questions
This guide is about creating Multi-Short Answer questions in your quizzes, surveys or in your Question Library. For more information, please see Creating Questions in the Question Library, Creating a Quiz and Creating a Survey.
Multi-short answer (MSA) questions require students to give more than one answer to a short answer question.
For example, if the question, "Name the four chambers of the heart", requires the student to enter answers into four separate boxes. Students will have to identify all four questions to receive full marks. If they only answer two correct answers, they receive half-marks.
Following are the steps to create a multi-short answer question:
---
1. Click Assessment and select Quizzes or Surveys.
2. Select a Quiz, a Survey, or the Question Library tab.
3.Click Add/Edit Questions button.
Tip: To learn more about Quizzes and Surveys read these guides on Creating a Quiz, Creating Questions in the Question Library and Creating a Survey
4. Click New and select Multi-Short Answer Question (MSA) from the drop-down list.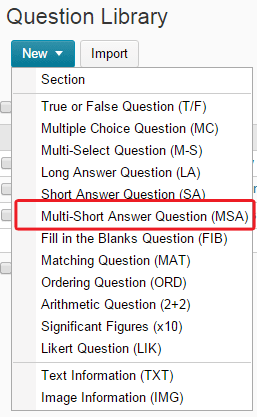 ---
1. Provide a title for the question.
Note: This is not where the question text is added.
2. Enter the number of points that the question is worth.
3. Nominate the level of difficulty from the difficulty drop-down list (optional).
4. Add the question text in the Question Text field.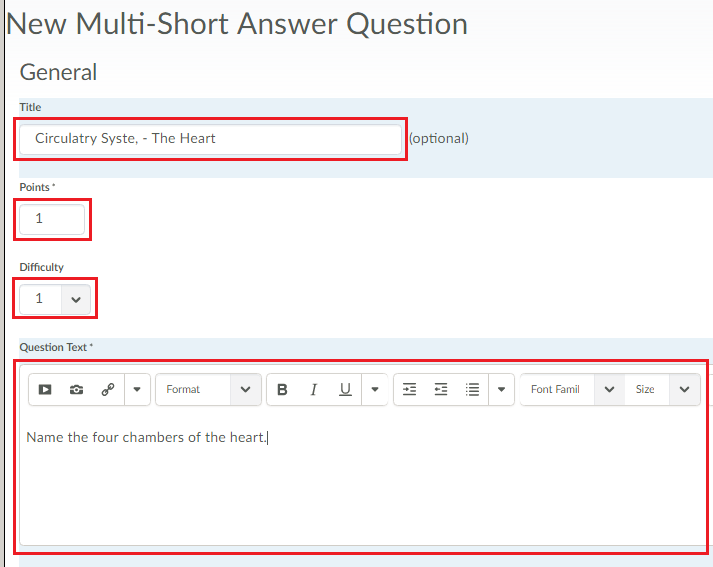 5. Click Insert an Image to upload an image to accompany your question.
6. Enter a description of the image in the Description field.

---
1. Set the number of Input Boxes (possible answers).
The number of Rows and Columns controls the size of the answer input box shown to the student i.e. number of lines and number of characters (including spaces)per line respectively.
3.1 Add Additional or Remove Surplus Answers (optional)
1. Click Add Answer to create additional required solutions.
Tip: To reduce the number of solutions for an answer, click the trashcan icon.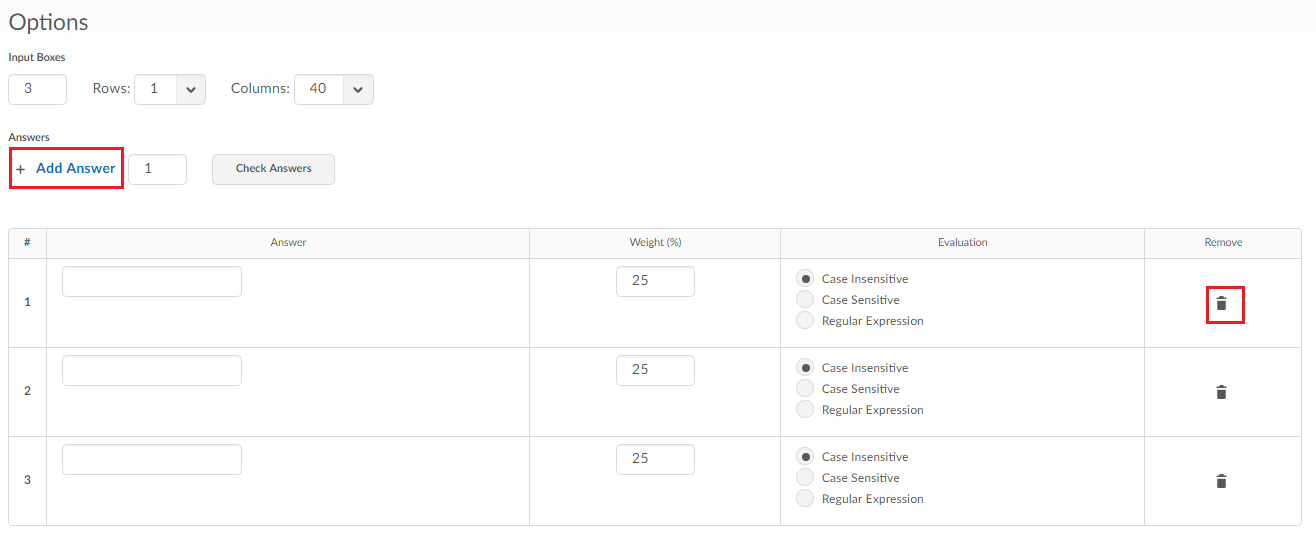 3.2 Enter Answer Solutions and Weight
1. For each required solution, enter an Answer and Weight (%).

The weight represents the fraction of the point value that will be given to the student if answered correctly.

Keep the answers limited to 1-2 words maximum and ensure that students are prompted to enter specific words or terminology.
Note: Ensure that the Weight(%) totals 100%. Example, if you have six answers, each would have a weight of 16.66% (adding up to 100%). If the student enters all six answers correctly, the student will receive 100% of the point value assigned in step 2 of this guide.

3.3 Select the Evaluation Method
This setting controls how the system will automatically evaluate the student's response.
Case Insensitive (recommended): Auto-grading searches for a matching character pattern in the answer text with or without letter case correctness.
Case Sensitive: Auto-grading searches for a matching character pattern in the answer text that must have letter case correctness.
Regular Expression: Auto-grading uses meta-characters to search for one or more matching strings in the answer text's character pattern. What you set as meta-character parameters helps determine letter case sensitivity. See Understanding regular expressions for more information.

3.4 Check Answers (optional)
Click Check Answers to validate answer fields with regular expressions.

3.5 Provide Hints and Feedback
Provide comments and suggestions in the Question Hint and Question Feedback fields.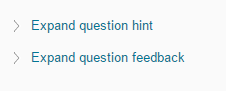 ---
1. Click Preview to view your question.

---
1. Click Save to return to the main page.
2. Click Save and Copy to save and create another Multi-Short Answer question that retains the copied properties,
or click Save and New to continue creating new Multi-Short Answer questions.

---
Further Support
Visit the VU Collaborate Help site at https://vucollaboratehelp.vu.edu.au for up to date information and resources on blended learning or email This email address is being protected from spambots. You need JavaScript enabled to view it..
Contact ITS Service Desk on (03) 9919 2777 or via self-service http://servicedesk.vu.edu.au for further technical support.