Creating Matching Questions (MAT)
Matching (MAT) questions require you to choose from a set of possible answers and correctly pair them with related matches (options or items). This question can be used to assess the recognition of information and comprehension of specific relationships.
Here are the steps to create a matching question:
---
Questions can be created in a Question Library, Quiz or Survey. For a Quiz, it is recommended to first create questions in the Question Library, then import them into the Quiz. For additional information see the following guides, then return to take the next step:
---
1. From New select Matching.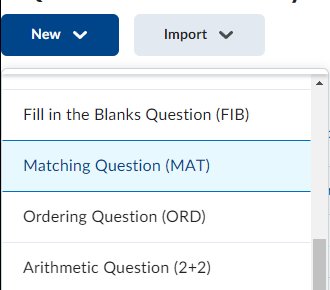 ---
1. Fill in general details such as:
(a) Title: is used for searching or later importing into a quiz.
Assign (b) Points for the matching task.
Enter (c) Question Text.
(d) Optional: Choose a Difficulty level from the dropdown list or choose to Insert an Image to upload an image to accompany your question.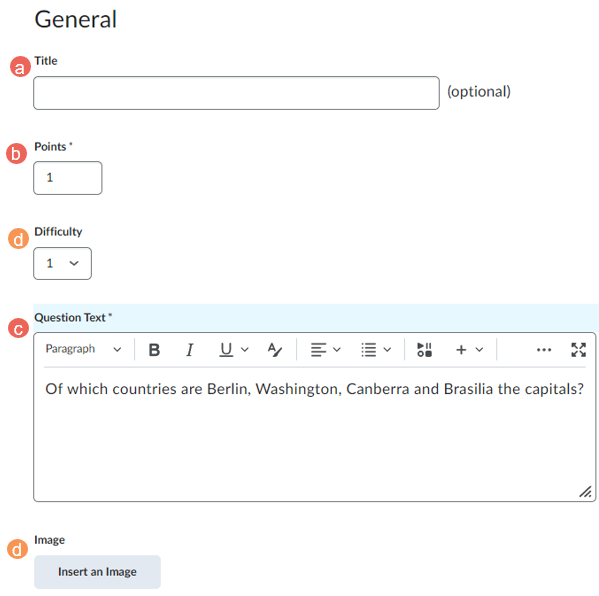 2. Enter the details of your choices:
(1) Select the grading method you wish to attribute to the question:

Equally weighted: Students receive points for each correct answer
All or nothing: Students must select all correct answers or else they receive none at all.
Right minus wrong: Student point equals the number of right answers minus the number of wrong answers.

(2) Enter Choice details including (a) Value or (b) delete answers.
(3) To add more possible or alternative choices, select +Add Choice.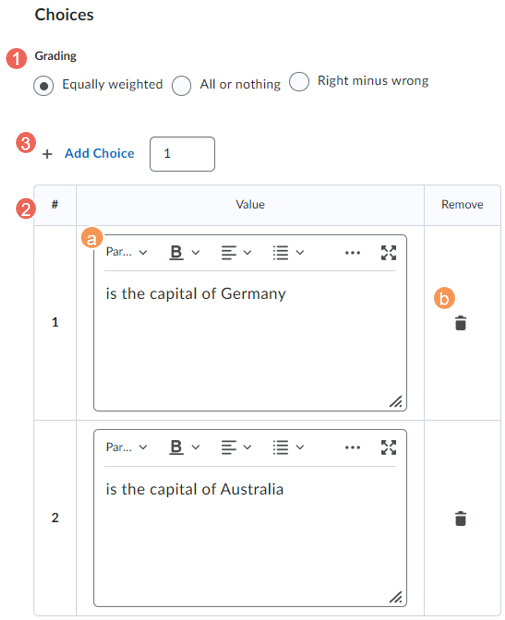 3. Enter your matches details:
(1) Enter Match details including (a) Value, (b) assign to the Correct Choice, or select (c) delete answers.
(2) To add more possible or alternative matches, select +Add Match.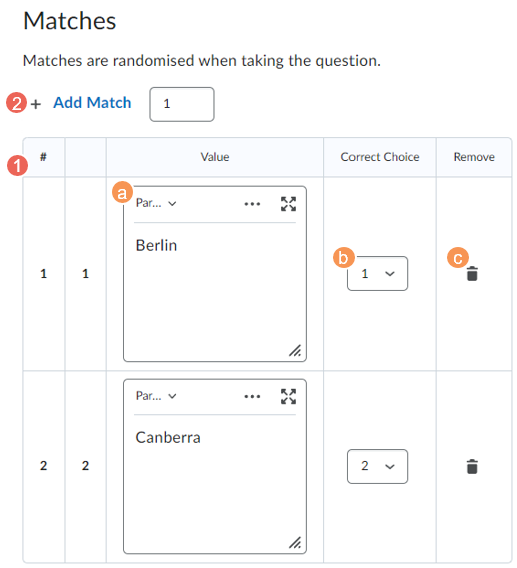 4 (Optional). You can provide students with hints to help them answer the question, and enter feedback to show students after they have completed the question. To do so, select Expand question hint or Expand question feedback.

5. When complete select one of the save options
Save – save the question and return to the question library, quiz or survey
Preview - view how the question will be displayed to students
Save and New – save the question, then create a new question
Save and Copy – save the question, then create a copy of the current questions

---
Further Support
Visit the VU Collaborate Help site at https://vucollaboratehelp.vu.edu.au for up to date information and resources on blended learning or email This email address is being protected from spambots. You need JavaScript enabled to view it..
Contact ITS Service Desk on (03) 9919 2777 or via self-service http://servicedesk.vu.edu.au for further technical support.