Creating True or False Questions
A True or False (T/F) question present a statement, which students must determine if it is true or false.
Take the following steps to create a True/False question
---
Questions can be created in a Question Library, Quiz or Survey. For a Quiz it is recommended to first create question in the Question Library, then import them into the Quiz. For additional information see the following guides, then return to take the next step:
---
1. From New select True or False Question (T/F)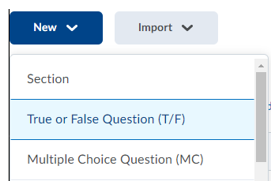 ---
Enter your question details
Enter Question Text
Select the Correct Answer (True or False)
Assign Default Points for the correct answer
Select question Options (feedback, hint, short description and enumeration)
– see Customising Question
View how the question will be displayed to students
When complete select one of the save options

Save and New – save the question, then create a new True/False question
Save and Copy – save the question, then create a copy of the current questions
Save – save question and return to question library, quiz or survey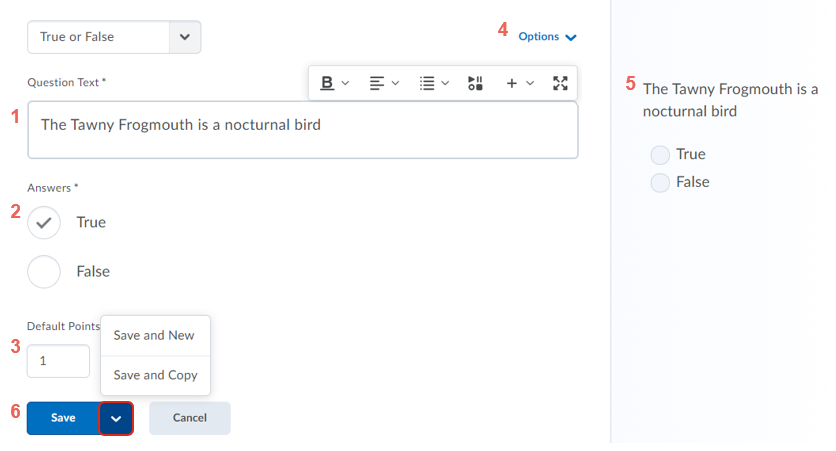 On returning to the Question Library, Quiz or Survey, review your questions. When complete select Done Editing Questions.

---
Further Support
Contact us This email address is being protected from spambots. You need JavaScript enabled to view it., for information and resources on technology-enhanced learning, or visit VUCollaborateHelp.vu.edu.au.
Contact ITS Service Desk on (03) 9919 2777 or via self-service servicedesk.vu.edu.au for technical support.