Creating Multi-Select Questions (M-S)
Multi-select (M-S) questions require respondents to identify one or more correct answers in a list of possible answer choices. Multi-select questions enable you to define a grading format where more than one answer is needed to provide a correct response.
Here are the steps to create a multi-select question:
---
Questions can be created in a Question Library, Quiz or Survey. For a Quiz, it is recommended to first create questions in the Question Library, then import them into the Quiz. For additional information see the following guides, then return to take the next step:
---
1. From New select Multi-Select.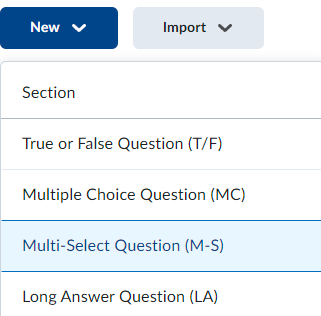 ---
Enter your question details
Part 1:
Enter Question Text
Enter (a) Answer Options, (b) delete answers, (c) add answers, then select the (d) Correct Answers
Tick Randomise answer order, to display answer options in a different order for individual students.
Select question Options (feedback, hint, short description, custom weights, and enumeration)
– see Customising Question
View how the question will be displayed to students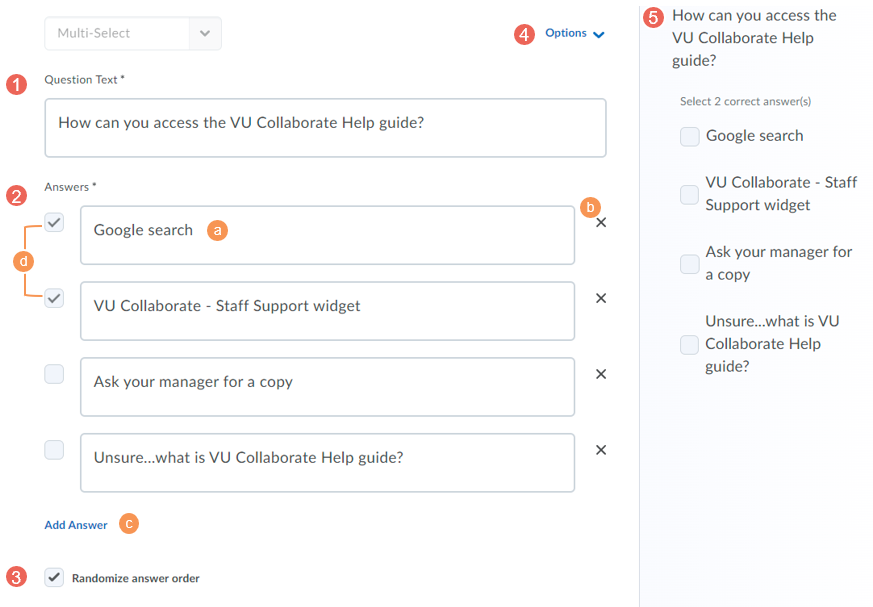 Part 2:
Assign Points for the correct answer
Select a grading method to adjust how many points are split between answers.

We recommend only using the default option Correct Answers, Limited Selections in a VU Quiz. See more details below.

When complete select one of the save options

Save and New – save the question, then create a new True/False question
Save and Copy – save the question, then create a copy of the current questions
Save – save the question and return to the question library, quiz or survey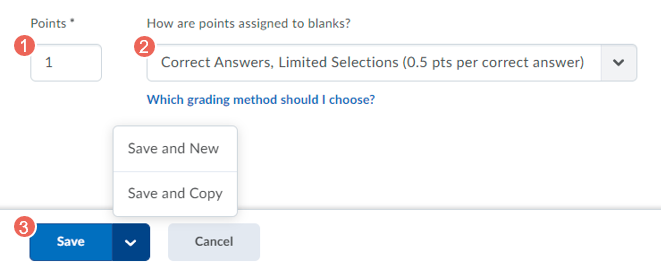 Which grading method should I choose?
Recommended: Correct Answers, Limited Selections
Points are evenly distributed across correct answers only. The number of selections allowed is limited to the number of correct answers. Learners earn partial points for each correct answer selected.
Example: If a question is worth 2 points where there are 4 answers and only 2 are correct. Students will only get 2 full points if both correct answers have been selected. (A correct answer selected = 1). (1 + 1 = 2 Points).
Since this is a limited selection option. If there are 2 correct answers, this limits the selection to 2 selectable answers only.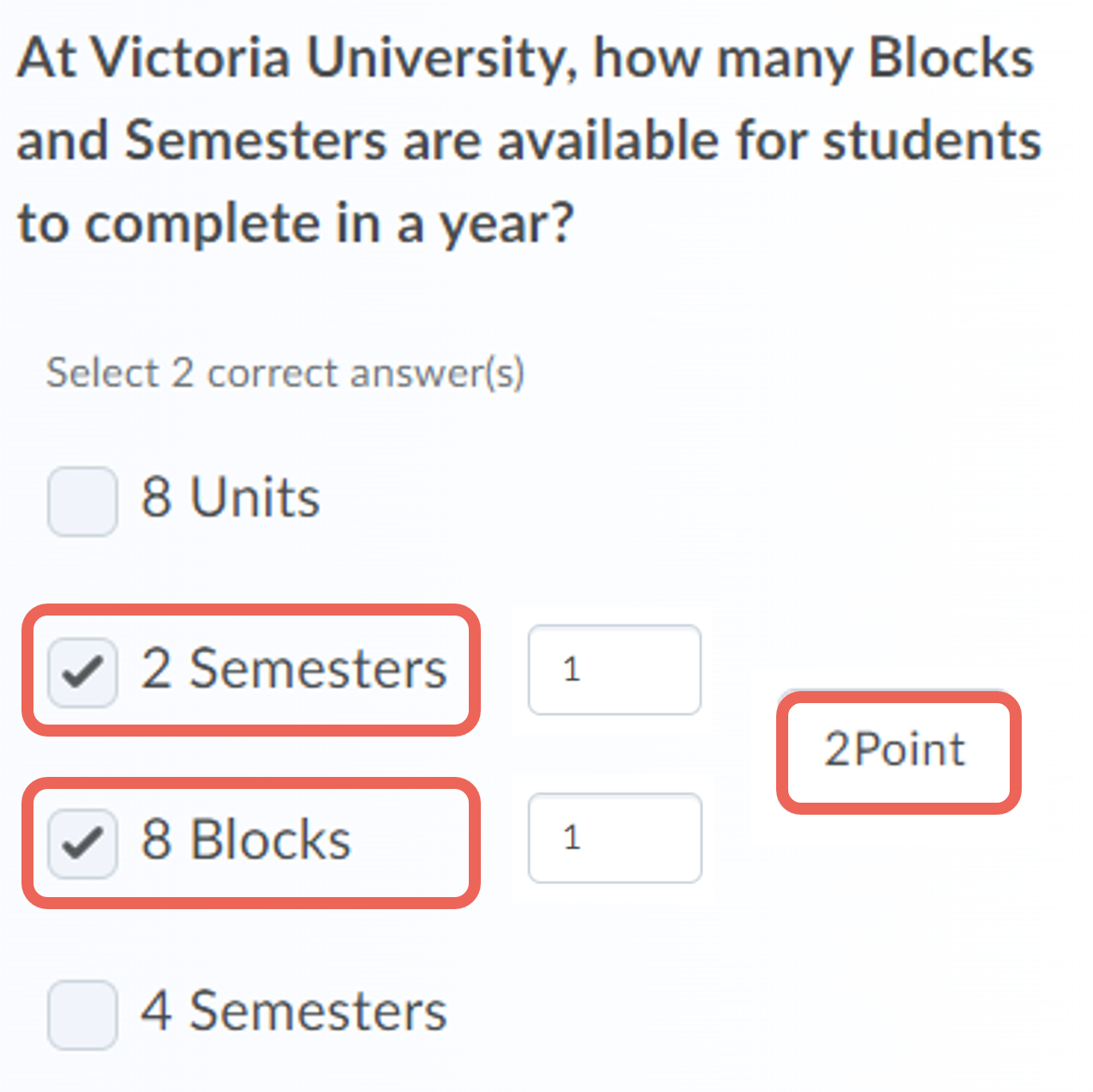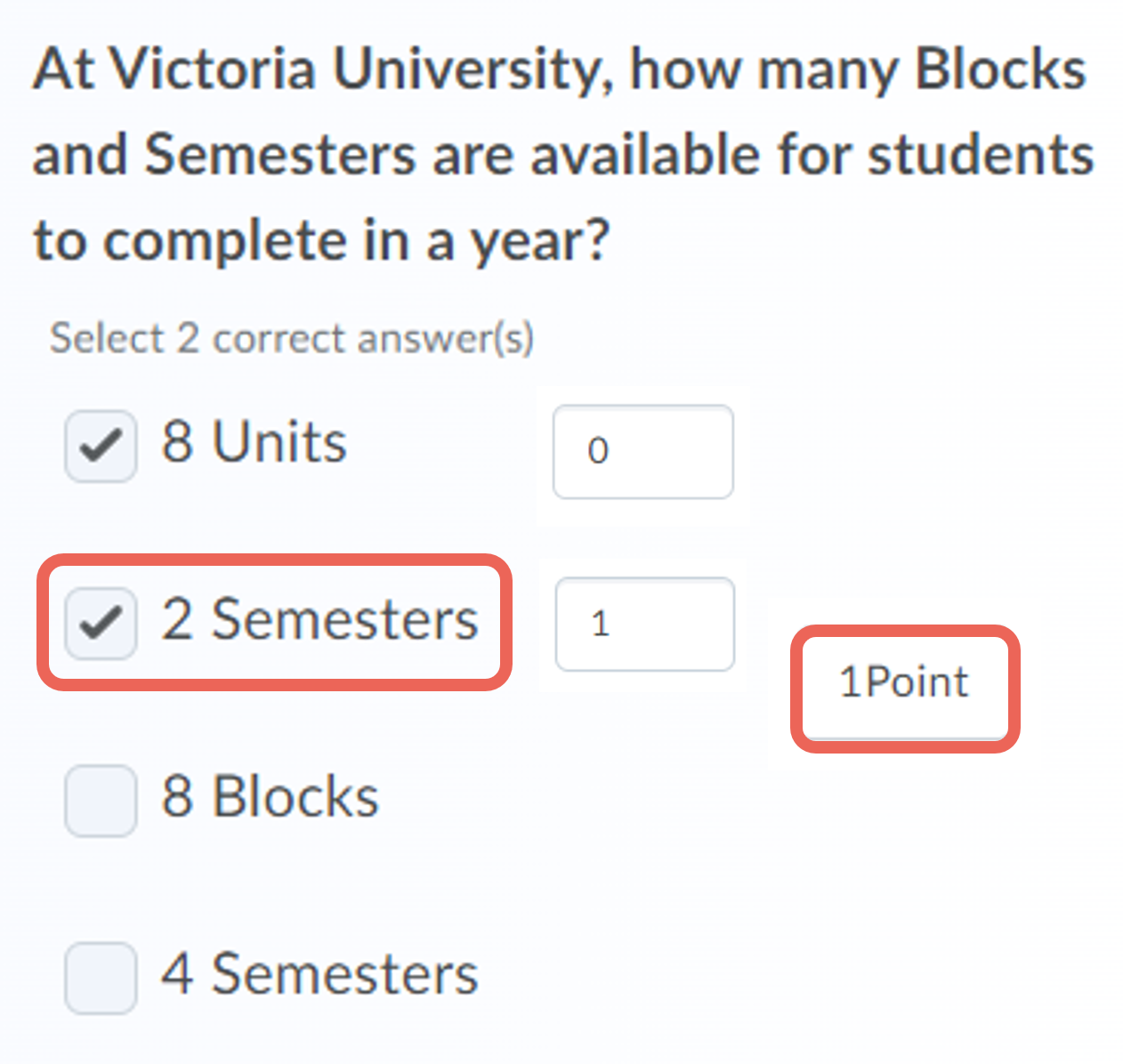 ---
Further Support
Visit the VU Collaborate Help site at https://vucollaboratehelp.vu.edu.au for up to date information and resources on blended learning or email This email address is being protected from spambots. You need JavaScript enabled to view it..
Contact ITS Service Desk on (03) 9919 2777 or via self-service http://servicedesk.vu.edu.au for further technical support.