Introducing the Assessment Dropbox
The assessment dropbox is a core component of VU Collaborate. It is used in all units across the university and is the primary way students submit their written work to a unit. Block Instructors, Tutors and Block Convenors are all able to view and grade the dropbox submissions. Block Convenors and Block Key Academics are the only staff who can create a dropbox in the master space. All material (including Dropboxes) will automatically be transferred to the delivery space two weeks before the start of every block.
You can choose between a group or individual dropbox. Group dropboxes automatically distribute the given grade to every student enrolled in that group.
There are four different dropboxes for different types of assessments:
File Submission: Students can upload all file types to a max file size of 2 GB. For files greater than 2 GB, upload elsewhere and instead provide a link.
Text Only Submission: Students submit via a text box connected to dropbox. No actual file is submitted.
On Paper Submission: Students receive an automatic submission to dropbox. Staff can evaluate each submission automatically or manually.
Observed in Person: Students receive an automatic submission to dropbox. Staff can evaluate each submission automatically or manually.


Use the links below to navigate through different aspects of this guide.
---
1. To find where to view and create Dropboxes in a VU Collaborate space, select Assessments located on the top navbar and then select Dropbox.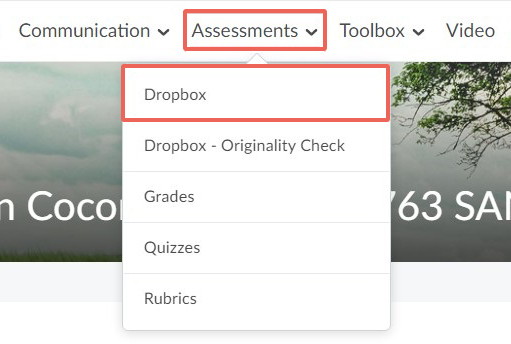 2. You can then select the title of the assessment dropbox folder you would like to view. In the example below, Assessment 2 Dropbox - Essay has been chosen.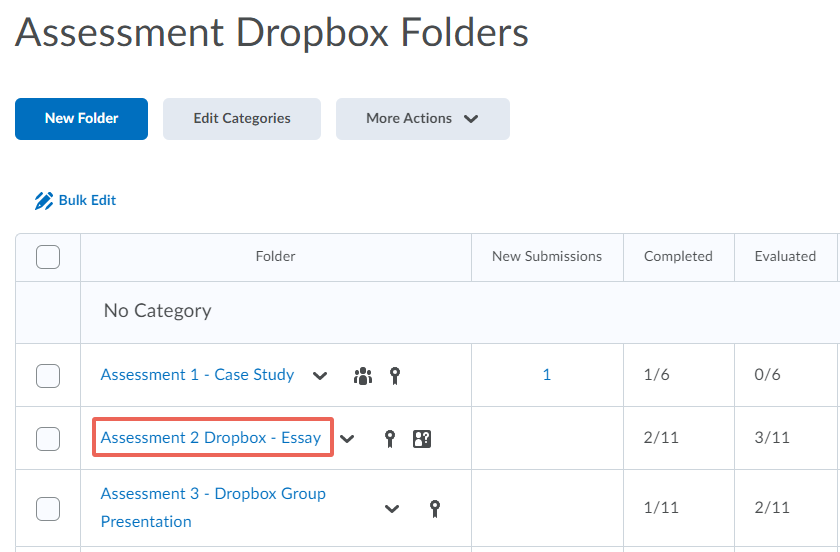 3. A few different options are available for filtering the assignment submissions made by students in the delivery space. Submissions can be filtered by User (student names), Group, or Class Sections (e.g. course or campus). After selecting your preferable submission views, click on Apply to apply the change.

By default, the submission list is set to view submissions by the User. Enter either the student name or student number in the "Search for" field, then click the Magnifying glass/search icon to refine the list to an individual student.

To refine the submissions by group or section, select the dropdown arrow next to User, select either the Group or Sections option, and select Apply. You will then need to choose the group you wish to view and select Apply again.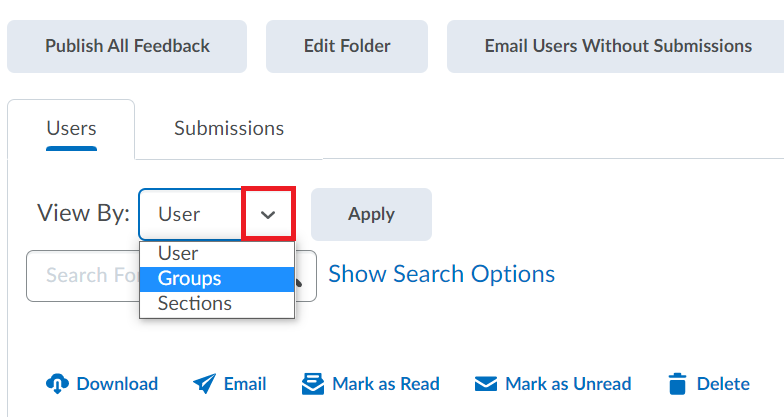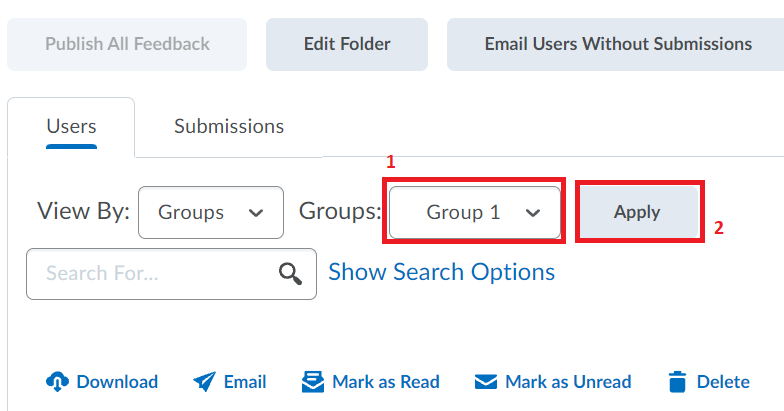 ---
1. Dropboxes in VU Collaborate have search options to help you filter submissions on the screen. One option is to filter the list to students without a submission.
2. Start by selecting Show Search Options.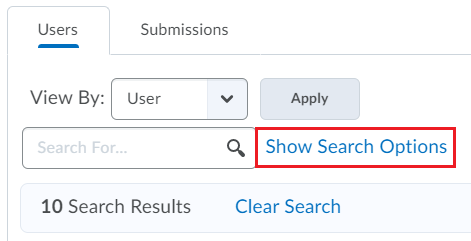 3. Under Submissions, select the dropdown arrow next to Users with submissions and then choose Users without submissions.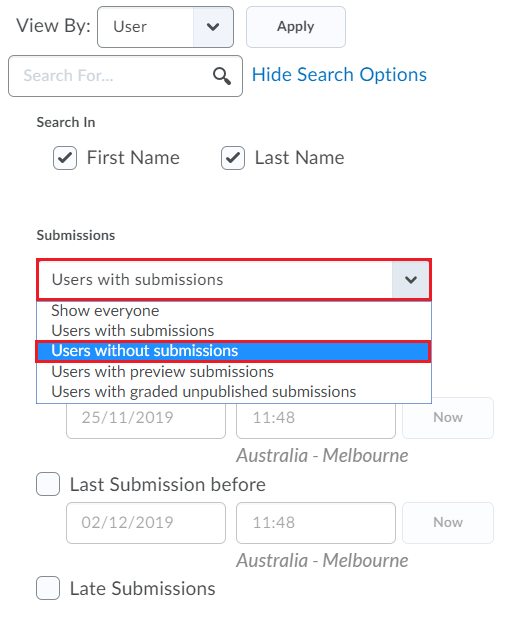 You can use many of the search functions to find valuable data when viewing submissions.
Users who are exempt - Users who have an exempt submission time.
Only show users with unread submissions - Will only show submissions that have been unread by an academic.
Last Submission after - The last submission by a selected date and time.
Last Submission before - The last submission before a selected date and time.
Late Submissions - Late submissions.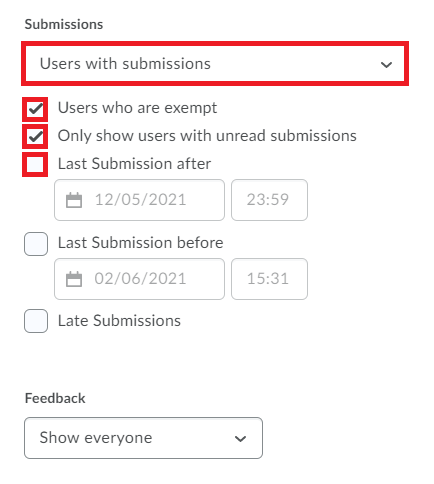 4. Once you have changed to users without submissions, select the magnifying glass/search icon to confirm your selection and filter the list.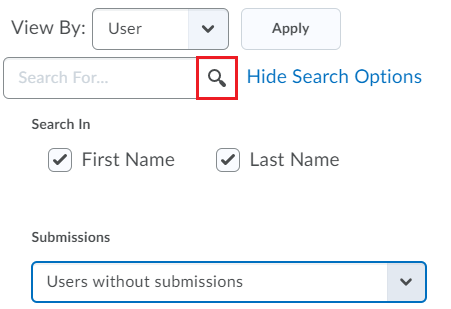 5. If you want to email this list of students in bulk, select Email Users Without Submissions.



6. This will generate a draft email with each student Bcc'd into the email. Other students will not be able to see who else is included in the email.
---
Select the picture below to see a quick demonstration of how to delete student submissions.
Before completely removing any submission, please ensure that you have saved student feedback or grades into a document. You can also export selected student grades from the gradebook into a spreadsheet file using this guide: Exporting Gradebook Data.
Option 1: To delete a single submission, you would need to navigate into Dropbox Submissions from step 1. From there, you can click on the bin icon next to each student and submission name.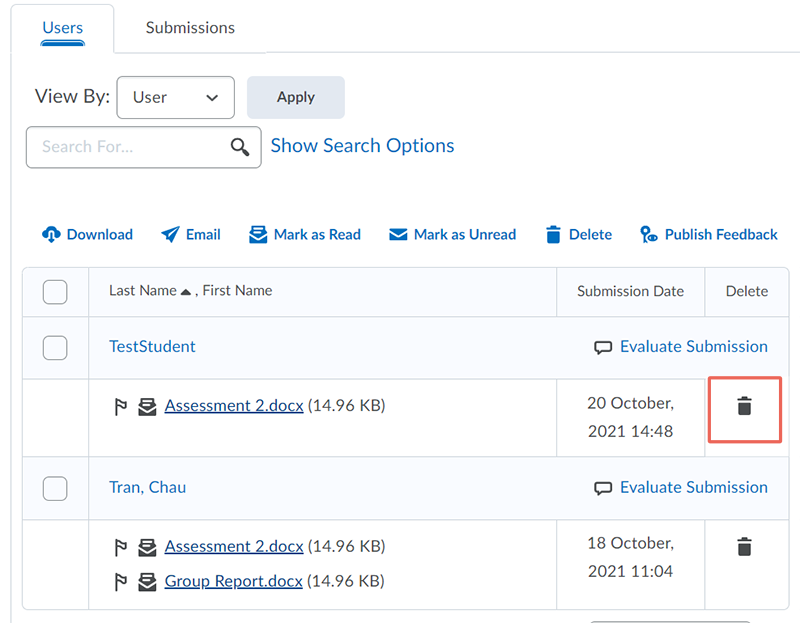 Option 2: To delete multiple submissions at once, you can tick on the student name that you would like to remove and select Delete.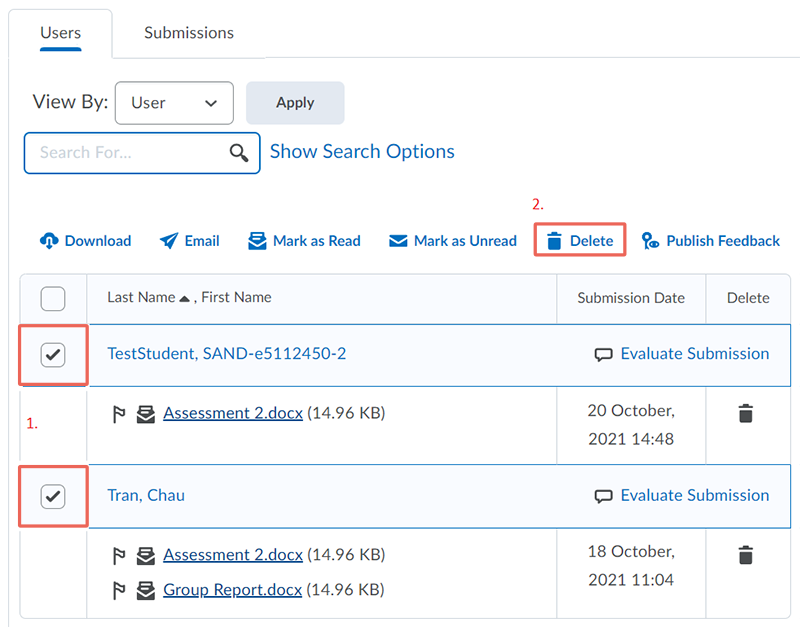 3.1 Restore a Deleted Submission in the Dropbox
1. If you accidentally remove a student submission and want to restore it, you can do so by navigating to the Submission Log option from the Folder Submissions window.



2. From there, you can check for the delete submission record, select the Restore button next to the student submission that you want to restore.
If you cannot find the student records here, please immediately contact the ITS or VU Collaborate Help team to investigate the issue.

---
By default, Assessment Dropbox folders will be listed under No Category.
If you have multiple dropboxes for one assessment, or more than one cohort in your space, you can create a Dropbox Category and list selected dropbox folders under it.
1. On the Navigation bar select Assessments, then Dropbox to view the Dropbox Folders.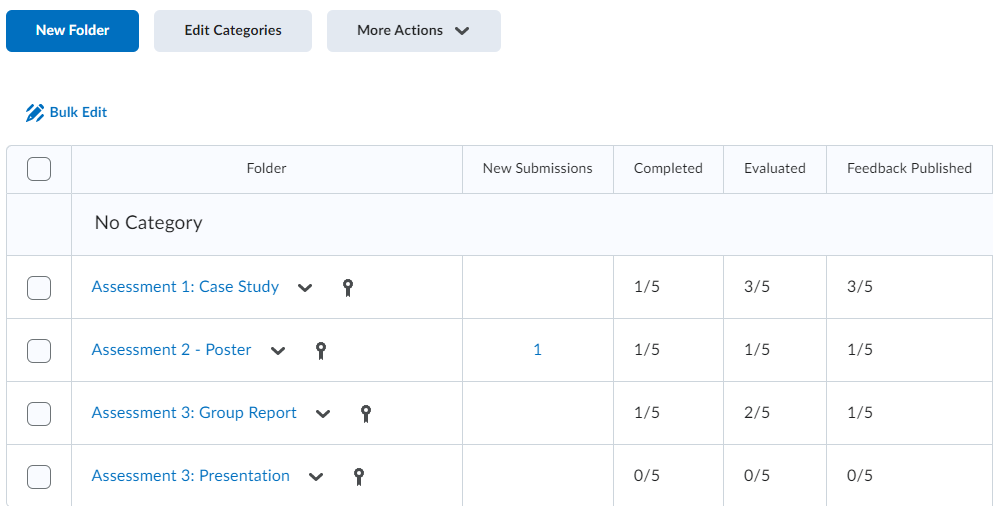 1. Select Edit Categories, to open the Edit Categories page.

2. Select Add Category, to open a pop-up window.

3. Enter the Category Name, then select Create.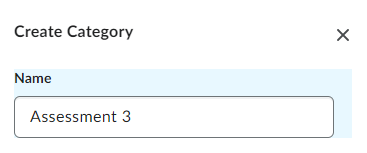 4. Select Close, to return to the Dropbox Folder list.

---
1. To add a Dropbox folder into a category, tick on the relevant Assessment Dropbox folders, then select Bulk Edit.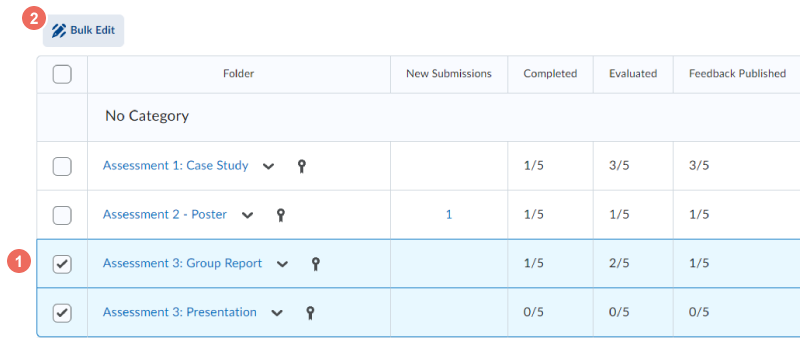 2. On the Bulk Edit screen, for each Dropbox folder select the required category name, then select Save.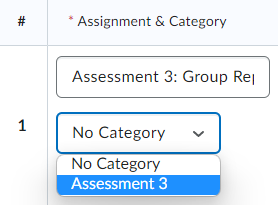 3. Dropbox folders will now be listed under the Category name.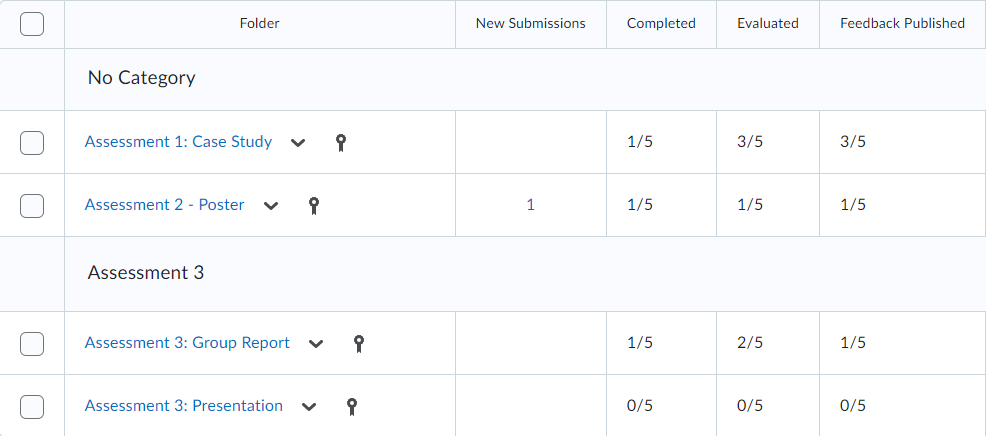 ---
Further Support
Visit the VU Collaborate Help site at https://vucollaboratehelp.vu.edu.au for up to date information and resources on blended learning or email This email address is being protected from spambots. You need JavaScript enabled to view it..
Contact ITS Service Desk on (03) 9919 2777 or via self-service http://servicedesk.vu.edu.au for further technical support.