Incorporating H5Ps in the VU Collaborate Quiz Tool
---
Adding H5Ps to quizzes gives the opportunity for more interactive question types and authentic assessment by using content types such as Branching Scenarios and Interactive Videos. It also extends to the list of quiz question types you can utilise. The score from the H5P will be incorporated into the overall quiz attempt score, rather than create its own grade item.
Important Note: Please only use the H5P in Quiz feature for Formative assessment at this time. If you wish to use this feature in Summative assessment, please contact This email address is being protected from spambots. You need JavaScript enabled to view it..
You must have either created and/or have collaborator access to an existing H5P activity to be able to import them into a Quiz. Go to Introduction to H5P to learn how to create an H5P in VU Collaborate, or learn how to share and collaborate with others.
---
Related Guides
See the instructions below for some great examples and learn how you can create an H5P in VU Collaborate.
---
To enable an H5P activity to send attempt scores to a Quiz, you must first edit the settings in the H5P activity. To start we will edit the LTI Settings.
1. From your H5P activity, select Edit.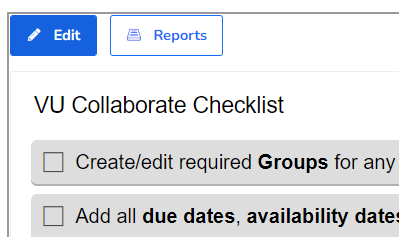 2. Scroll down to the bottom of the H5P, and select LTI Settings. From there, choose the condition to send scores to LMS (VU Collaborate).
It is recommended to select Best attempt as the condition, in case special consideration grants a new quiz attempt.
3. Tick the option Allow logged-in users to resume content to ensure the student progress will be saved if there is a connection issue.
Important Note- some H5P content types currently do not support this resume feature, refer to Content Resume for more details on the content-type support list.
4. When complete, select Save.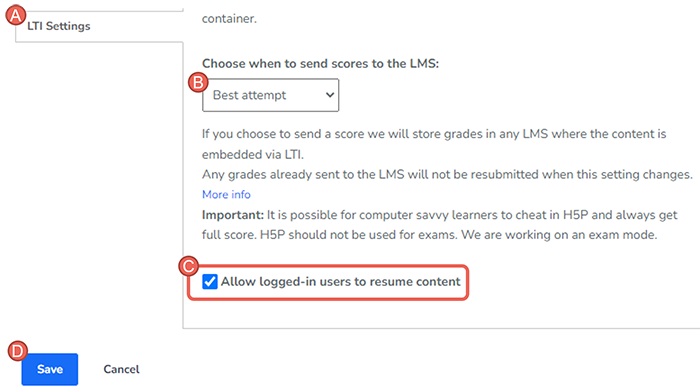 4.1. For an H5P Branching Scenario type, you must also enable scoring methods, go to Settings, and then select Scoring Options. For differences in scoring options, refer to Branching Scenario Tutorial - Step 8: Scoring.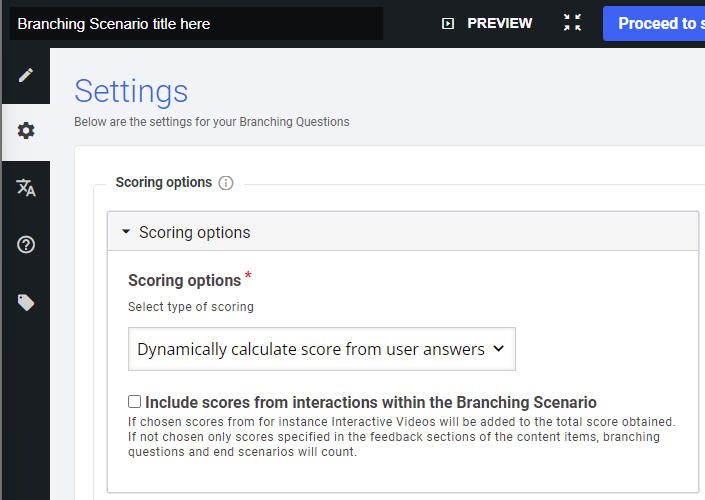 ---
Now review the H5P activity Behavioural Settings to ensure both the Retry and Show Solutions options are disabled.
The Retry option allows students to retake the quiz questions or redo the activity, and overwrite their attempt scores.
The Show Solutions/Results allow the system to display the correct answers to students before their submissions.
You can simply disable these settings through Behavioural Settings located at the bottom of each H5P tool. For more details on how to select H5P Behavioural Settings, see the following guides: H5P Behavioural Settings
Depending on your H5P type, you will see different options as below.
---
H5P Quiz Tools can be only created and accessed in a Quiz, not through Question Library. For additional information see the guide Creating a Quiz, then return to take the next step.
Currently, the H5P quiz tool is available to the old quiz interface only, we are working on a solution to implement this option in the new quiz interface in near future. If you've turned on the new interface, you can simply switch back to the former interface using these steps.
1. When accessing a quiz, select the expandable button located on the right side of your screen.

2. Select the Turn it off button to switch back to the old interface.

3. You can either provide more feedback or select Done to continue.

---
1. From your quiz settings, under Quiz Questions, select Add/Edit Questions.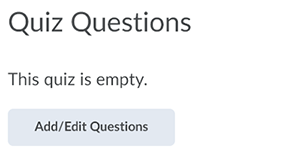 2. On the get started screen, select Import, then Import from H5P.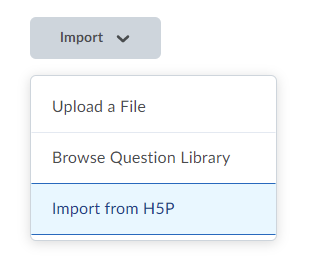 3. A H5P dashboard will pop up, navigate to your desired activity, then Insert.

4. If the import is successful, an External Activity successfully imported message will be displayed. If an error message is displayed, ensure you have enabled the activity to send scores to LMS in step one.

5. By default, each H5P activity will score 10 points. You can either change the score in the Points field and Update or change the activity point later.
To modify an H5P activity within a quiz, tick on box next to the desired activity name.
A. Select Delete to remove the activity from the quiz
B. Select Move To re-order the activity - to top, bottom or inside a section.
C. More Options to add a bonus/mandatory quiz question or change the points of each activity.

---
Review your quiz questions:
A. Add a new quiz question or a section.
B. Import another H5P activity or quiz questions
C. Select Preview to preview the H5P quiz as a student.
D. When complete, select Back to Settings for.... to go back to your quiz settings.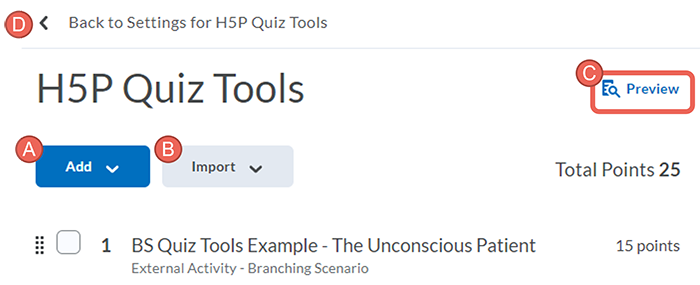 On returning to the Quiz Settings, when complete select Save and Close.

When the students access the quiz, the system will display any H5P with scoring methods as an External Activity.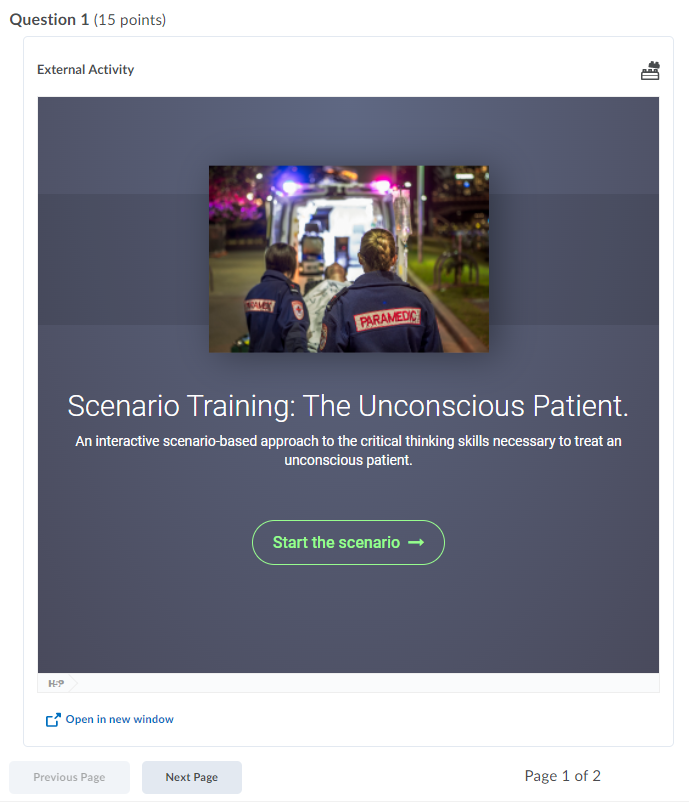 ---
Important Note - it is recommended to only import H5P scoring types (quizzes, drag and drop, etc) into VU Collaborate quizzes since the system cannot tell if students have completed the activity, resulting in receiving an automatic 0 score.
If you want to import a viewable H5P activity (with no scoring questions) as a supporting resource to answer other quiz questions, follow the steps below:
1. Create a new quiz question or import one from a Question Library, for additional information see the following guides, then return to take the next step:
2. In the edit question page, place your cursor in the Question Text, then select Insert Stuff from the menu bar.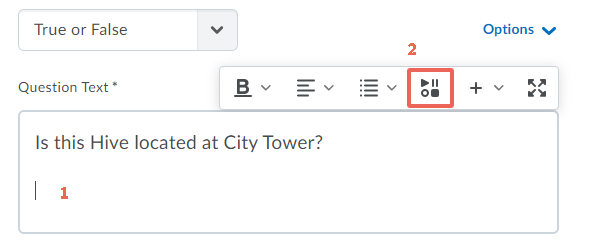 3. Follow the same process of inserting H5P in your VU Collaborate space, you can also refer back to our guide Inserting an H5P in VU Collaborate for more information.
4. Once you inserted the H5P, it will appear within the Question Textbox, you can also view how the question will be displayed to students on the right.
5. When complete select Save.
Once students enter the quiz, they will see the H5P activity attached to a quiz question.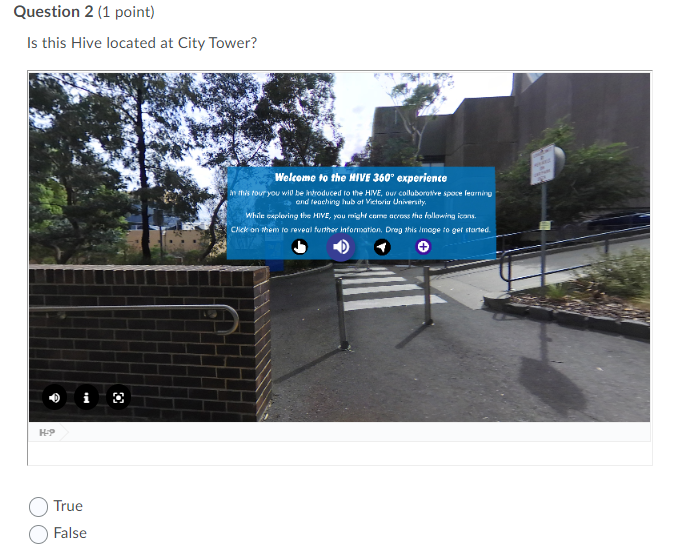 ---
Can I re-assign the point on each H5P question?
Yes. Go to edit quiz questions and click on the relevant question to modify its point.
Can we allocate more than one H5P question per quiz page?
No. Any VU Collaborate quiz with External Activities will be displayed to students as one question per page.
Can we use Respondus Lockdown Browser on H5P quiz questions?
Yes. The respondus tool can be activated for H5P quiz questions.
I cannot view the H5P questions when editing my quiz.
Please ensure that you are using the Old Quiz Interface, refer to Access a VU Collaborate Quiz to learn how to switch back to the old interface.
---
Further Support
Visit the VU Collaborate Help site at https://vucollaboratehelp.vu.edu.au for up to date information and resources on blended learning or email This email address is being protected from spambots. You need JavaScript enabled to view it..
Contact ITS Service Desk on (03) 9919 2777 or via self-service http://servicedesk.vu.edu.au for further technical support.