Using the H5P Mark the Words Tool

Mark The Words is a question tool that allows you to create challenges where the student is to mark specific types of word in a text. The student completes the activity by clicking on all of the specified words in a short paragraph, then submitting their selections for grading. This task is useful for reviewing something in your course and providing immediate feedback and scores. Students can be given the option to answer the question multiple times until they get it right.
H5P.org also offer their own tutorial on using this interactive with extra details about mark the words objects.
This guide includes:
Please see this guide on H5P if you would like an H5P introduction, and this guide if you want instructions on how to insert the H5P into your space. There is also a help guide video with an overview of creating an H5P here.
---
1. In the Learning Space choose the module you want the H5P to be in, click on New then New Document.

2. In the Insert Stuff menu, scroll down and click the H5P Learning Object.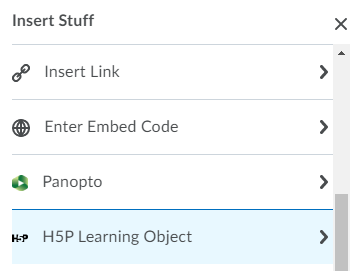 3. In the H5P tool, click Add Content.

4. Search for Mark the Words from the Create Content Type list.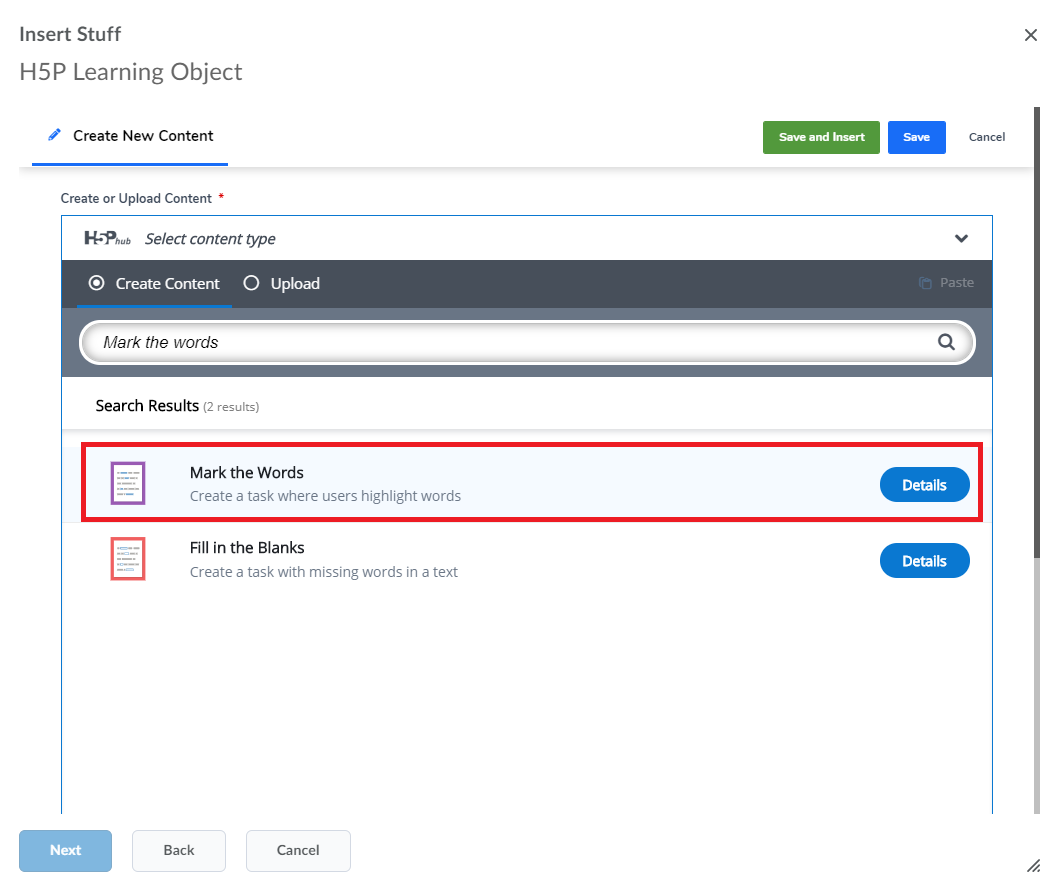 5. Enter Title in the title field. Feel free to click the Example or Tutorial to see some examples of this type of object or to view an online guide.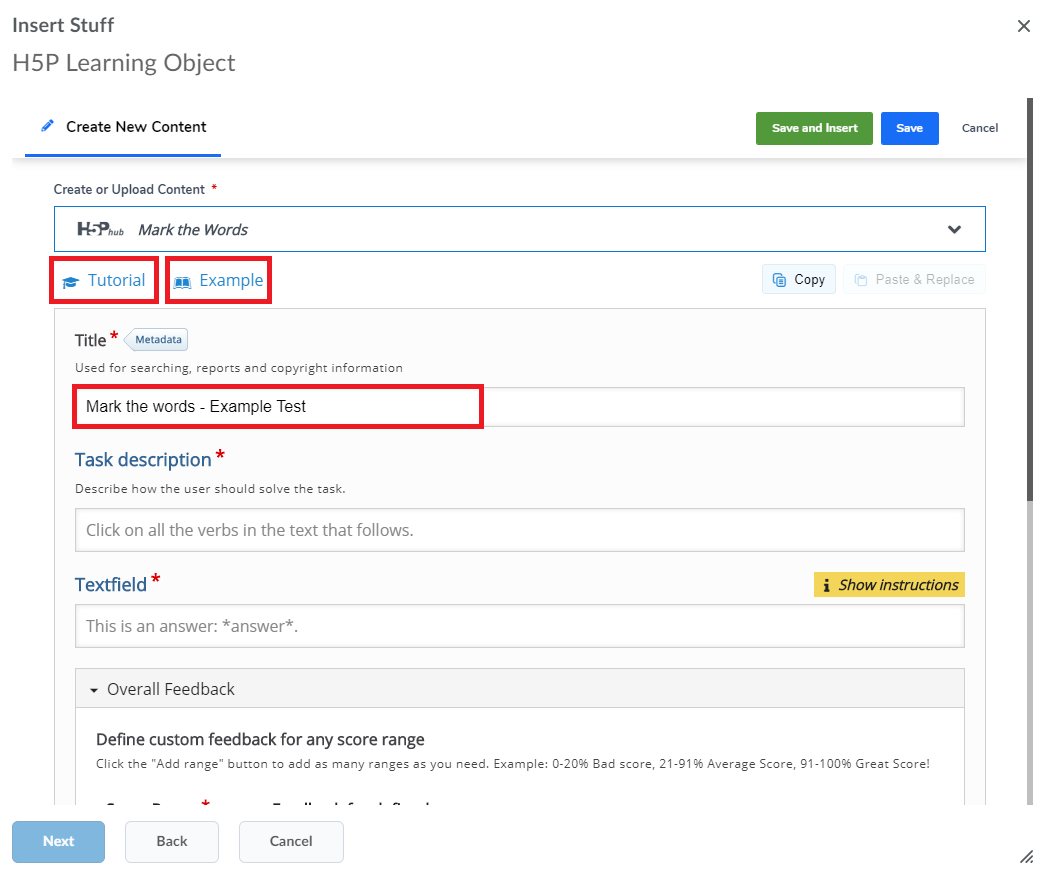 ---

Mark the Words is an activity where students click on a few predefined words in a sentence that you write. This should help them better understand your content and engage with a simple test of knowledge.
1. Write a Task description for the activity. This helps students understand what they need to do, it needs to be a direct instruction.
2. Now write your sentence with the correct word included. To mark an answer you want students to click on, use asterisks around the *correct* word. In our example, Stockholm is the correct word.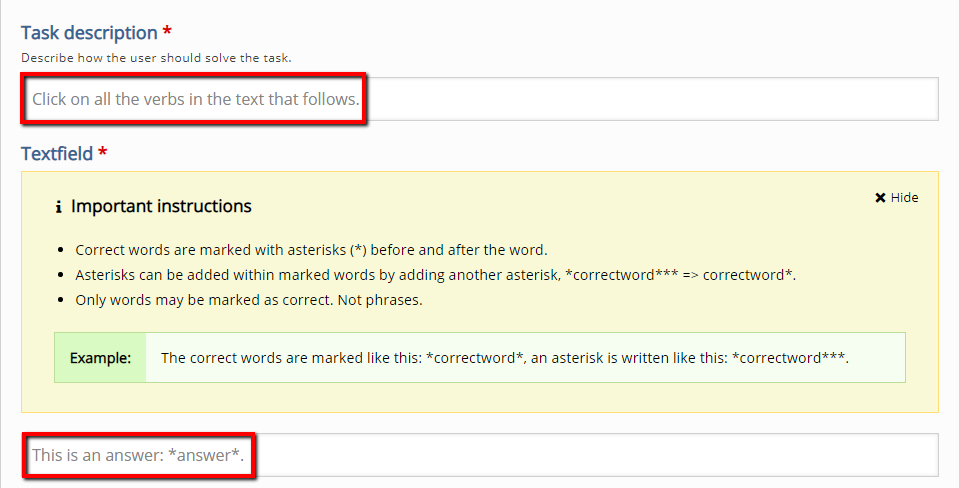 Note: you can only mark single words as answers, not two-word phrases. Hyphenated words (for example *co-ordinator*) are counted as one word.
3. Add a feedback phrase in Fill in the Feedback box, the student will see this feedback at the end of the quiz.
4. You can also add additional custom feedback depending on the percentage a user gets correct. To do so, click Add Range and fill in the feedback for your preferred percentage.


An example of what you can create multiple feedback options.
5. Once you have finished adding your answers, click Behavioural settings to expand the tab.
6. Tick the Enable "Retry" tickbox to allow students to try and answer the question correctly multiple times.
7. Tick the Enable "Show solution" button box, to show students the answers after the first time they get it wrong. Selecting both of these options will let the student see the answers when they get the question wrong, and then allow them to answer again, effectively ensuring a 100% correct answer rate. Both of these options will be enabled by default. You can disable either option to make it tougher to answer correctly.
8. Tick Show score points to show the points earned for each answer.

9. Text overrides and translations are used to change the text of buttons on the object. We recommend leaving these at their default setting unless there is something specific you would like on these buttons.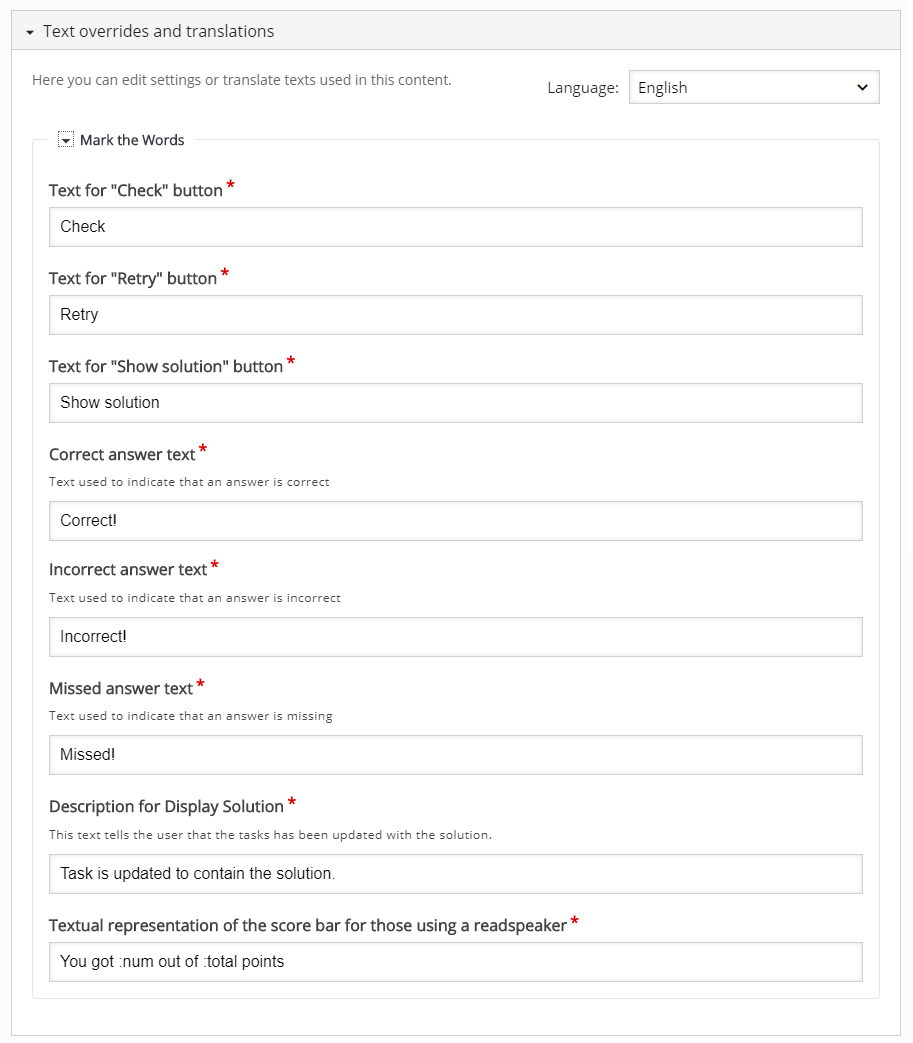 ---
At the bottom of the screen you can adjust your H5P's settings (you can leave these settings by default or make alterations):
1 - Display options: (previously 'Display and copyright buttons') What options do you want to be visible for the user, for example, you can tick the display download button to enable students/staff to download the H5P to their own computer. You can also tick the Display embed button, which allows the user to embed the H5P into their HTML editor in VU Collaborate for example.
2 - Publish: This option allows you to make the H5P Unpublished (content can not be inserted into VUC), Protected (content can be inserted into VUC) or Public (visible to the public using a content link and the content can be inserted into LMS and be embedded). Protected is the default setting and it is recommended to leave this setting as it is.
3 - Folder: (previously 'My Content') All your content will be saved in one spot, within a root folder.
4 - Collaborators: (previously 'Authors') In this setting you can add and search for other collaborators and give them access to edit your H5P's. For example, if you are teaching a unit with another staff member and you would like them to have access to edit your H5P's, then you can use the search field to locate another staff member by typing in their full name.
5 - Sharing: (previously called 'Select value') This is where you share your H5P with others, so they can view and clone your content. There is a folder allocated for each college, for example, 'Arts and Education', select your College.
Note: To know more about Sharing and Collaborators, please see H5P Sharing and Collaboration.
6 - LTI Settings : (previously 'Send Score to LMS') In this section you can link your H5P directly to VU Collaborate and also link it to your gradebook. It is recommended to leave this setting as it is, and NOT send the results to the gradebook.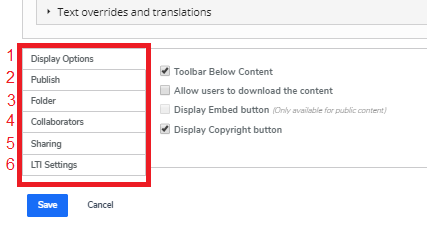 1. Click Save and Insert. A preview of the Question Set Tool will appear.

2. This will open up a preview of the activity, where you can test it before publishing it to your space. Click on all the words you specified while building the activity sentences.

3. It is also a good idea to try clicking on a word you know to be incorrect as well before publishing your quiz.

4. Once you're satisfied everything is working correctly, click Insert to add the activity to the document (or other embeddable areas) you are working on.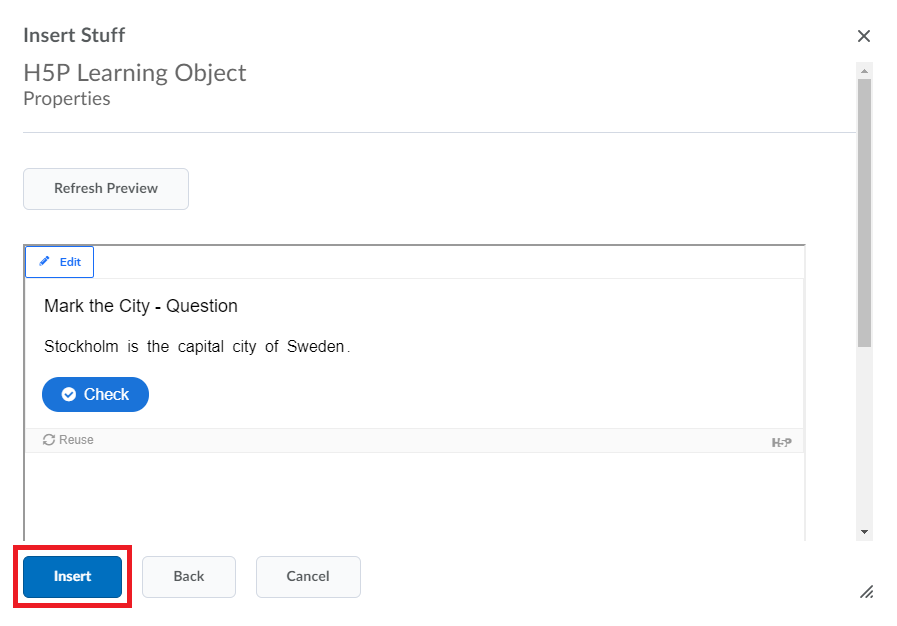 ---
Further Support
Visit the VU Collaborate Help site at https://vucollaboratehelp.vu.edu.au for up to date information and resources on blended learning or email This email address is being protected from spambots. You need JavaScript enabled to view it..
Contact ITS Service Desk on (03) 9919 2777 or via self-service http://servicedesk.vu.edu.au for further technical support.