Using the H5P Drag The Words Tool
The H5P Drag The Words tool contains text-based questions with blank sections that students complete with corresponding text answers. The student drags an answer into the blank section.
This exercise can also ask students to drag items in the correct order. Feedback can be added to each of the blank spaces to help the student find the right answer.
Immediate feedback and scores are given to reinforce learning. Students have the opportunity to answer the question multiple times until they get it right.
For information on how to access and insert H5P Objects, see Inserting H5P in VU Collaborate.
Below are the steps to use the H5P drag the words tool:
Create a New Drag the Words Tool Object
Adjust Settings
Preview and Publish Drag the Words tool
Step One: Create a New Drag The Words Tool Object
---
1. In the Learning Space choose the module you want the H5P to be in, click on New then New Document.

2. In the Insert Stuff menu, click to open the H5P Learning Object.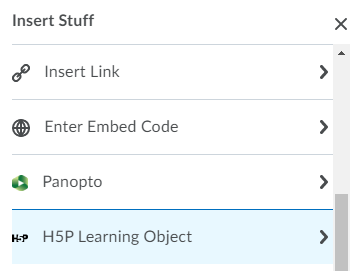 3. In the H5P tool, click Add Content.

4. Scroll down and select Drag the Words.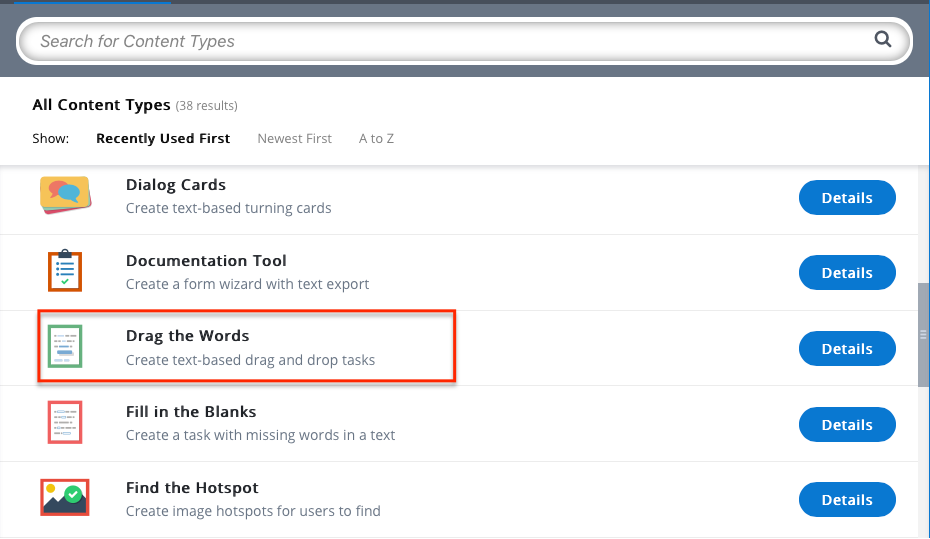 If you click on Details, a summary of the tool and an option for a demonstration will appear. If satisfied with your tool selection, click Use. If you do not require this step, click Drag the Words from the content type menu.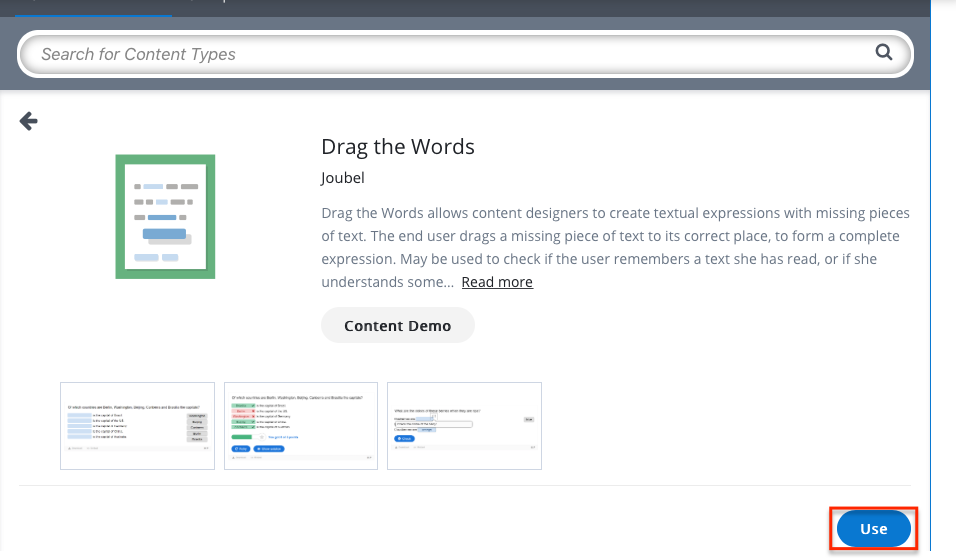 4. Add a Title that will be easy to remember and find.

5. Enter a Task description.

6. Click Show instructions. Read the Instructions about the text.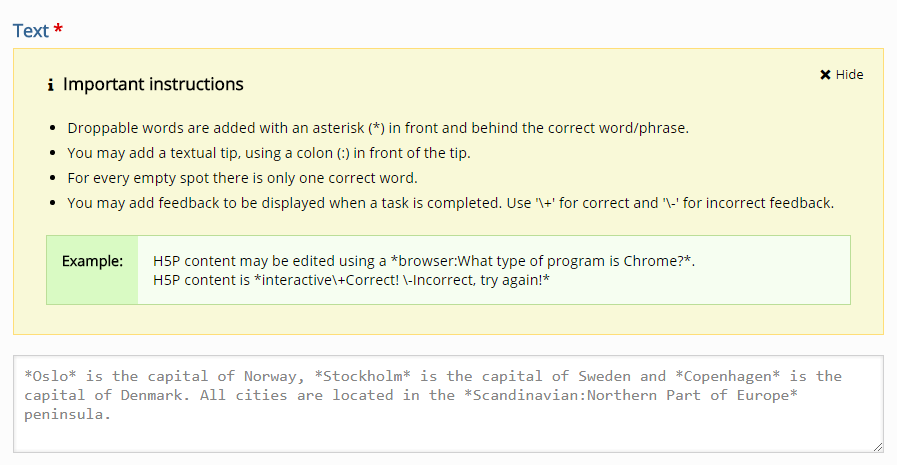 In the Text field, type the complete text including the words that students will drag. The draggable words are marked with an asterisk at each end like this: *word*.
You can also add a textual tip (or hint), using a colon (:) in front of the tip. For example, H5P content may be edited using a *browser: Something you use every day*.
Note: If you need to display an asterisk, type another asterisk before it like this: **.
7. Define any custom feedback you would like for score ranges. This is optional.

---
1. Click Behavioural Settings and select any options you would like for your object. Enable Retry lets users attempt the object as many times as they like. Enable "Show Solution" button will display a button to students that when clicked, will reveal the solution.

2. Click Text overrides and translations to adjust the language used on the zones and buttons. It also has options to alter the text that is read by reading speakers for greater accessibility. These are great options when confidently creating a complex object. However, for a basic starting point, all fields can remain with default text.

---
At the bottom of the screen you can adjust your H5P's settings (you can leave these settings by default or make alterations):
1 - Display options: (previously 'Display and copyright buttons') What options do you want to be visible for the user, for example, you can tick the display download button to enable students/staff to download the H5P to their own computer. You can also tick the Display embed button, which allows the user to embed the H5P into their HTML editor in VU Collaborate for example.
2 - Folder: (previously 'My Content') All your content will be saved in one spot, within a root folder.
3 - Publish: This option allows you to make the H5P Unpublished (content can not be inserted into VUC), Protected (content can be inserted into VUC) or Public (visible to the public using a content link and the content can be inserted into LMS and be embedded). Protected is the default setting and it is recommended to leave this setting as it is.
4 - Collaborators: (previously 'Authors') In this setting you can add and search for other collaborators and give them access to edit your H5P's. For example, if you are teaching a unit with another staff member and you would like them to have access to edit your H5P's, then you can use the search field to locate another staff member by typing in their full name.
5 - Sharing: (previously called 'Select value') This is where you share your H5P with others, so they can view and clone your content. There is a folder allocated for each college, for example, 'Arts and Education', select your College.
Note: To know more about Sharing and Collaborators, please see H5P Sharing and Collaboration.
6 - Send Score to LMS: (previously 'Send to Gradebook') In this section you can link your H5P directly to VU Collaborate and also link it to your gradebook. It is recommended to leave this setting as it is, and NOT send the results to the gradebook.

1. Click Save and Insert. A preview of the interactive video will appear. This will help you see how your questions appear to students and whether enough time to answer them has been allotted.
2. The H5P object is now ready to add to your space. Click Insert to add the interactive video to the document.

3. Alternatively, you can click Save.

4. Then click Insert.

---
Further Support
Visit the VU Collaborate Help site at https://vucollaboratehelp.vu.edu.au for up to date information and resources on blended learning or email This email address is being protected from spambots. You need JavaScript enabled to view it..
Contact ITS Service Desk on (03) 9919 2777 or via self-service http://servicedesk.vu.edu.au for further technical support.