Using Video Note
Video Note is a tool that staff can use to instantly record short and convenient audio or video files and make them available for students to view in VU Collaborate. You can use Video Note to record introductions, brief explanations, or to provide feedback regarding assessments to students.
You will need to work on a computer or laptop enabled with a microphone and webcam if video is required. Video Note clips are limited to a duration of no more than three minutes.
Following are the steps to Using Video Note:
---
After logging in to VU Collaborate and navigating to the desired space, you have the option to either:
1.1 Add Video Note to a Module or Resource or
1.2 Add Video Note to an Assessment Dropbox.
A Video Note can be added wherever the HTML editor is available.
1.1 Adding Video Note to a Module or Resource
1. From the Learning Space, click on the module of your choice and click New.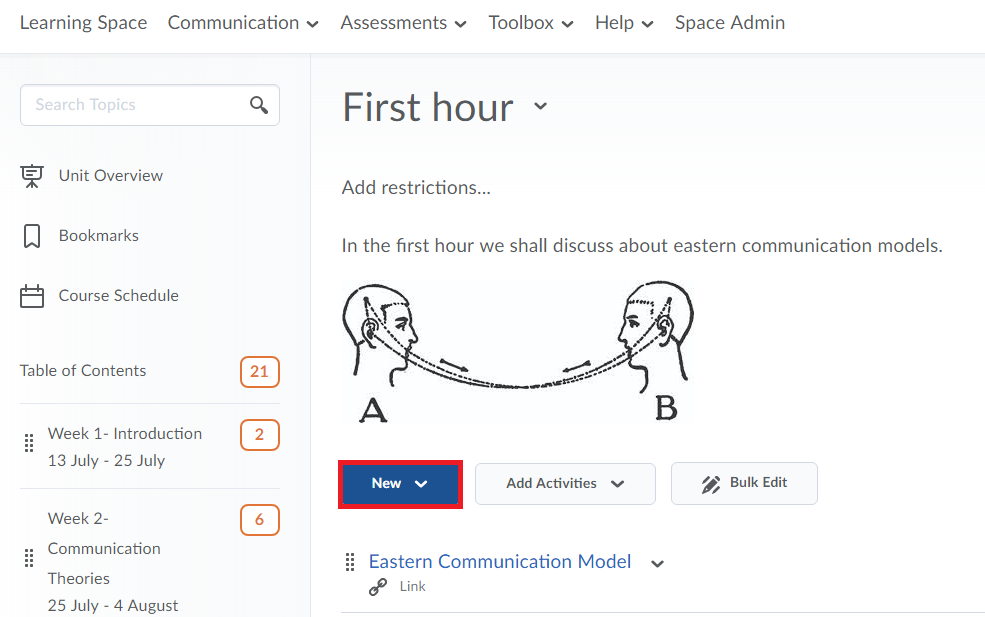 2. Click New Document.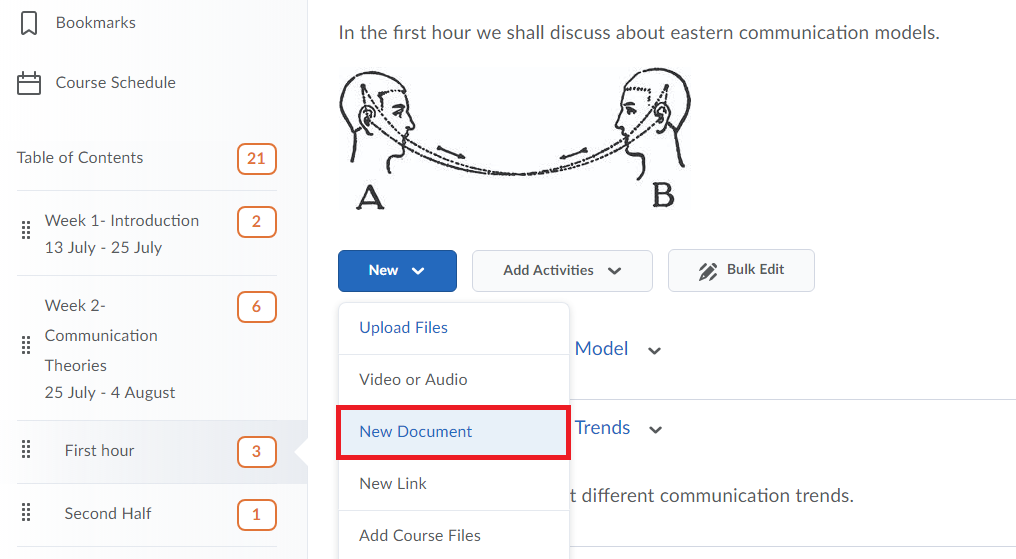 3. Click Insert Stuff.

1.2. Adding Video Note to an Assessment Dropbox
1. Select Assessments in the main navigation bar, then click Dropbox.

2. Click the arrow beside the Dropbox item you would like to add to, then click View Submissions.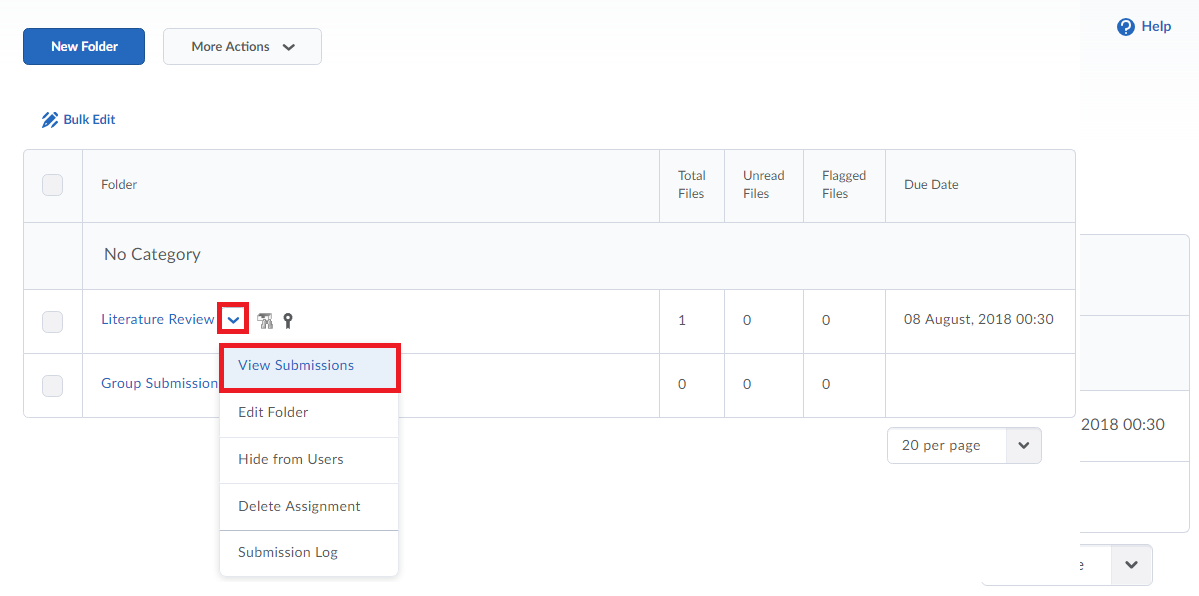 3. Scroll down for submissions and click Evaluate Submission on a submission you want to add video note to.

If you have already evaluated a student's submission, this may say "Draft Saved" or "Published". To know more about evaluation statuses, please view Providing Feedback and Grading within VU Collaborate
4. Click Insert Stuff from the Feedback box located under Evaluation on the right hand side of the window.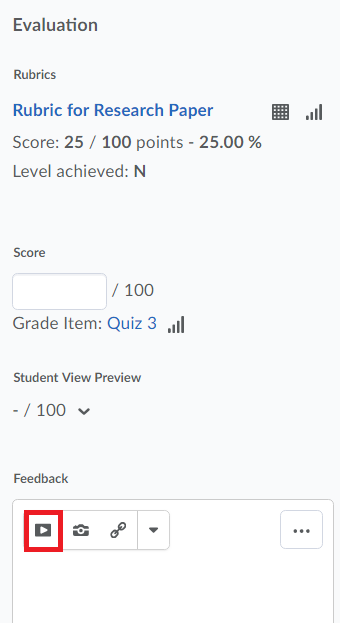 ---
1. Select Video Note from the Insert Stuff list.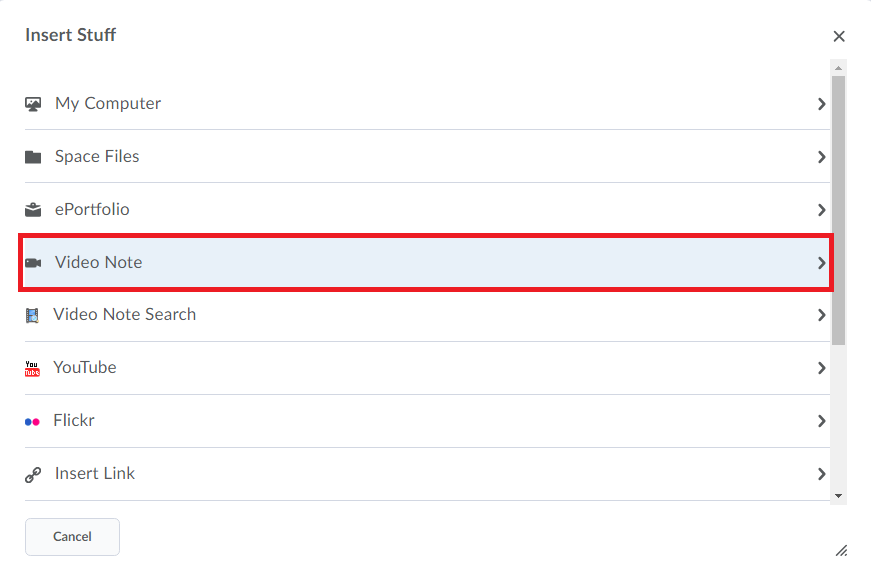 You will need to allow Adobe Flash Player access to your camera and microphone. Click Allow button in the pop-up page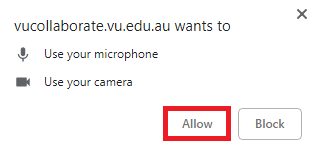 2. To upload a video file from your computer, click Upload File, choose the file, click Next and skip to Step Five: Publish the Video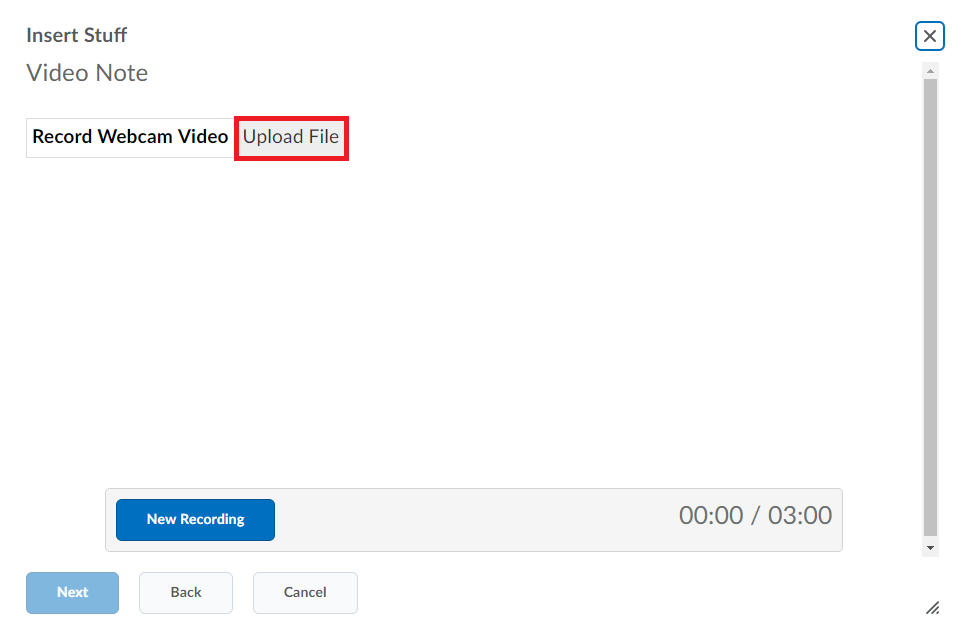 To add a previously recorded video using Video Note, click Video Note Search to find your recording. You will be able to search and insert any Videonote that you have created in any of your spaces.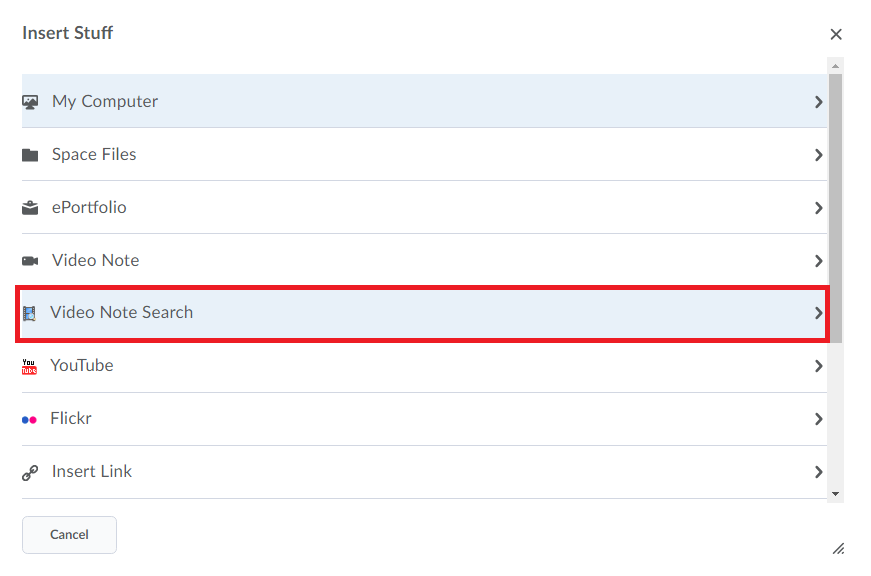 ---
1. Click New Recording when you are ready to begin recording.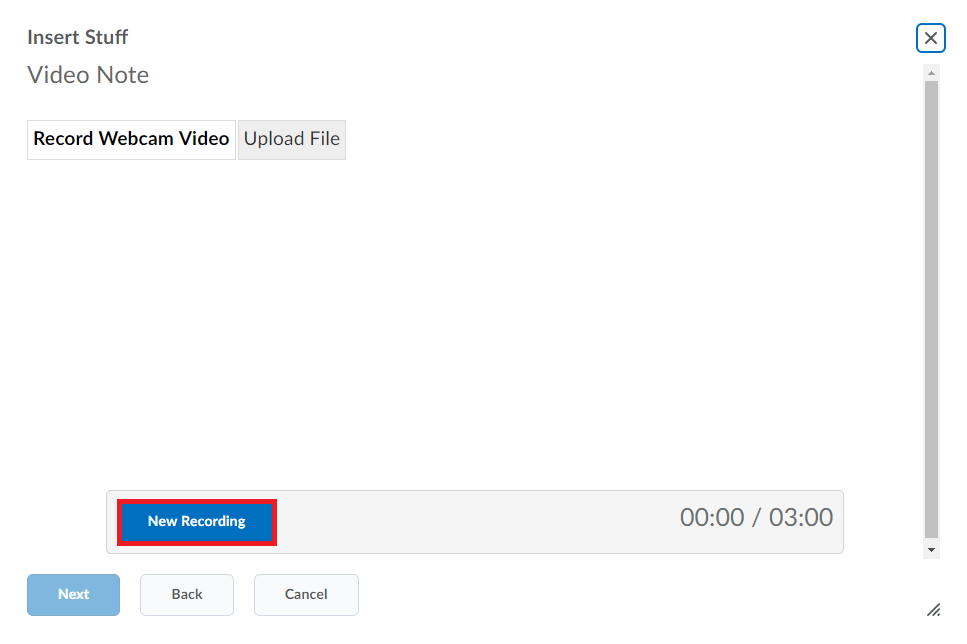 2. Click Stop Recording when you are finished recording.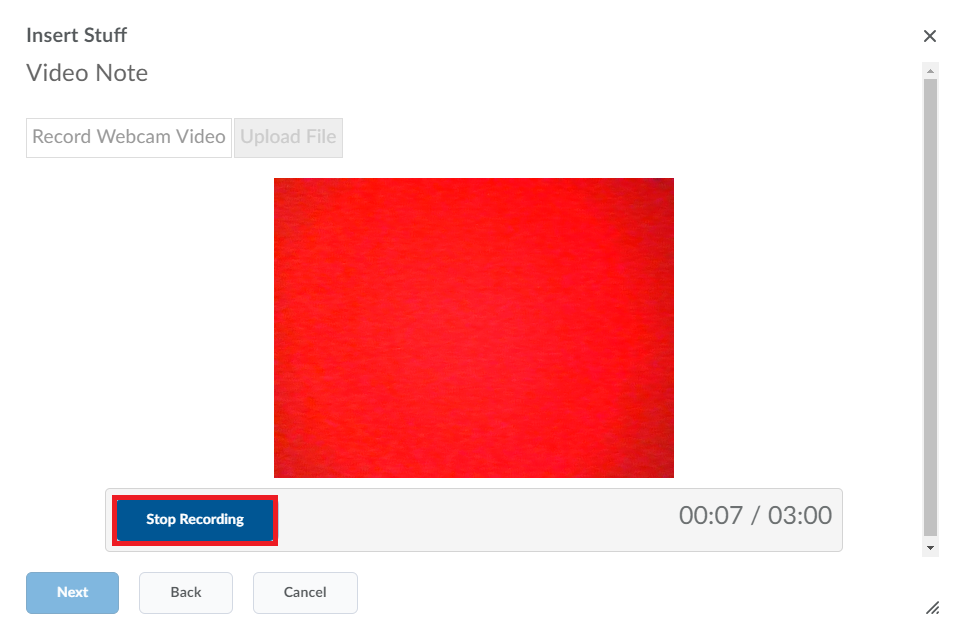 3. You can preview your video after you have finished recording by pressing the Play icon.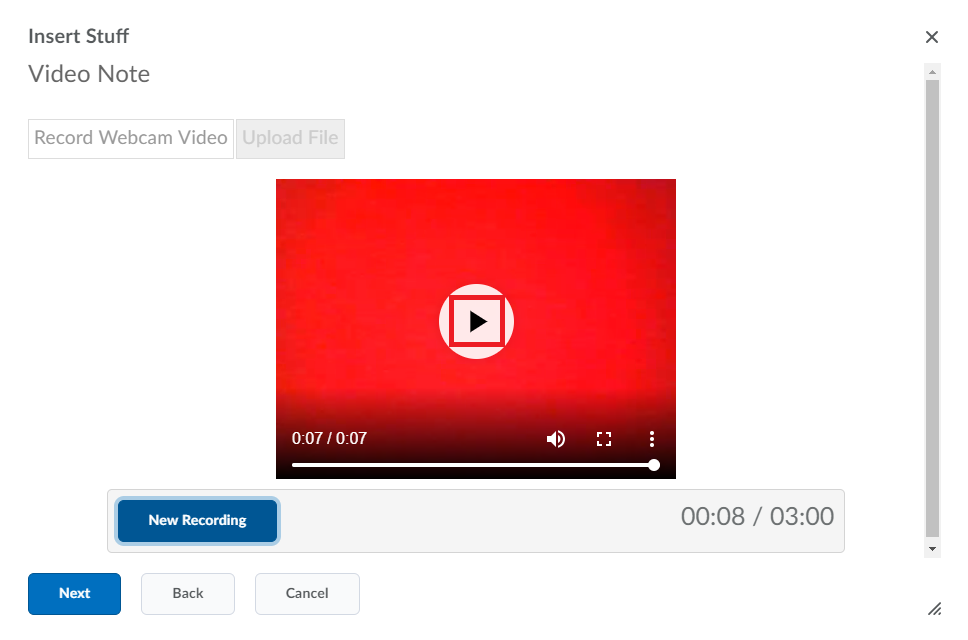 You can press Cancel to delete the video and record again.
---
1. Click Next.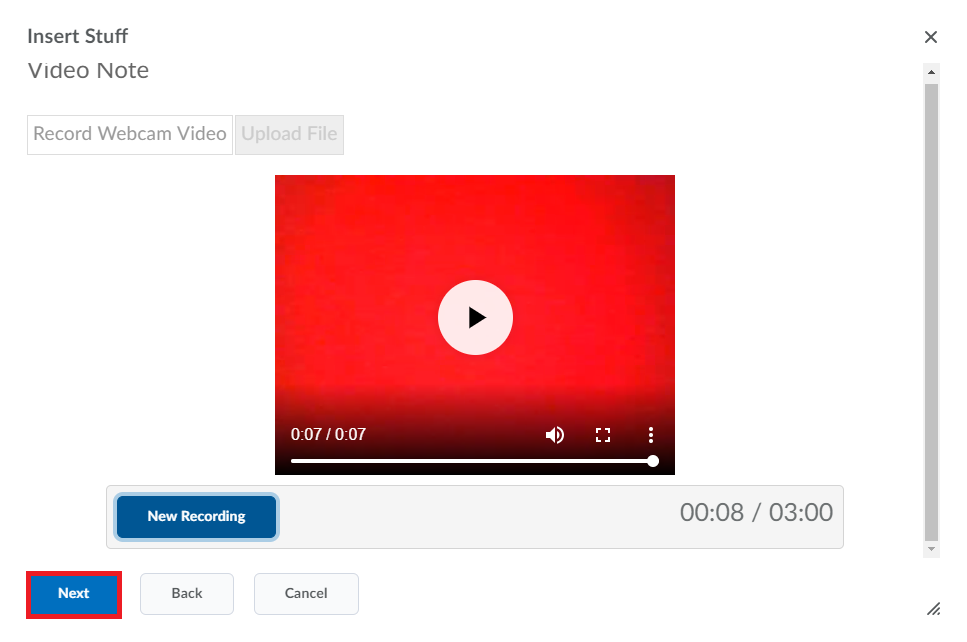 2. Enter a Title and Description for your video and click Next again.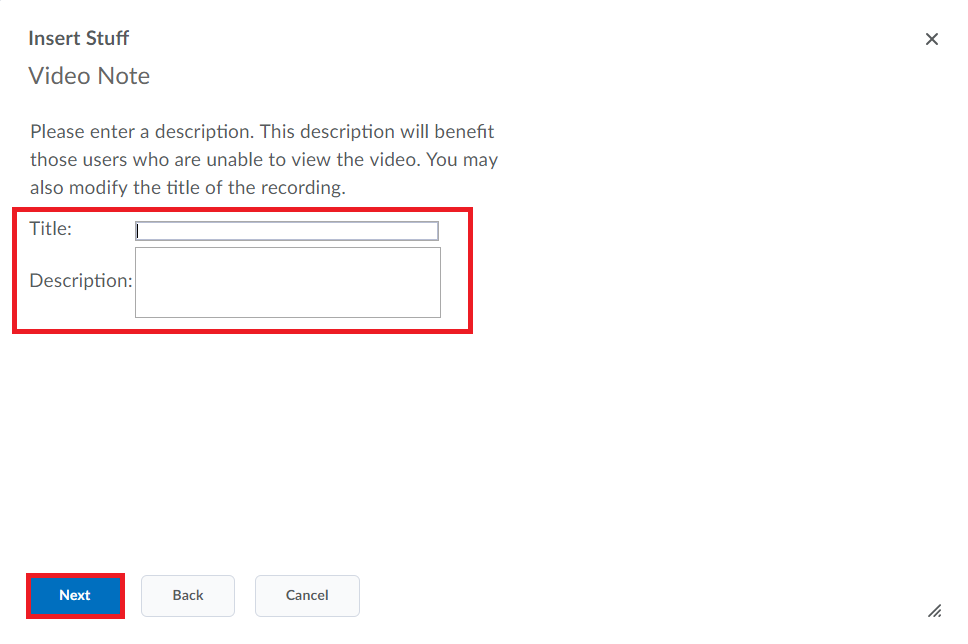 3. You can set closed captions for the video. Click the three dots at the bottom.
4. Captions setting is off by default. Click Captions to enable the setting.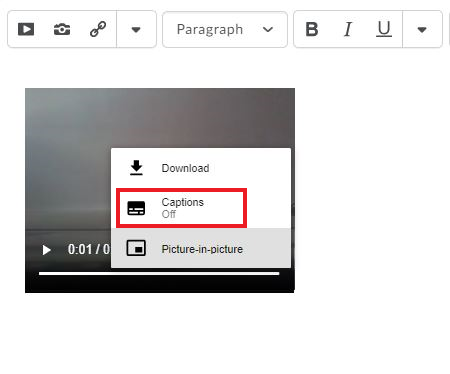 ---
1. You can preview the video again by clicking the play button.
2. Click Insert to add the video to the HTML Editor.

3. Click Publish to save and publish your Video Note.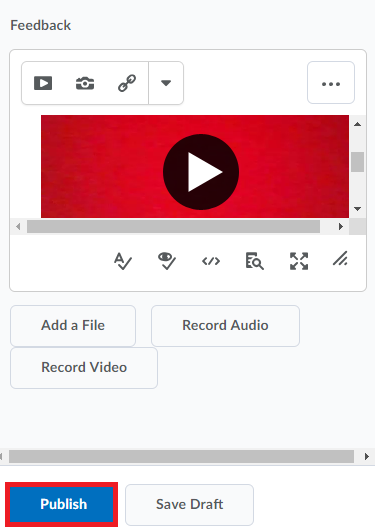 Video Note sometimes takes a while to transform after insertion. If this occurs, you will see an error message displayed in place of the video. Wait for a while and refresh to see if your video has transformed and inserted.
---
Further Support
Visit the VU Collaborate Help site at https://vucollaboratehelp.vu.edu.au for up to date information and resources on blended learning or email This email address is being protected from spambots. You need JavaScript enabled to view it..
Contact ITS Service Desk on (03) 9919 2777 or via self-service http://servicedesk.vu.edu.au for further technical support.