How to Configure Panopto
Panopto allows for lecture recording, screencasting, video streaming, and video content management software in e-learning environments.This guide will assist in the configuration of Panopto for both Windows and Mac.
---
1. Run the Panopto Recorder from Start > Programs > Panopto > Panopto Recorder. The first time you run the recorder, you will be required to login.

2. The Server Address will be automatically entered for you.

3. Enter the Username that you'll use to access the Panopto Server (provided by Panopto administrator) and the Password for that account.

4. Click Sign in
5. Once the Recorder opens, you will be taken to the Create New Recording tab. To continue with configuration, click on the Settings tab.


1. Recording Directory: This is the directory on the recording computer where all of the raw data will be stored. The default is set to C:\PanoptoRecorder
Due to a large amount of variables with writing real-time video data to a network share, we're not able to officially support recording to a mapped network drive (UNC share).
2. Upload when Panopto is closed: The Panopto Recorder Service allowing recordings to be uploaded even while the Recorder is closed.

3. Delete recordings once they are uploaded (Recorder versions 5.5+): This setting once enabled will delete the local recording files only upon successfully upload. The Default for this setting is set to "off"

4. Click Save if you make any changes to System Settings.
1. Progressively upload while recording: This setting allows you to tell the recorder to upload video data as soon as it has data to send.
You may wish to uncheck this box if you want to wait until you have a faster connection before uploading.
2. Minimize When Recording: This setting will automatically minimize the Panopto Recorder when you start your recording.

3. Notify me when a viewer asks a question: This setting will enable a pop-up window on the recording computer notifying you when a viewer asks a question during a live broadcast even if the recorder is minimized.

4. Disable hot keys: Disables the Panopto hot key capability for starting/pausing/stopping recordings with keystrokes.

5. Highlight the mouse cursor during screen capture: If this is selected the mouse cursor will be highlighted for easy location tracking during screen capture in the viewer.

6. The Advanced Settings tab allows users with Panopto administrative permissions to configure additional settings within the Panopto Recorder.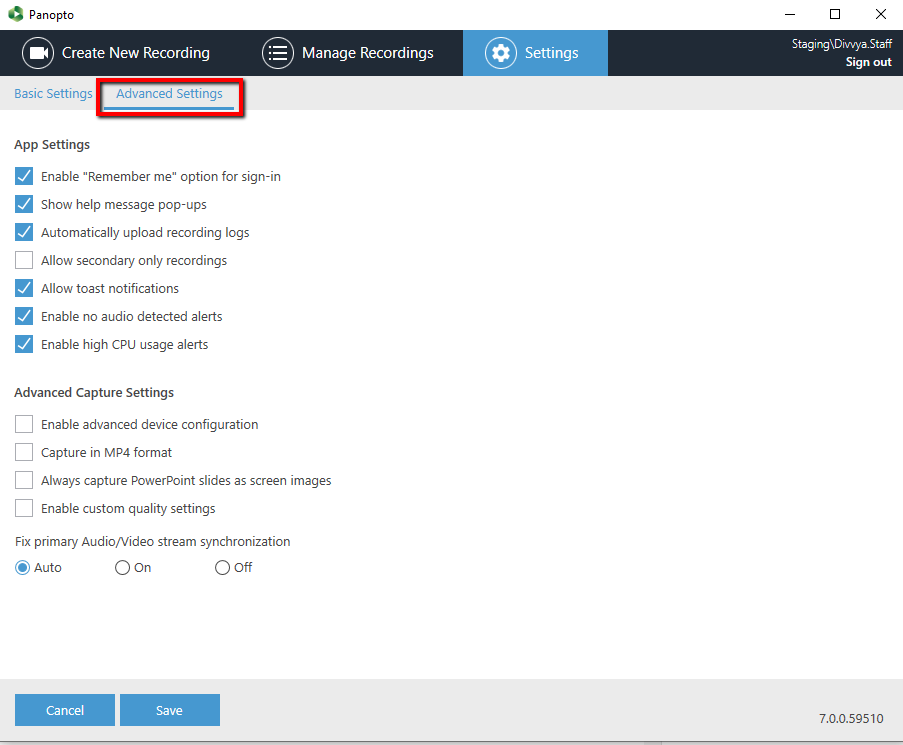 1. Enable "Remember me" option for sign-in: This will allow you to save your login information at the login screen.

2. Show help message pop-ups: This setting will enable or disable the Help messages in the highlighted area at the top of the Panopto Recorder.
1. Enable advanced configuration of the primary video device: This setting allows for adjustment of a basic set of camera controls such as brightness, contrast, hue, sharpness, etc.

2. Capture in MP4 format: Generates an offline .mp4 file for each stream captured in a recording. This can be used for stream preview prior to upload, for testing, or if you just want an offline copy of each stream.

3. Always capture PowerPoint slides as screen images: This setting helps render fonts or objects that may be present within your PowerPoint slideshow. This is useful when using custom fonts that do not exist on the server.

4. Fix webcam A/V synchronization: Automatically fixes audio and video syncing with Apple iSight and clones when running Windows on a Mac.

5. Click Save to save and apply any changes to advanced settings.
---
1.Locate the Panopto under Applications (If you'd like, drag the Panopto to the Dock for easy access) and run the app.
2. Click Sign In



3. Insert the appropriate credentials, then click Log In.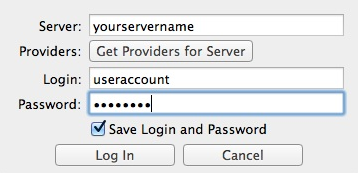 4. Once the Recorder opens, click on Create New Recording.


5. By default Panopto for Mac is set to record to the default folder set by your administrator. Once you successfully record to a folder, Panopto will set that as your default folder the next time you log in. If you would like to change the folder to record to, click on the up/down arrows to select a folder. Or create a folder by clicking on the "+" sign. Additionally, you can record content offline and upload to the server at a later time.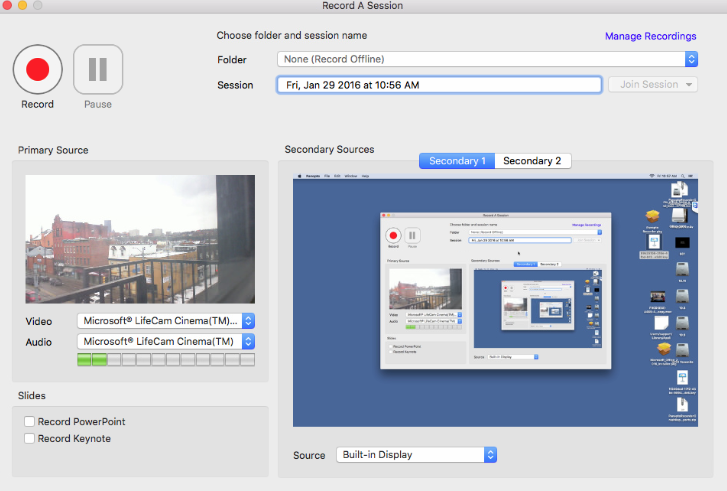 1. In the menu bar, click on Panopto and choose Preferences.
2. These settings can be customized to your preference: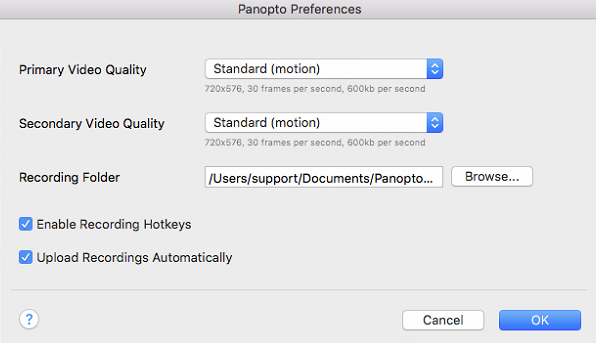 Primary quality video: This setting will adjust the quality of the primary video
Secondary quality video: This setting will adjust the quality of the secondary video
Recording Folder: This setting allows you to set the folder where your session files will be stored.
Enable Recording Hotkeys: This setting will allow you to use the hotkeys within Panopto for Mac.
Upload recordings automatically: Upon the completion of the recording, the files will be uploaded to the server.
---
Further Support
Visit the VU Collaborate Help site at https://vucollaboratehelp.vu.edu.au for up to date information and resources on blended learning or email This email address is being protected from spambots. You need JavaScript enabled to view it..
Contact ITS Service Desk on (03) 9919 2777 or via self-service http://servicedesk.vu.edu.au for further technical support.